Two Boston College biology majors have been awarded prestigious undergraduate research fellowships.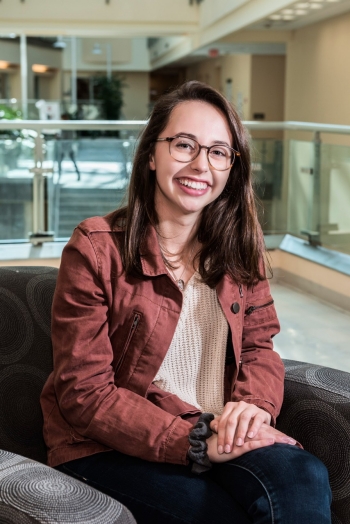 Katya Van Anderlecht (Lee Pellegrini)
Katya Van Anderlecht was selected to participate in the Amgen Foundation's Amgen Scholars Program this past summer. Van Anderlecht, a junior who is also a pre-med student, spent the summer conducting developmental biology research at CalTech.
One of nearly 350 students accepted to the program this year from more than 5,600 applicants from around the world, Van Anderlecht attended the Amgen Foundation's U.S. summer symposium at UCLA in July.
"What I enjoyed the most about the Amgen program was the fact that I was surrounded by people from all over, each passionate about something unique, much of which I had never even known about before, who I otherwise may never have crossed paths with," said Van Anderlecht. "They each brought something special to my experience, and not only did I grow from those relationships as a scientist, but also as a person."
This year, Van Anderlecht will work in the cellular biology lab of Assistant Professor of Biology Laura Anne Lowery.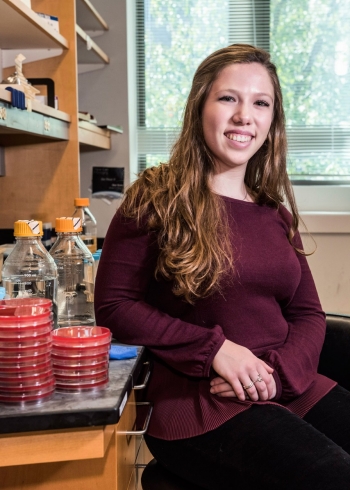 Lauren Havens (Lee Pellegrini)
Biology major Lauren Havens has been awarded a 2017 American Society for Microbiology Undergraduate Research Fellowship. Haven, a senior, is one of 19 awardees out of 128 applications, according to the society.
The ASM fellowship supports undergraduate students in work in their home institution with a faculty mentor. Haven, who will conduct research into the genome of the deadly bacteria streptococcus pneumoniae, will be mentored by Associate Professor of Biology Tim van Opijnen.
Each fellow receives up to a $4,000 stipend and funding for travel expenses to the 2018 Microbe Academy for Professional Development and 2018 ASM Microbe Meeting held in Atlanta.
"This fellowship has provided me with the opportunity to deepen my knowledge of and appreciate the dedication behind the cycle of setbacks and successes in scientific research and has inspired me to more seriously consider a future in microbiology," said Havens. "I hope to pursue a dual M.D./Ph.D. program or an M.D./MPH program as I am excited by the vastly important public health implications of my current research on antibiotic resistance."
-Ed Hayward/University Communications