In March 2016, Eric Popp, then a first-year Boston College Law student, spent his spring break volunteering at the City Attorney's Office in New Orleans, one of eight cities where some 60 first-year law students—1Ls—each donated 35 hours or more on behalf of non-profit organizations or government agencies.

"This trip was not just an opportunity to serve, but a challenge to face the harsh reality yet hopeful promise of the law at work, in stark contrast to its deceitful simplicity in the classroom," he said at the time.

Today, Popp, who graduates in May and will join the Boston office of the law firm Cooley LLP, looks back fondly on the impact of his Crescent City sojourn.
"I think the BC Law pro bono trips are life experiences passing for work experience. Though I've never been interested in working as a courtroom lawyer like the ones I worked with in New Orleans, I've been motivated by that trip to find small areas of my own world that I think I can make a difference in—and to approach issues thoughtfully, with an eye toward how big systems affect people's lives every day."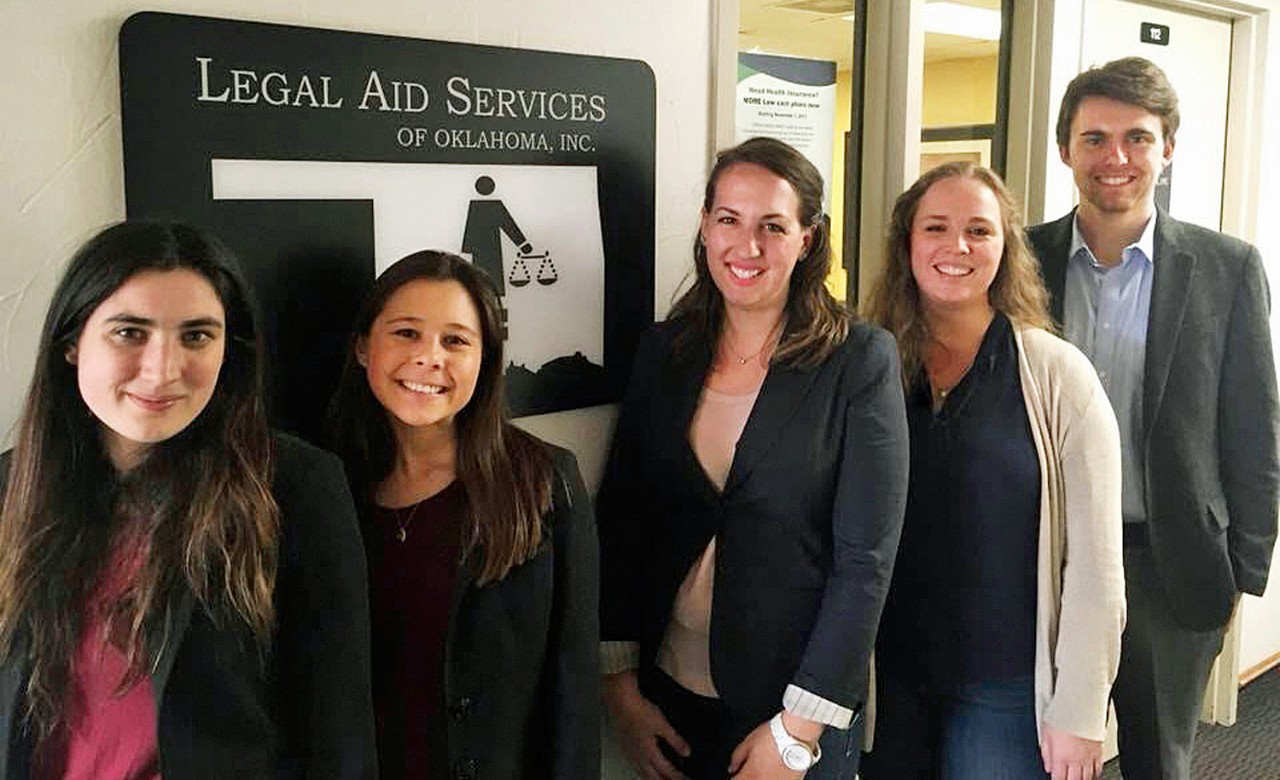 The BC Law spring break service trips are an outgrowth of the Pro Bono Program, founded by students and administrators in 2007 to shape BC Law students into lawyers who—in the University's Jesuit—are committed to public service. Participating students commit to at least 50 hours of law-related community service while at BC Law.

This month, 65 BC Law students—most of them 1Ls—went on a spring break program that focused on four legal topics—international human rights, immigration, Navajo Nation, and Gulf Coast recovery—at sites in almost every region of the U.S. A cluster of six non-profit sites within Greater Boston was the fifth deployment area, served by a mix of first-, second-, and third-year law students and Master of Laws (LLM) candidates.

They were among hundreds of other BC undergraduate and graduate students who spent spring break in service programs throughout the U.S. and abroad.

The BC Law spring break trips are proudly student-directed and self-funded—costing approximately $1,000 per participant—and reflective of the school's commitment to serving others with recently developed legal skills.
Public Interest and Pro Bono Programs Director Michelle Grossfield and Assistant Dean for Finance and Administration Meredith Ryan and her staff support the spring break volunteers with planning and logistics.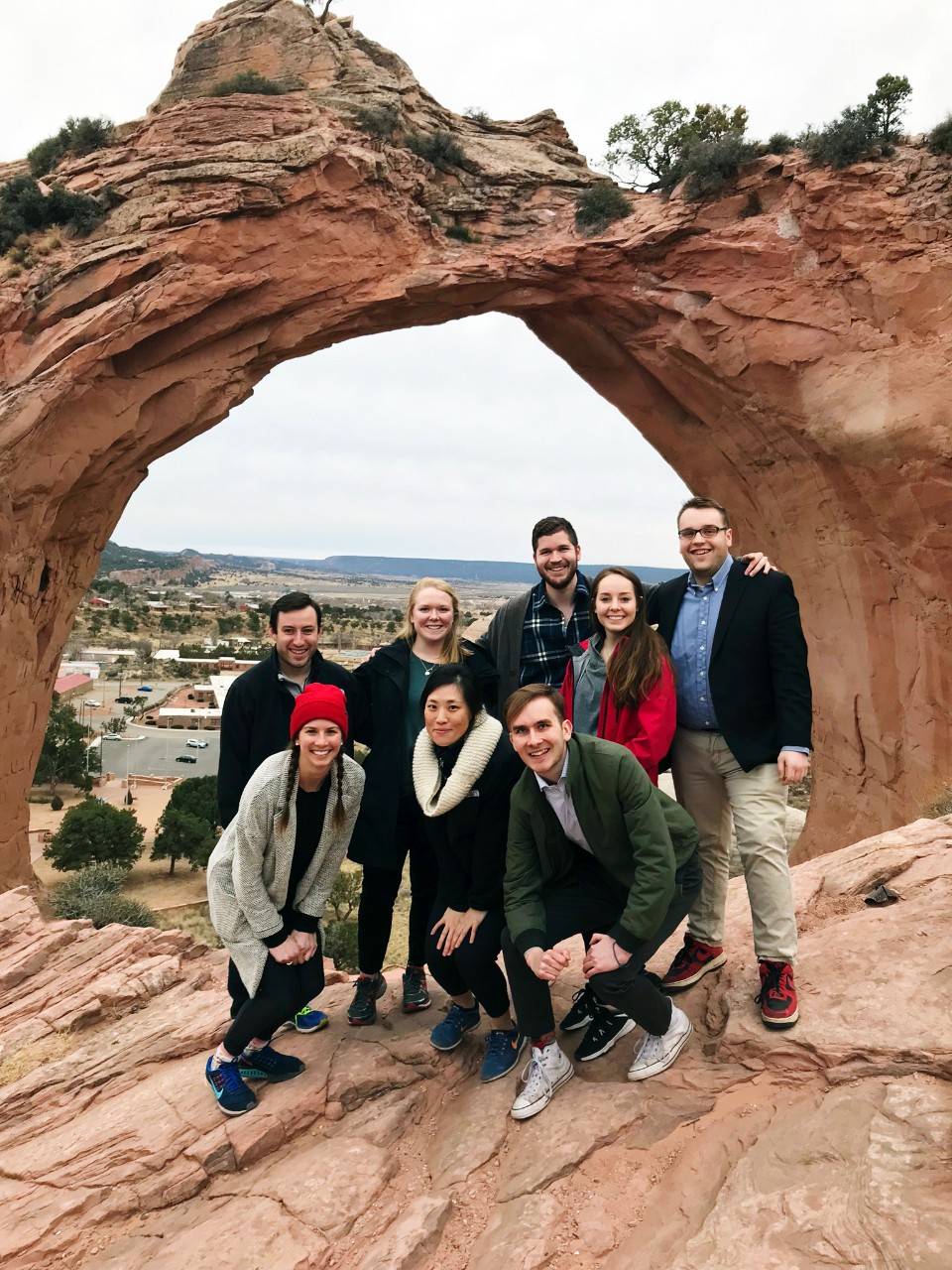 The 350,000-member Navajo Nation, a 17-million-acre Native American territory occupying portions of Arizona, Utah, Colorado and New Mexico, hosted eight students, divided among the tribe's own Department of Justice, Office of the President, and Supreme Court.

Volunteer Justin Rheingold worked on the nation's lawsuit against the Trump administration over its decision to significantly shrink Utah's Bears Ears National Monument, which includes land that the Navajo people consider sacred.  

"As a sovereign nation, the Navajo people occupy a unique place in the framework of the U.S., and we hope we'll be able to serve as ambassadors for a community that has frequently been ignored, and often left out of history and legal textbooks," said Rheingold.

"Although a week is hardly long enough to make significant and lasting contributions, each of us had an experience that we will remember as we continue in our legal careers. We are so grateful to the people of the Navajo Nation and the members of the Navajo government for giving us insight into their incredible culture and legal system."

Twenty-three 1Ls were spread among five immigration-focused sites: the Florence Project in Phoenix and Florence, Ariz.; Legal Aid Services (LASO) in Oklahoma City; South Texas Pro Bono Asylum Representation Project; Chicago's National Immigrant Justice Center; and the Safe Horizons Immigration Law Project in Brooklyn.

Robyn Casper volunteered at LASO, where she drafted an immigrant visa petition under the Violence Against Women Act for a teenager who was abused by his American step-father.  The group also visited a field office of the U.S. Citizenship and Immigration Services, conducted client intake meetings, and assisted with a case involving an undocumented immigrant seeking a victim protective order.

"Working with LASO was a rewarding experience that taught me so much about the nuances of our justice system and the hard work lawyers serving low-income populations put in each day," said Casper. "It was an amazing week and I'm so grateful for BC Law, the Pro Bono Spring Break Trip Program, and LASO for this opportunity."

The contingent of 16 law students volunteering locally was spread among Boston's Volunteer Lawyers Project; the Boston Court Service Center; the Greater Boston Legal Services (GBLS) Housing Unit; the Children's Law Center in Lynn; Newton's Free Speech for People; and the Jewish Family and Children's Service in Waltham. These placements were arranged by Grossfield and Career Services Assistant Kylie Nassif Blizzard.

Xiaotian Ma LLM'18 volunteered at the GBLS, assisting high-poverty renters who had been issued eviction notices by their landlords:  "Essentially, we conducted clinics to explain the law—including their rights and obligations as renters—and to help them prepare responses to anticipated questions once they were in court."

Twelve 1Ls traveled to New Orleans, divided among the Southeast Louisiana Legal Services, which helps more than 25,000 low-income residents deal with legal issues involving food, shelter, medical care, safety and other needs; the Innocence Project, the country's second largest free-standing law office focused on aiding wrongfully convicted prisoners; and the City Attorney's Office, responsible for directing and supervising the city's legal affairs.

Six other 1Ls worked at the New York City-based International Legal Foundation—whose executive director Jennifer Smith, an international legal aid expert, is a 1998 BC Law grad—which assists countries such as Afghanistan and Nepal as they emerge from conflict or transition to public defender systems for the poor.  

Grossfield, noting that last year's graduating class completed more than 20,000 pro bono hours, said, "Our strong tradition of service and the strength of our public interest offerings ensures that BC Law students are prepared and intelligent advocates, well equipped to make an immediate impact on the communities and clients they will serve."
—Phil Gloudemans | University Communications