Page One of James Madison's original notes on the 1787 Constitutional Convention: The overlying slip of paper was found pasted to it. (Manuscript: Library of Congress, Manuscript Division, James Madison Papers.)
Boston College Law Professor Mary Sarah Bilder is winner of the Bancroft Prize, considered one of the most prestigious honors in the field of American history, for her book Madison's Hand: Revising the Constitutional Convention.

Bilder—who has been the Michael and Helen Lee Distinguished Scholar at BC Law and is newly named the Founders Professor of Law in recognition of her teaching and scholarship—joins such eminent historians as Arthur M. Schlesinger Jr., George F. Kennan, Daniel J. Boorstin, Samuel Eliot Morison, Jill Lepore, Drew Gilpin Faust and James T. Patterson who have been awarded the Bancroft Prize, presented each year since 1948 by the trustees of Columbia University to honor books about diplomacy or the history of the Americas.
In Madison's Hand, Bilder shows how James Madison revised his notes on the Constitutional Convention in the years prior to his death in 1836, four years before their publication. Madison's writings on this key historical event have long been viewed as an important insight into the making of the U.S. Constitution, and heretofore viewed as impartial and uniformly accurate. Bilder's analysis indicates that Madison made significant changes to the notes, some for the sake of clarity, accuracy or greater detail on the proceedings, but others that show a concern for his political position and public image—such as reshaping perceptions on his support for slavery.

Madison's Hand has been widely praised by constitutional experts and legal historians, and was featured prominently by publications such as the Washington Post and Wall Street Journal. The book also was named a George Washington Prize finalist. (Watch Mary Sarah Bilder discuss her work on C-SPAN.)

"This is a great honor," said Bilder. "I don't think of myself on the same level as a Schlesinger, Kennan or Faust; I'm just very happy to be recognized in this way."

The experience of poring through Madison's papers has given her a "complicated" but more expansive view of Madison, said Bilder, who recently was a featured guest speaker at major events at the Library of Congress and National Archives.

"In the past, for me Madison was a statue, a painting," she said. "Now I see him more as a person, one with a lot of flaws—I find him more accountable on the issue of slavery—but also a lot of characteristics that served him well in the task of founding a country.

"Additionally, this project gave me a deeper understanding of the struggles on the part of Madison and others in the 'Framing Generation' to create a workable political system."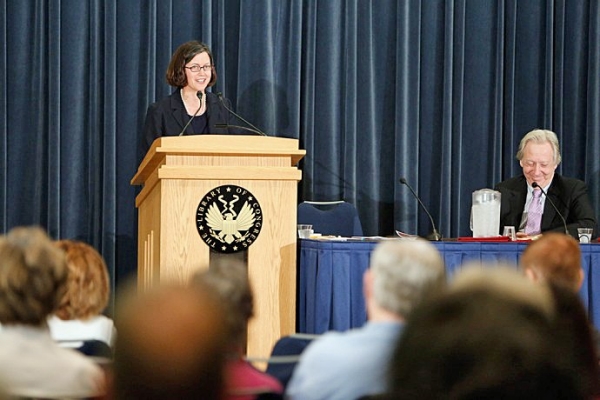 Americans have typically regarded aspects of their political and legal history—particularly where the Founding Fathers are concerned—as constant and unchanging, said Bilder. But as the revelations in Madison's Hand make clear, the reality is different, if perhaps difficult to accept.

"It's like the moment you realize your parents are just people like everyone else," she said. "Acknowledging that the framers of the constitution didn't have all the answers means we need to take responsibility for addressing difficult constitutional issues; the system won't work without our participation.

"Madison and others in the Framing Generation thought the governing process was important and interesting, not a wind-up toy that ran on its own with minimal attention. Fortunately, I'm finding young people are increasingly interested in the framers' era, so hopefully that augurs well for our future."

Bilder received her award at the Bancroft Prizes dinner in April, hosted by the Department of History and Columbia University Libraries.

To learn more, read a Q&A with Bilder in Boston College Law School Magazine and her essay 'Madison's Edits' in Boston College Magazine.

—Sean Smith | News & Public Affairs