David Wirth, a professor of law at Boston College Law School, lately finds himself right in the middle of widely debated international governance and sustainable development issues – and there's no place he'd rather be.
Wirth is in Moscow this academic year, serving as a Fulbright Distinguished Chair in Sustainable Development at Russia's preeminent National Research University Higher School of Economics. But Wirth's pen and laptop are carrying his thoughts around the globe, as he contributes opinions to ongoing debates over climate change and genetic research and hopes that his legal research helps nations and organizations shape new approaches to a rapidly changing world.
"Governance issues are so challenging," Wirth said recently in an interview via Skype as he wrapped up another day of teaching and research in Moscow. "Policymakers and academics are looking for something that works to move a system enough. It requires creative solutions."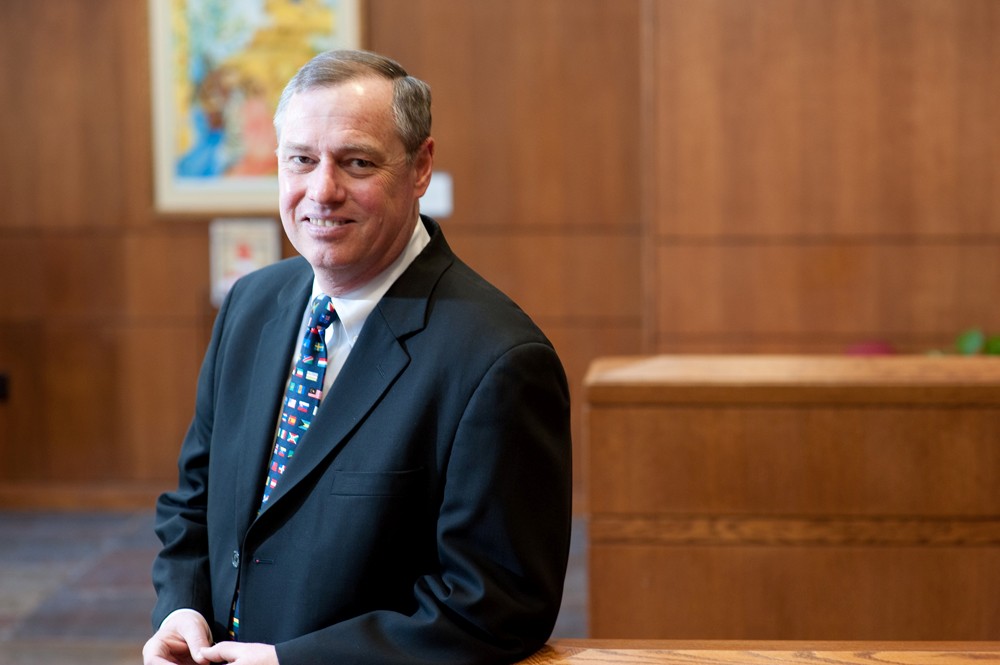 And Wirth has been busy offering opinions he hopes can produce creative legal solutions to unique issues facing governments and society. Last year, he spoke at a National Academies of Sciences, Engineering and Medicine workshop on the nascent field of gene drive technology, a gene-editing technique that could change or extinguish a population of harmful organisms in the wild, such as mosquitoes, and stop them from transmitting disease to humans.
As with most any development in science, the so-called gene drive process offers as much uncertainty as it does promise and thus requires further testing. Yet for gene drive efforts to advance, regulations need to be followed but, much like the science itself, no kind of international governance exists yet. 
Wirth detailed this in his presentation and recommendations to the organization, which serves as an independent advisory group to the federal government. Pointing to the protocols of other organizations, Wirth suggested steps such as multilaterally agreed lab practices, testing standards and national policies for testing chemicals.
In June, the National Academies group endorsed continued research on gene-drive technology, despite its risks, and, echoing Wirth's presentation, said that deriving an international regulatory framework is crucial because gene drives will not recognize national or political boundaries.
Ironically, though, Wirth hasn't had time to read much of the National Academies' yearlong study on gene-drive technology: He's been busy settling in at the Higher School of Economics and offering his thoughts on another intersection of science and law – climate change.
Environmentalists applauded when the U.S. and China formally entered the Paris Agreement, the landmark accord that has countries pledging to reduce their emissions in an attempt to slow climate change. But many in Congress oppose the deal, arguing that President Obama overstepped the executive branch's constitutionally mandated advice and consent process for a treaty.
Wirth recently offered his take on this legislative-executive tussle to several publications, and his work on the issue helped guide a Hofstra University law professor's testimony to a congressional panel that's reviewing the international climate negotiations.
In a nutshell, Wirth finds that the Obama administration successfully walked the line in exercising a president's authority to enter international treaties. In fact, Wirth believes the administration was too conservative and missed the opportunity to agree on legally binding environmental obligations that would have been appropriate for the executive branch.
Because of that cautious approach, Wirth says, Obama's successors could choose to not follow the non-binding goals of the Paris Agreement, and they wouldn't have to formally withdraw from the accord, instead saying only that the U.S. has "changed its mind." 
"These issues, gene drives and climate change, engage every country," Wirth said. "They, of course, require buy-in from every country. So there's a great deal of interest in the subject matter and they require a great deal of collaboration." 
As he looks forward to making the most of his Fulbright opportunity, Wirth couldn't be happier seeing his work "folded into the discussion" of sustainable development, science and other areas. 
"It's always nice to be in the game," he said.
—Albert McKeon | News & Public Affairs