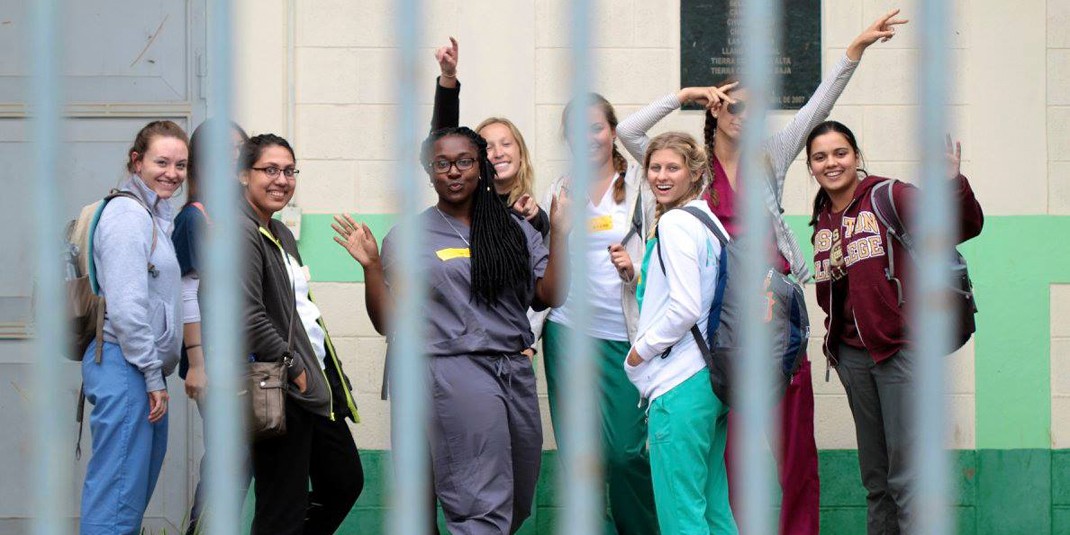 The Boston College chapter of Timmy Global Health, a national nonprofit dedicated to expanding access to healthcare and empowering students and medical volunteers to tackle today's most pressing global health challenges, will host a number of events to mark BC's Malnutrition Awareness Week November 14-18.

This student group, however, goes beyond advocacy and education, taking their dedication to global health on the road with an annual medical service trip to Guatemala, a country still recovering from a civil war that lasted most of the latter part of the 20th century. Its people face many health issues, including one of the highest incidence of chronic malnutrition in the world.
"Being part of Timmy has really helped me become aware of what's going on in the world," said Alissa Puzo, a junior from Mahwah, NJ, who served as the 2016 trip leader.
About 14 to 19 members of Timmy Global Health at BC participate in the medical service trip each year. Because of its hands-on nature, participation has been restricted to students in the pre-med program, who must apply and write an essay to be considered.
Timmy Global Health also requires that medical professionals be a part of each medical mission team (referred to as a brigade). University Health Services Director Thomas Nary, M.D., an advisor to the BC chapter, has accompanied the students on six trips to Guatemala.
The BC brigade's base is Pop Wuj, a clinic in Quetzaltenango (Xela, colloquially), 2.5 hours outside of Guatemala City. The team treats patients in Xela and at makeshift clinics throughout the surrounding villages and communities. Travel from Pop Wuj to the villages can be arduous, taking anywhere from 30 to 90 minutes one way, often up mountainous terrain.
During the most recent trip, the weather closed one of the roads forcing members of the brigade to walk the last mile, carrying 40 to 50 pounds of medical supplies and other equipment, according to Puzo.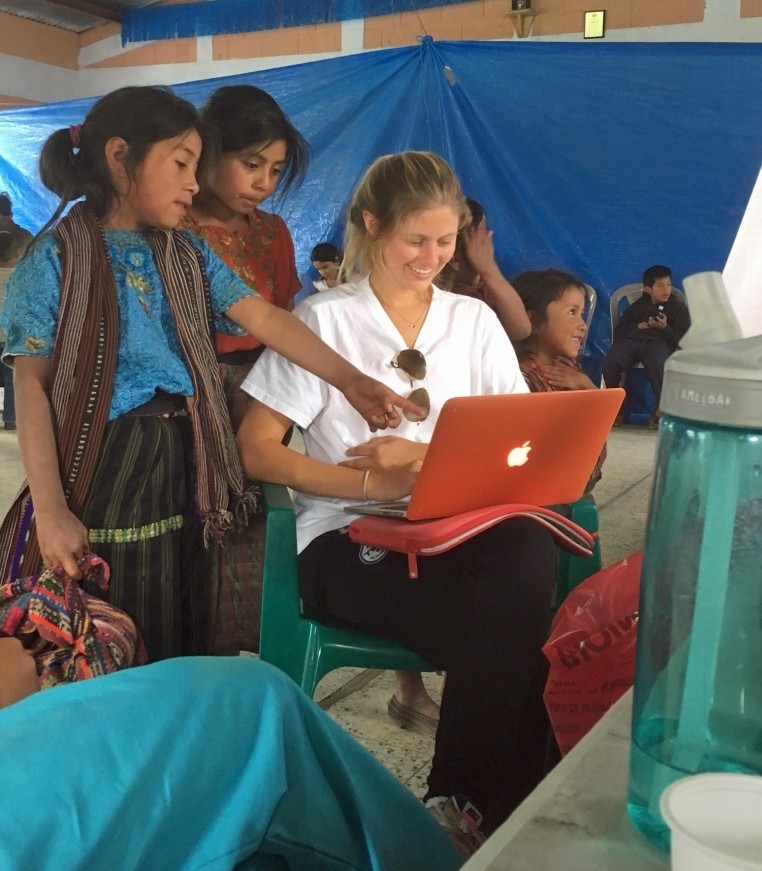 Local children look on with Alissa Puzo '18 at her computer. Puzo, a biology major, said, "Being part of Timmy has really helped me become aware of what's going on in the world."
At the clinic, the students rotate through various stations, handing different tasks. They take medical histories, assist in triage, take vital signs, scribe for the doctors, serve as Spanish translators, dispense medications and play with children while a parent is being seen. During the five days of clinics, the brigade saw more than 400 patients with ailments including diabetes, hypertension, gastritis, malnutrition, scabies and upper respiratory infections.
In addition to Dr. Nary, about a half dozen other medical professionals have volunteered on the trips, including alumni Rachael Glassman '12, Mursal Hassan '16 and Dr. Nary's son, Dr. Mark Nary '04.
"The doctors really engage us students in the process. They want to make sure that we're critically thinking and getting a comprehensive medical experience," said Puzo, a biology major with minors in medical humanities and foundations of education.
The other BC students on the 2016 trip were: senior Imari Wilson; juniors Shriya Anandjee, Allison Chowdhury, Ryan Giarraputo, Andrea Grote, Melissa Harper, Vanessa Konzelmann, Huimin (Katherine) Kuang, Jennifer Mora, Ashleigh Pavlovic, Victoria Perron, Sacha Roberts, and sophomore Ernesto Barbosa.
A veteran of medical service trips to places such as Jamaica and Nicaragua, Dr. Nary says he finds the Timmy Global Health trips particularly rewarding because they are organized to maintain a continuity of care for the patients. Every trip, the BC brigade works directly with Guatemalan physicians who can follow up with the patients.
"The physicians are well-trained," said Dr. Nary, who noted that quality of care has been enhanced by a newly established electronic medical record system set up by a volunteer on a previous trip. "I've been very impressed with the doctors we've worked with.
"I have no illusions we are changing the face of Guatemala. But it's a good program," added Dr. Nary. "It is interesting and I always learn something new. I like going with the students."
The BC brigade also sets aside time during the trip for reflection and immersion experiences that enrich their understanding of the culture and people of Guatemala. Activities include a lecture by a local anthropologist, salsa dancing lessons, a visit to a chocolatier and shopping at a collaborative featuring weavings by local women.
The reflection time was especially poignant during this most recent trip when a 25-year-old man arrived to the clinic in grave condition and needed immediate transport to a hospital. The brigade had to go on with the clinic for the rest of the day, not knowing his outcome.
At the end of the day, both Dr. Narys spoke to the students about the man and about how they may be reacting to the case. "They let us know that however we were feeling about what we saw, that it was a fine and a valid response. We could feel really sad or vulnerable or matter-of-fact, and it was all fine. They let us know they were available for us to talk to," said Puzo, who plans to attend medical school after graduation.
The group later learned that the man had died. "There was nothing they could do for him at the hospital in Guatemala. It was very heart-wrenching," Puzo said. "He was not much older than us."
—Kathleen Sullivan | News & Public Affairs