Members of the University community gathered at a town hall event on February 22 to discuss how Boston College can increase its global presence and impact – and what obstacles lie in the way of achieving that goal.

The Committee for Global Engagement (CGE) sponsored the event, held in Devlin Hall, as part of its efforts to broaden the campus conversation about challenges and opportunities for BC's international activities and programs. BC included a commitment to build on its international engagement as part of its 10-year Strategic Plan, citing the Jesuit, Catholic liberal arts tradition and its legacy of promoting a worldwide perspective.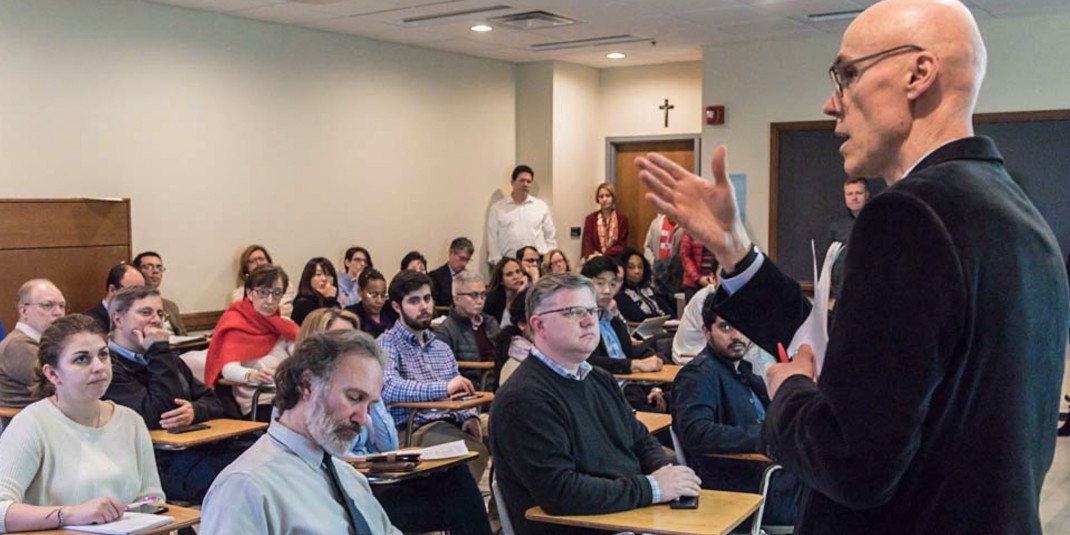 Since its formation last fall by University President William P. Leahy, S.J., the committee has met with more than 200 administrators, faculty, staff and students, encompassing some 50 different academic and administrative units, as it assesses the scope of BC's current international activities, identifies the best avenues for growth, and determines the resources and structures necessary to fulfill these opportunities.

"It's been encouraging and exciting to find out what people are doing at BC in regard to global engagement," Alberto Godenzi, special assistant to the president and the CGE co-chair, told the audience. "But there are many more voices to be heard, and we want to hear from you."

Godenzi, who was joined at the forum by CGE co-chair Associate Professor of Political Science Jennifer Erickson, CGE graduate student representative Edward Choi and Hélène Bernot Ullerö, program administrator in the Office of the Vice Provost for Research, explained that the committee will assemble a vision, strategy and structure for global engagement at BC, along with an implementation plan, that will be presented to the University's senior leadership this fall.

In her remarks, Erickson said the committee found a high degree of international activity among BC faculty on an individual or department-level basis, but uncoordinated: Faculty and departments are often unaware of research or other academic work their colleagues are undertaking. Faculty also cited a need for more funding and support services to aid in promoting interdisciplinary, international collaborations.

During the comment period, faculty attending the town hall affirmed that global perspectives are an important facet of their teaching and research, and expressed concern about a lack of coordination and resources. They endorsed the suggestion Erickson floated of a database that would detail international-oriented activity.

"Everything I do is global, and I feel there are lots of other faculty who could say much the same thing, but they may not identify as 'globally engaged,'" said Associate Professor of History Franziska Seraphim. "BC needs to better articulate exactly what 'global' means and how it relates to what we do as faculty."

Other faculty at the forum, and some international students, said BC needs to more aggressively promote itself, and its distinctive character, at the international level.

Godenzi agreed with the need for more resources, and said it could be addressed through external fundraising. "We don't want this to be a lose/win situation, where we have to take from one area to strengthen another."

Choi gave an overview of students' involvement in, and perceptions of, international activity, and how study-abroad experiences can be more accessible and successful for undergraduates.

About 50 percent of BC undergrads study abroad, Choi said, which is well above the national average but slightly less than peer institutions. Students spoke of feeling too pressured to fulfill core curriculum commitments to consider going abroad, and the "silo" nature of study-abroad experiences – "no meaningful reflection or follow-up." Others, according to Choi, cited financial concerns or skeptical family attitudes.

 Ullerö discussed the increased population of international students and scholars at BC – at its highest in University history – and the task of "internationalizing learning" as a step towards global engagement. CGE members and town hall participants talked about the importance of integrating international students into the University community, and the programs and services that accomplish this.

Near the end of the forum, Godenzi reflected on the topics and comments aired, and what these augur for the global engagement initiative.

"Global engagement requires a cultural change, and a cultural change takes time as well as effort. It's a challenging task, but an exciting one, and we have so many experts on campus to help make it happen. I have yet to meet anyone at BC who's not excited about this."

Another CGE-sponsored town hall will take place April 24 at 3 p.m. in Devlin 221. For more about the global engagement initiative, go to bc.edu/global.

Sean Smith | University Communications