Hong Kong, China, skyline.
Three Boston College students are immersed in the study of Chinese, Russian, and Arabic abroad this summer, through U.S. Department of State Critical Language Scholarships.
The recipients include two members of the Morrissey College of Arts and Sciences class of 2021. Reginald Anadio of Gloversville, NY, an economics major with a Chinese minor, is studying Chinese in Dalian, China; Suzanna Diehl of Watervliet, NY, a chemistry major, is studying Russian in Bishkek, Kyrgyzstan.

Megan Richards of Boxford, Mass., who graduated from BC in May with a major in international studies and minors in political science and Arabic studies, is studying Arabic in Meknes, Morocco.

The trio is among approximately 550 competitively selected U.S. college and university students who received CLS awards in 2019. Their awards bring to 23 the number of BC students who have earned these scholarships since 2006.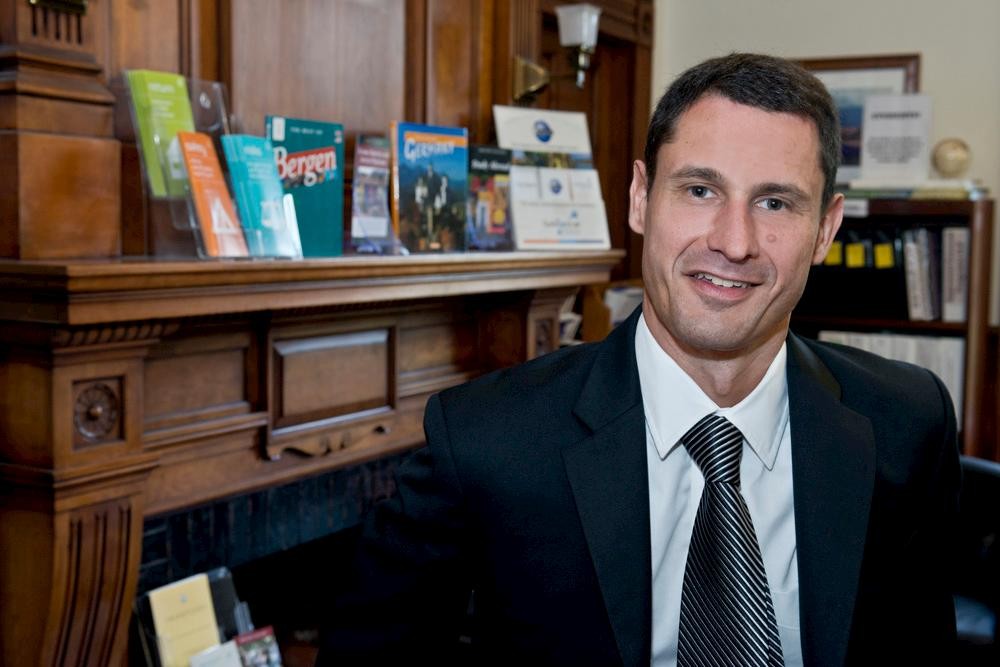 Part of a U.S. government effort to expand the number of Americans studying and mastering critical foreign languages, the initiative gives CLS scholars the opportunity to gain critical language and cultural skills that enable them to contribute to U.S. economic competitiveness and national security.

"These scholarships are essential in both recognizing and rewarding the talent of Boston College students, who will gain so much from their overseas experiences, as well as in helping the University achieve its stated goal of promoting less traditional languages and locations for education abroad," Gozik said. "We are very grateful to the U.S. Department of State, and specifically the CLS Program, for their ongoing support of our students."

The program includes intensive language instruction and structured cultural enrichment experiences designed to promote rapid language gains. Participants live with host families and are part of small cohorts in classes that take place at locations abroad selected by the CLS program. Students are expected to continue their language study beyond the scholarship and apply their critical language skills in their future careers.

 "The CLS Program gives students a unique opportunity to master languages that are less frequently studied but that are critically needed for US national security and cultural competency in a globalized world," said Professor of the Practice of Political Science Kathleen Bailey, who co-directs the Gabelli Presidential Scholars Program and is associate director of the Islamic Civilization and Societies Program.

 "In addition to an immersive experience in the countries where these languages are spoken, students are exposed to different perceptions and points of view, which have a lasting impact on their lives by expanding their horizons," added Bailey, who works with OIP to prepare students in the CLS application process.

"CLS is a highly competitive, first-rate program; BC students who have been selected to participate are outstanding in every way, and return with a renewed commitment to further their knowledge and understanding of the region."
Other students are studying abroad this summer with the support of programs ranging from prestigious national awards to Boston College scholarships and grants.
Through a David L. Boren Scholarship, rising senior Oliver Mai of Flushing, NY, a mathematics major and ROTC cadet, is studying with CET Academic Programs in Osaka, Japan. The Institute of International Education, on behalf of the National Security Education Program, awarded 244 Boren Scholarships to undergraduate students selected from a pool of 851 applicants. The goal of NSEP, a federal initiative, is to build a broader and more qualified pool of U.S. citizens with foreign language and international skills.

Morrissey College rising junior Nicholas Rokosz was selected as a Boren Scholarship Alternate.


Janasia Little '22 of New Haven, CT—a Morrissey College biology major with an African studies minor—is participating in the BC faculty-led summer program "Paris Noir: From Négritude to Hip Hop" in France through a A Benjamin A. Gilman International Scholarship. The awards provide students of limited financial means the opportunity to study or intern abroad, and gain skills critical to American national security and economic competitiveness.


McGillycuddy-Logue Travel Grants are supporting 40 undergraduates studying abroad this summer. Awarded through the OIP's McGillycuddy-Logue Center for Undergraduate Global Studies, the summer travel grant program provides international educational experiences to academically excellent BC undergraduate students for whom such experiences would otherwise remain out of reach. This fall, the grant program will fund study-abroad opportunities for 42 students.


Four students are participating in a summer internship program in Hong Kong through BC's Fung Scholars Program, which supports study in Asia, and selects recipients based on academic excellence and leadership qualities and potential, with preference to candidates who focus on language study.This fall, six Fung Scholars will participant in BC study programs in Asia.


Morrissey College rising senior Kyle Costa of Cincinnati, OH, is studying Islamic Civilization and Societies and political science, is participating in a project at the Al-Jusoor Summer Volunteer and Service Program in Beirut, Lebanon, through a Mizna Fellowship. Administered jointly by OIP and ICS. the fellowships fund research, language study, internships, and service-learning initiatives throughout the Islamic world.


Two Morrissey College students are also pursuing summer projects in Beirut through BC's Omar A. Aggad Travel and Research Fellowships, designed to expand understanding of the Arab world and the relationships between Arab societies and the West. Rising junior Czar Sepe, a political science and history major from Parsippany, NJ, has focused his project on the politics and culture of Christianity in Lebanon; rising senior Matthew Aboukhater, an international studies and economics major with minors in French and finance whose family came to the U.S. from Syria, has centered his project on "finding Syria in Lebanon." The fellowships are administered by ICS.

Rosanne Pellegrini | University Communications | July 2019