Carroll School of Management faculty member Sean Martin, whose research examines the intersection of leadership, values, and organizational culture, has been named the inaugural Mancini Family Sesquicentennial Assistant Professor.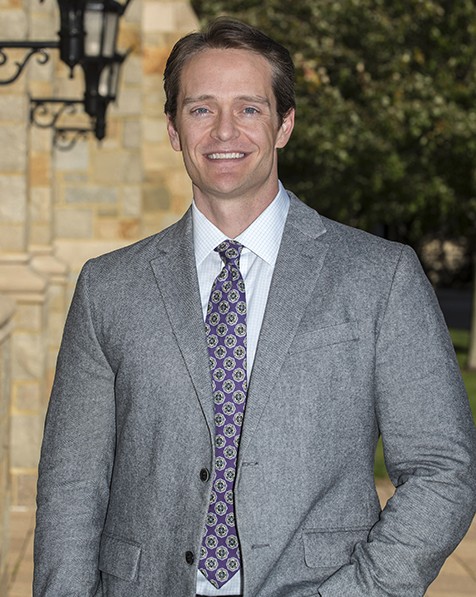 The appointment of Martin, who joined the Carroll School's Management and Organization Department in 2014, is part of a continuing Boston College initiative to support promising early-career faculty members.

The Mancini Family Sesquicentennial Assistant Professorship was established through a generous gift from 1960 alumnus Raymond T. Mancini, who earned his graduate degree from the Carroll School and is the parent of three BC alumni, in appreciation of the school's commitment to excellence in research and teaching. 

"In the past several decades since my own graduation from Boston College, I have had the great pleasure of watching two generations of my family attend BC – most in the Carroll School of Management – and launch successful careers," said Mancini. "One underlying constant has been the faculty who have helped guide us through our formative years as undergraduates and prepare us for the world beyond.

"We are thrilled to be able to support faculty in the Carroll School of Management in perpetuity through this professorship, and we are pleased that Sean Martin has been named the first Mancini Family Sesquicentennial Assistant Professorship. We look forward to seeing all he is able to accomplish and hearing about the many lives he will undoubtedly impact for years to come."

"We are thrilled that one of our best and brightest young faculty members, Sean Martin, has been honored as the inaugural recipient of the Mancini Family Sesquicentennial Assistant Professorship," said Andy Boynton, John and Linda Powers Family Dean of the Carroll School. "Sean is a terrific scholar and excellent teacher. He moves the field with his ideas and inspires our students with his skills in the classroom. The Mancini Family has long been amazingly supportive of Boston College in many ways. Their generous gift will allow us to empower and reward professors like Sean Martin, whose day-to-day interactions with our students helps shape their formative experiences at Boston College."

Martin has worked independently and collaboratively to develop research projects and business cases with prominent companies and organizations including McCann Worldgroup, Sesame Workshop, The Nielsen Company, Blue Cross Blue Shield and the U.S. Army. He also has worked with researchers from Cornell University, London Business School, Harvard Business School and the universities of Texas and Michigan to develop and pilot a cutting-edge leadership course on ethical decision-making.

"This is a gigantic honor, in that it represents a tremendous amount of confidence in me," said Martin, whose research has appeared in Administrative Science Quarterly, Organizational Psychology Review, and Journal of Business Ethics. "While I don't trade in prestige or status, being named Mancini Family Assistant Professor is nonetheless a significant asset in terms of research. I truly appreciate this great opportunity the Mancini family's gift has provided me."

Martin said his favorable first impressions of BC have been strengthened over the course of his nearly three years at the Heights.

"BC seeks to instill the Jesuit perspective throughout the campus," he said, "and I think we've put those beliefs into action in our department. We've built a close-knit community of faculty and students that values engagement as part of the learning experience."

In his studies of organizations, Martin has been particularly interested in how leaders' values and actions influence the behavior and work lives of followers. This relationship, he said, is often built on misperceptions and faulty assumptions of leadership held by both parties.

"I've had a broad set of work experiences ­– from landscaper to business development consultant – and at every single place I noticed really good people subjected to pressure and expectations based on their idea of leadership.

"Unfortunately, in business there are a lot of myths, and plenty of bad pop psychology, regarding leadership. It's looked on as it's a natural trait that you're born with, when in fact leadership is a set of behaviors that can be learned."

 Martin's body of work includes articles in the Academy of Management Journal on two research projects related to leadership and organizational culture. One co-authored study explored how growing up wealthy or poor can relate to leader effectiveness: Its findings suggested, among other things, that higher parental income leads to higher levels of narcissism and a corresponding lack of engagement in key leadership behaviors – and lower leader effectiveness overall. 

Another study, solely by Martin, explored how different narratives in an organization convey information to, and influence behavior of, newcomers. According to Martin and his colleagues, stories that depict senior managers or other high-level members of the organization upholding institutional values are less likely to set a positive tone for newcomers to follow than similar stories about lower-level employees. But narratives in which higher-level members – not lower-level ones – violate values tend to have a greater negative impact on newcomers' behavior.

"It's important to look at both the spoken and unspoken communication within an organization, and the role leadership plays in that communication," Martin said. "The organization may say it values employee feedback, but does the leadership send secret, subtle – or not-so-subtle – hints that suggest otherwise? Do the bosses act defensively in the face of criticism, or respond with ridicule? Or perhaps they keep rescheduling meetings you had requested with them?

"These are the kinds of things that teach employees that speaking up is not safe. And that's something the organization should pay attention to, because research has consistently shown that those organizations or units with more of an employee voice are higher performing groups."

The current political situation has fueled much debate about presidential leadership, said Martin, but the question of what makes for a good leader has long fascinated academics and non-academics alike. This interest extends to popular culture, he added, pointing to the character of Michael Scott in the popular series "The Office" as a "hilarious, remarkably ineffective" boss who nonetheless retains his position and has a generally good rapport with his employees.

"Then there was Steve Jobs, whom we've been told – perhaps somewhat apocryphally – was insulting and overbearing, and yet the qualifier is, 'But look at his success,'" said Martin. "The thing about Jobs is, he had ideas that literally changed the world. Employees might put up with consistently negative behavior from a leader – but it usually takes a pretty special leader for that to happen."

Martin has a bachelor's degree from the University of California-Santa Barbara, an MBA from California Polytechnic State University in San Luis Obispo, and a doctorate from Cornell University.
-Sean Smith / University Communications