The Seaport District in South Boston supports an innovation district supported by commercial, residential, and public spaces. (David Manfredi/Elkus-Manfredi)
Brookings Institution Vice President Bruce Katz, an expert in urbanization and public policy, delivered the keynote address about the growing influence of innovation districts at a recent Corcoran Center for Real Estate and Urban Action forum.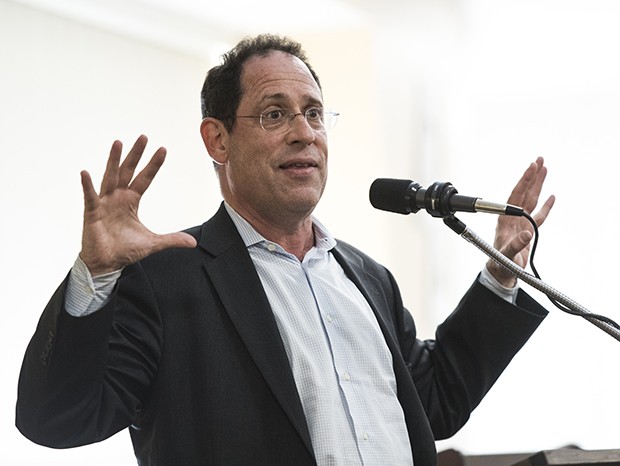 Brookings Institution Vice President Bruce Katz (Chris Soldt)
The symposium "Innovation, Urbanization, and the Metropolitan Revolution," featured presentations and a panel discussion about the growth of cities and the emergence of innovation districts, areas where university research, emerging firms, and residents accelerate economic growth.
"We have moved from a closed innovation system where companies had to keep their secrets secret," said Katz, the founding director of Brookings' Metropolitan Policy Program and co-author of The Metropolitan Revolution. "As you move to open an networked economy, what you want are networks – between companies, incubators, entrepreneurs, universities, faculty and students. The move from closed to open innovation re-values proximity … it re-values cities, essentially."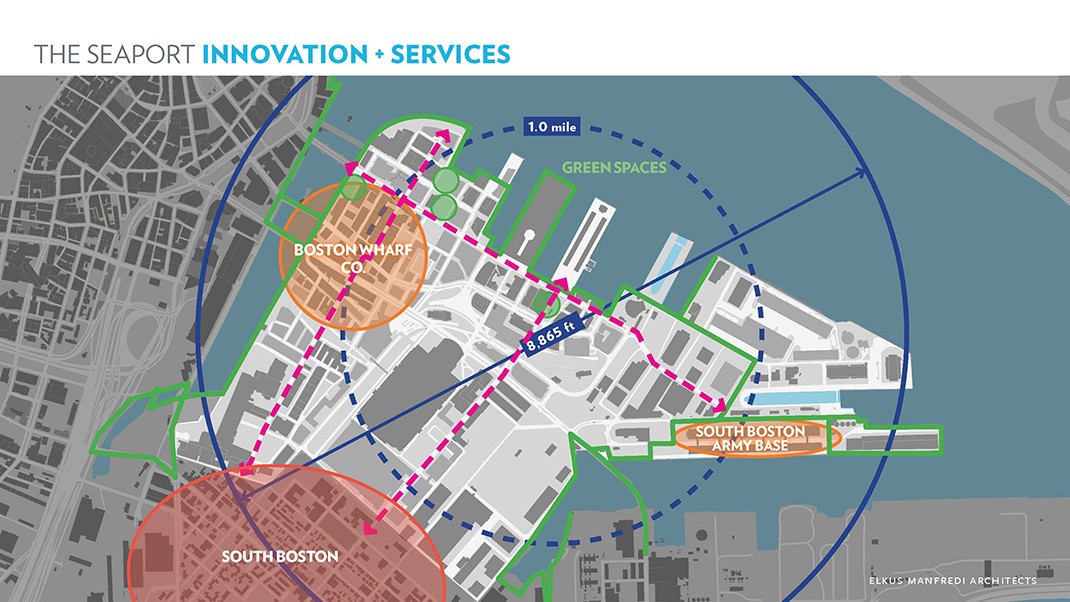 Hundreds of new and established companies have located to South Boston's Seaport District, creating an innovation district largely inside one square mile. (David Manfredi/Elkus-Manfredi)
Locally, innovation districts surrounding Kendall Square in East Cambridge and the Seaport District in South Boston are the most notable examples of areas fueling new business and community growth and innovation in government. Yet in Massachusetts and elsewhere around the U.S., the districts raise issues around housing, building and sustaining a workforce, and creating access to opportunity.
"For this event, we brought together national, leading experts in economic development, public policy, real estate, housing, and philanthropy to present how local government and the innovation economy are the engines of progress," said Neil McCullagh, director of the Corcoran Center for Real Estate and Urban Action at Boston College's Carroll School of Management. "Thoughtful economic development has the potential to create access to opportunity, and through good policies and nimble local government, we can build on this extraordinary period to strengthen access to opportunities for everyone," he added.
In addition to Katz, Catalyst Group founder Renée Lewis Glover spoke about the use of mixed-income housing to revive a downtown neighborhood when she was CEO of the Atlanta Housing Authority.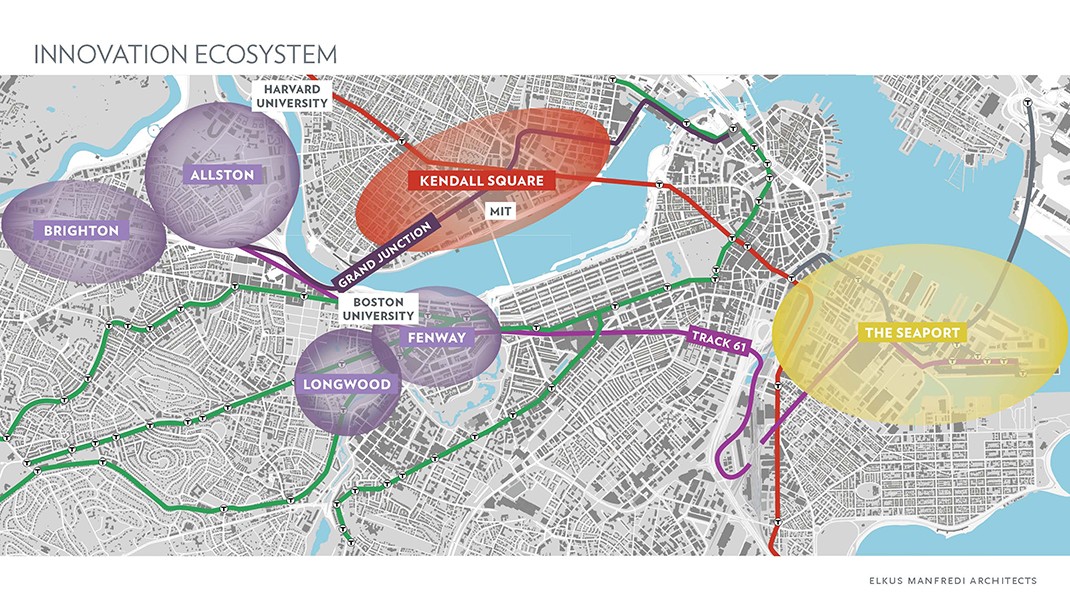 Beyond the Seaport District, neighborhoods where research, entrepreneurship, and a skilled workforce meet are adding to an innovation 'ecosystem.' (David Manfredi/Elkus-Manfredi)
The third presenter, world-renown architect and designer David Manfredi, principal of Boston-based Elkus Manfredi, outlined the principles of "place making" that have fostered the growth of Kendall Square – anchored by MIT – and Boston's Seaport District.
"This is about creating places that facilitate interaction where people work and think in public," Manfredi said about the evolution of Kendall Square since the early 1980s. "The isolation has been replaced by working and thinking in public. There's diversity – housing, restaurants, park spaces, and other types of uses that attract and retain talent."
He added that new innovation districts continue to emerge in the city, particularly in the neighborhoods of Allston, Brighton and Kenmore Square.
A panel moderated by Boston Foundation President Paul Grogan, and joined by Thomas Alperin, president and founding partner, National Development followed at the October 20 event, with speakers discussing opportunities and challenges faced by growing urban centers.
"Boston is unique, and we strive to be an example to other cities that may benefit from replicating practices we employ," said McCullagh. "I hope we can learn through this forum what more we can do in Massachusetts to ensure that the success of our great innovation districts are felt across the region."
—Ed Hayward | News & Public Affairs