Billed as a tremendous resource for both students and faculty who are interested in behavioral marketing, the Consumer Insights Panel Lab—a controlled laboratory environment that will enable innovative data collection to aid both faculty research and student learning—officially opened this week in Cushing Hall.
"The lab provides the right setting to conduct a wide range of behavioral studies," says Carroll School of Management Assistant Professor of Marketing Nailya Ordabayeva, co-founder of the CIPL. "In addition to enriching BC's research environment, the lab will enhance students' learning experiences by giving them the opportunity to experience first-hand the cutting-edge methods and problems studied in marketing."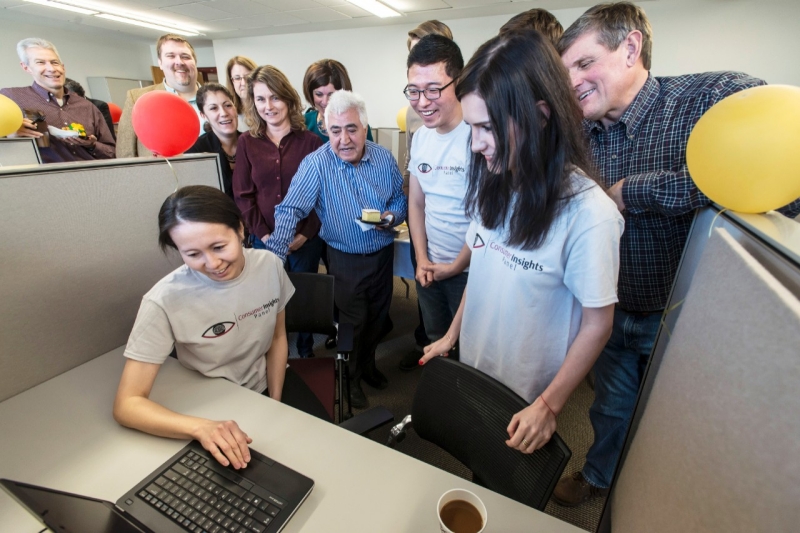 "The lab will also broaden the range of research opportunities because faculty won't be limited to the kind of data they can find online. The CIPL will consist of a centralized system that brings together the Carroll School community: faculty looking to conduct studies and students or staff members who are participating, either by taking surveys or completing directed tasks. Participants will be paid $5 in cash for every 30 minutes of participation."

CIPL's other co-founder, Coughlin Sesquicentennial Assistant Professor of Marketing Hristina Nikolova, says the lab's potential benefits for students are considerable. "I can attest from my own experience last semester that the students love participating in research studies conducted by their professors, and being able to see the other side of their professors' job. I believe the lab will create more opportunities for faculty-student interactions and student involvement outside the classroom.

"We are very thankful to everyone who has helped us with this initiative," adds Nikolova, "and we look forward to putting the lab to a great use."