A dynamic presentation by acclaimed poet and performer Patience Agbabi — whose 2014 work, Telling Tales, is a compelling, contemporary retelling of Chaucer's famous Canterbury Tales — concludes the fall Lowell Humanities Series events, on Nov. 15 at 7 p.m. in Gasson 100. The event is open to the public, free of charge.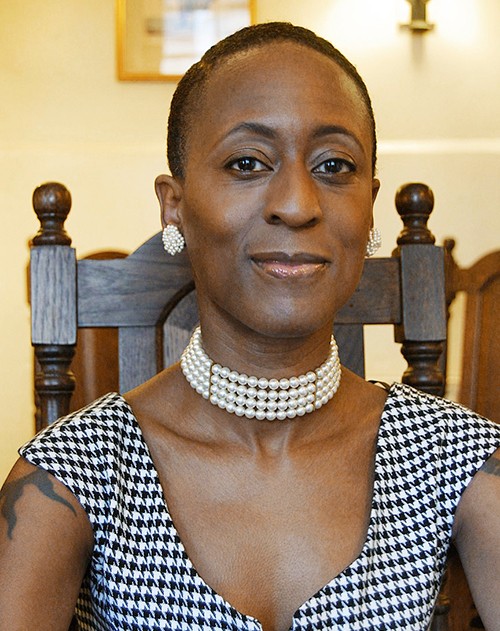 "Patience Agbabi is an accomplished poet with an exceptional skill for translating between the page and the stage," said Assistant Professor of English Eric Weiskott, who suggested her invitation to the University. "Her work is notable for connecting the past and the present, as in her book Telling Tales, a modernized version of Chaucer's Canterbury Tales complete with a rapping Cook, a Nigerian Wife of Bath, and a Monk who writes in text-message abbreviations. We hope that the audience will respond to the astounding range of Agbabi's poetics and her dynamic performance style."
Telling Tales, according to the event organizers, is a stunning example of Agbabi's distinct voice and vision as an artist, which combines classic takes with urgent themes of today's socially and politically complex world.
Agbabi has engaged audiences in Namibia, the Czech Republic, Zimbabwe, Germany and Switzerland, where she has toured to present this 21st century-take on the classic work.
She discussed her inspiration in a 2014 interview with The Telegraph: "Chaucer's original is brilliant. It's probably some of the best work of English literature, in my opinion." It stands the test of time, she maintains, due to the distinct individuality and agency of its characters — a quality that has for the most part maintained its relevance in contemporary academia.
"I was amazed, when I reread Chaucer's original, at just how varied the voices and styles were," she noted. "I thought, if I'm taking this on, I can't just repeat what's already been done, because I can't hope to be anywhere near this."
Instead, she explained, she took an interesting angle, played around with form, sound and character, and brought the story to a different dimension. In the contemporary United Kingdom, 500 years removed from Chaucer's England, "there are massive gender and race differences, so I had to update all that," she added.
Agbabi, who has been featured worldwide on television and radio, has garnered numerous honors and accolades. For more on her other works of poetry, professional affiliations and many distinctions in her field, see the Lowell Humanities Series calendar. 
—University Communications