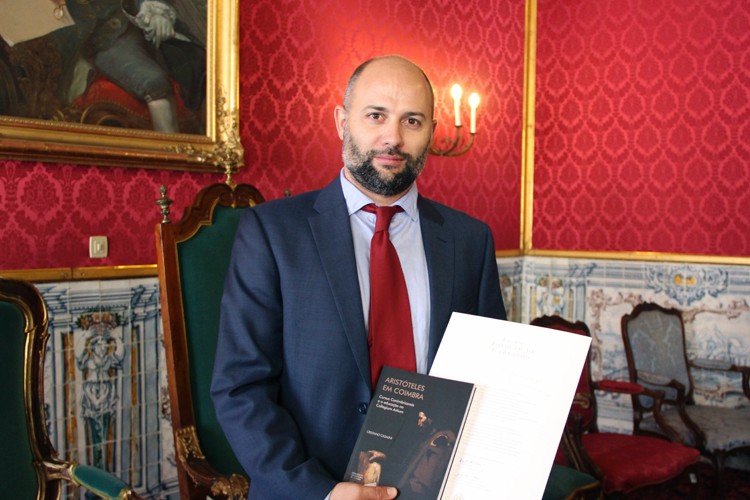 © UC | Karine Paniza

Cristiano Casalini, a research scholar at Boston College's Institute for Advanced Jesuit Studies, has been honored with the Joaquim de Carvalho Award from the University of Coimbra in Portugal for his book, Aristotle in Coimbra: Cursus Conimbricensis and Education at the Collegium Artium. Casalini's publication is the first book to cover the history of both the College of Arts in Coimbra and the seminal work, Cursus Conimbricensis, the philosophical textbook published by the Jesuits of Coimbra at the end of the 16th century.
The Cursus Conimbricensis serves as the basis for modern Jesuit education and teaching. Casalini's book focuses not only on the importance of the publication of the Cursus, but also on the institutional conditions and interpersonal relationships among stakeholders in the process.
"What I tried to do in my book was to use this Cursus as an archeological find, seeking in its late-scholastic neutral text the living history of those people who populated the college of Coimbra," said Casalini. "By doing this, I discovered an intriguing tangle of biographies of great professors (their academic conflicts), pedagogic strategies, political turmoil, and fantastically vivid traits of daily life in a sixteenth-century Jesuit college. Moreover, I found that Coimbra was actually what BC is now: a top Jesuit  institution at the core of a worldwide educational network."
First published in 2012 in Italy under the title, Aristotele a Coimbra. Il Cursus Conimbricensis e l'educazione al collegium atrium, Casalini's book has been translated into Portuguese and English. It was also awarded the Vito Fazio-Allmayer International Award in 2015.
Casalini is a tenured faculty at the University of Parma, who is spending his third year at BC. He previously was a visiting fellow at the Jesuit Institute, visiting fellow at the IAJS, and visiting assistant professor at the Lynch School of Education.
He is an associate editor of The Boston College Jesuit Bibliography and a member of the editorial board for Educazione. Giornale di pedagogia critica.
He also is co-editor, with Claude Pavur, S.J., of Jesuit Pedagogy, 1540-1616: A Reader, which offers—for the first time in English—a wide selection of relevant materials that shows the development of Jesuit approaches to pedagogy in theory and practice. The anthology brings about a better understanding of why Jesuit schools became such important educational institutions in early modernity.
-- Kathleen Sullivan/Office of University Communications