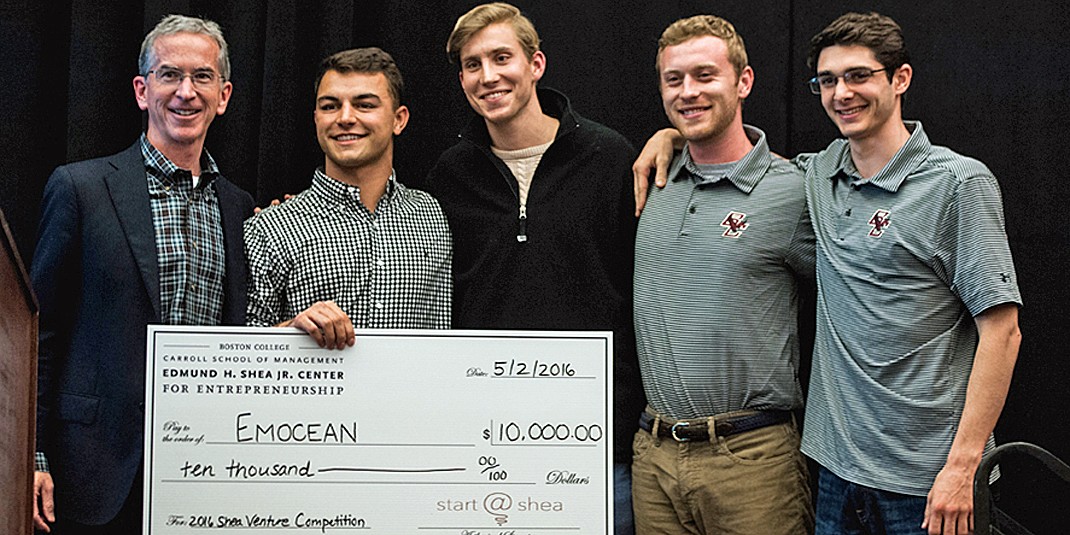 Shea Center Executive Director Jere Doyle with 2016 venture competition top prize winners in the traditional business track: Emocean team members Anders Bill '17, Christian Nicholson '15, Jeffrey Sabo '15, Michael Gordon '16.
[Update: top prize winner Emocean is now known as EchoMe. Learn more at the EchoMe website.]
Aspiring Boston College entrepreneurs pitched their business ideas—some of which have already been put into action—at the annual Shea Venture Competition, sponsored by the Shea Center for Entrepreneurship at the Carroll School of Management.
Now in its fifth year, the Shea Venture Competition (formerly known as BCVC) combined both the Social Innovation and Traditional Business tracks into one competition for the first time.

Among this year's winners is an app allowing multiple people to listen to the same song simultaneously; a website matching researchers with test subjects; an enterprise that aims to connect the needs of children in the U.S. to those of children living as refugees, and an entity that wants to improve classroom engagement and provide teachers with open access to the best teaching content and tools.

"The energy and excitement in the room was at a level I've never seen before," said Shea Center Executive Director Jere Doyle. "What was most impressive to me was the enthusiasm and passion that the students all showed for their ideas.  That entrepreneurial spirit is exactly what we are trying to cultivate on campus."
Taking home top prize of $10,000 in the Traditional Business Track was Emocean, an iOS application that allows two or more users to listen to a song at the exact same time. Co-founded by Michael Gordon '16 and Christian Nicholson '15 and including Jeffrey Sabo '15 and Anders Bill '17, the product won the Shea Center's Elevator Pitch competition last fall—under the name Music Splitter—and recently, as MOcean, placed in the top of the ACC InVenture Competition.
"We were so excited to have won," said Bill. "The money will go to scaling—buying servers and things along those lines. We also have two guys, Michael and Christian, who work on it full-time. They don't take a dime for themselves. Just to have that money to help them out is huge."

Emocean is about to launch a second round beta integrating different analytic systems to understand how roughly 2,000 individuals interact on its application. The company, which plans a hard launch in September, is working with working with 30 Boston-area artists, who have anywhere from 10,000 to 500,000 monthly listeners on Spotify or SoundCloud, said Bill. "The hope is we bring over 10 to 30% of their fans onto the Emocean platform."

The $10,000 winners in the Social Enterprise Track was Purple Parachute, which hopes to use a "buy one-give one" subscription service to sell creative play kits in the United States while supporting the needs of children living as refugees. The idea took root when team member senior Megan Greeley read about the plight of Syrian children who had fled their country and were now living in refugee camps.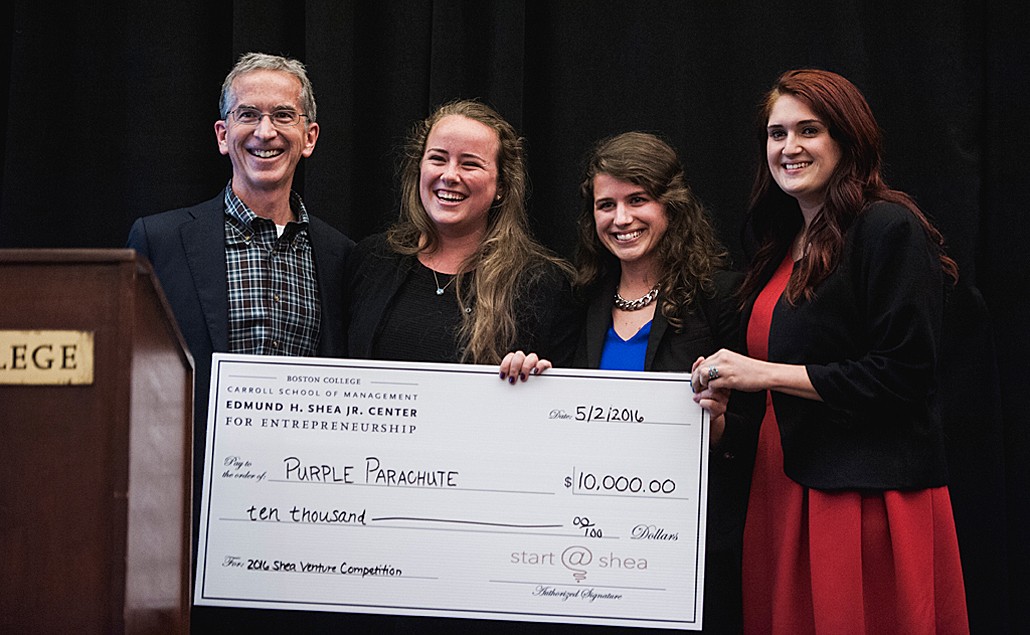 Shea Center Director Jere Doyle with Purple Parachute team Megan Greeley '16, graduate student Colleen White '17, and Christina Stellingwerf '16, winners of the top prize in the social entreprise track.
"We were interested in exploring how social enterprise might be able to address some of the challenges faced by Syrian refugees," she explained. "We started looking at how we might be able to bring childhood back to these kids and read up on the psychological benefits of creative play for young kids."
Greeley and Christina Stellingwerf '16 developed a recreation center in a box and modeled the business as a non-profit, but then pivoted toward a for-profit social enterprise. They asked MBA student Colleen White to join, and she hatched the idea for a subscription service of creative play kits for sale in the United States. Purple Parachute's next step is to connect with a focus group to better shape what the product prototype might look like.

"A focus group will allow us to test the kit as a whole in order to better understand how we can keep students fully engaged and to improve the quality of our actual materials," said Greeley.
For now, the Purple Parachute team is thrilled that its idea was validated at the Shea Venture Competition. "Absolute joy!"  Greeley said. "Every team that competed was incredibly smart and they developed strong business plans, and we are humbled to have been part of the competition at all. I am so proud of my teammates and the work we have done together. I am thrilled that we have the opportunity to continue building Purple Parachute. The problems we seek to address are happening every day, and we want to begin making an impact as soon as possible."

On the verge of making an impact is Xperii, a website service that hopes to revolutionize how researchers and test subjects are brought together. The company wants to help scientists come into contact with hard-to-find research subjects, while at the same time allowing those subjects to make some extra money in their spare time. The company hopes to revolutionize subject recruitment in academic research as well as the medical device, pharmaceutical, and focus group industries.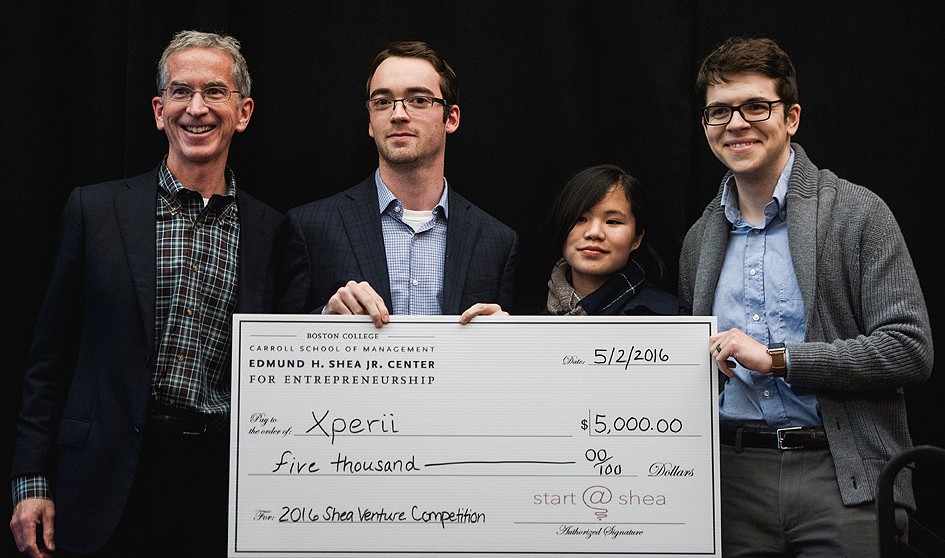 Shea Center Director Jere Doyle with Xperii team members Daniel Williams '16, Carroll School of Management, Cynthia Chen, Brown University, and Evan Ehrenberg, MIT.

If Xperii sounds familiar, it should. Last fall, the team won the Shea Center's Elevator Pitch Social Impact award. Since then, the team has expanded to five software engineers, and has added experts in the clinical trial industry to its advisory board.
"While building a startup is not free of diversions along the journey, Xperii taking home second place in the Shea Venture Competition is further validation that our mission resonates," said Daniel Williams '16, who is working on the venture with a student from MIT and another from Brown University. "We envision Xperii as a platform not only helping researchers, but it is also an outlet to bring awareness and resources to those wishing to participate in research. We're helping bring tomorrow's medical breakthroughs, today. Though we will be launching to begin in New England to start, Xperii's scalable model really has  no limits—international expansion is in our future, that's for sure."

After going through the Start@Shea Accelerator, Xperii won the New England regionals for the RECESS Pitch competition which holds its national finals in Los Angeles.  Xperii has more than 500 research participant users and 50 researchers signed-up in Boston and Providence, and it's beginning a $500k pre-seed financing round.

Centered around social good, Xperii team members say the platform enables more research to be conducted faster, while allowing anyone to participate in research and play their part to help advance scientific and medical breakthroughs. The company plans on donating portion of profits to partnership organizations that specialize in rare medical conditions.

"The Shea Center is instrumental in helping shape the entrepreneurial ecosystem of Boston College," said Williams. "We are honored to have been selected as a winner of the Shea Venture Competition; it's fantastic to receive more validation that we've built something valuable. The Shea Center has been a great resource as we've grown, and we look forward to continuing to work with the program in the future."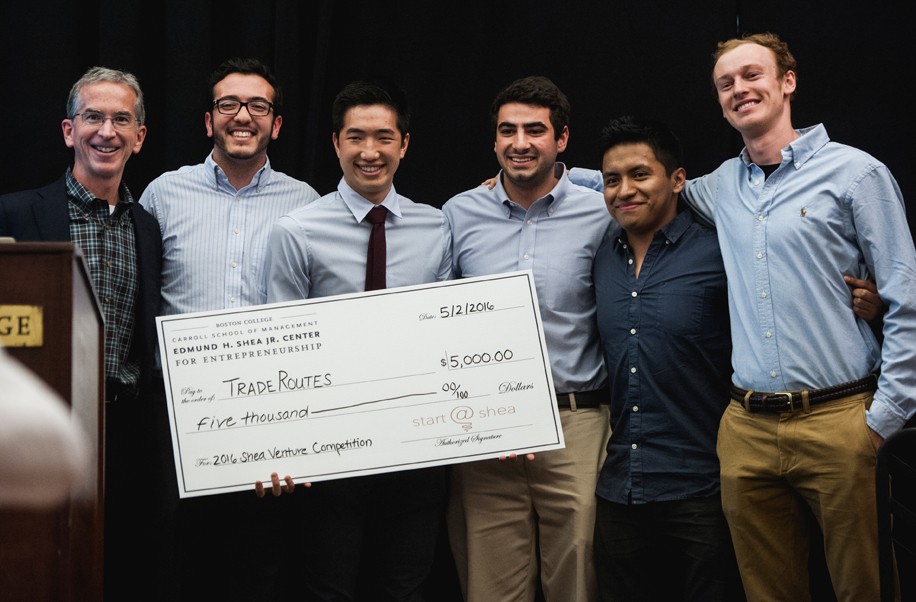 Shea Center Director Jere Doyle with the TradeRoutes team: Adam Minuto '16, Carroll School of Management, Ryan Lee '16, Lynch School of Education, and Morrissey College of Arts & Sciences students Ryan Dontas '16, Omar Morales '17, and Kevin Gleason '16.
TradeRoutes took home second place and $5,000 in the Social Enterprise side of the competition. The for-profit has a mission to improve classroom engagement and provide teachers with open access to the best teaching content and tools, with a K-12 social studies teaching platform that brings history to life.

"We missed the podium at last year's competition so hearing our name called brought feelings of exhilaration for each of us!" said team member Ryan Lee '16.

Lee came up with the idea after spending semester abroad in Kathmandu, Nepal where he started a media-rich website to bring his travels to life for his friends and family. After returning to BC, he paired up with Ryan Dontas, who had already joined Students for Education Reform, which develops college students into grassroots organizers who fight for educational justice in their communities. The two worked together in imagining how education can be transformed with technology and brought in Adam Minuto '16 to help flesh out the idea. The end result was TradeRoutes.

"TradeRoute was created around the vision of bringing learning to life," said Lee. "We're iterating on the product by learning more about what teachers and students need in their classrooms.

"We are in the process of further validating our product with more teachers around us. Next year, I'll be growing TradeRoutes at the Harvard School of Education while the core team of rising seniors maintain product development on the Boston College campus. After that time, TradeRoutes will be ready to go to market!"
By Sean Hennessey | News & Public Affairs