Hometown: Massapequa, N.Y.
Major: Nursing
Notable Activities/Achievements: Lead health coach and health coach team manager, Office of Health Promotion; Undergraduate Research Fellow; senior leader, Connell School of Nursing SCRUBS retreat for sophomores; peer advisor, CSON Freshman Seminar; lifeguard and facility supervisor, Flynn Recreation Complex; volunteer, Our Lady of Lourdes pilgrimage; volunteer, Habitat for Humanity; Appalachia Volunteer.
Post-Graduation Plans: Murray will marry her fiancé Ethan Penny in July and relocate to Georgia in the fall, where she will seek a nursing position and Penny will begin basic training in the U.S. Army.

Overview: Murray is a born caregiver, demonstrating the art and science of nursing in her clinical rotations in Boston's world-class hospitals, in summer positions as a personal care associate and nurse extern at North Shore University Hospital in New York, and when accompanying and caring for a very ill patient on a pilgrimage to the shrine in Lourdes, France. Her care for others is also showcased on campus in her work as a health coach, peer advisor, retreat leader and lifeguard, and off campus through her volunteer activities with Habitat for Humanity and the Appalachia Volunteers.
You've been active in the Office of Health Promotion's programming since freshman year. Can you talk about what do there?
The Office of Health Promotion offers programming about stress, healthy alcohol consumption, nutrition and sleep. They have individual health appointments too. I joined my freshman year and sophomore year I started teaching programs about stress. Junior year I was a team manager for the stress group. Then senior year, I was one of the lead health coaches for all the different groups. It's been an awesome experience. Being a part of OHP has helped me learn a lot about health, but has also helped with public speaking. I've taught programs to small groups of girls in a residence hall and groups as big as 60 or more.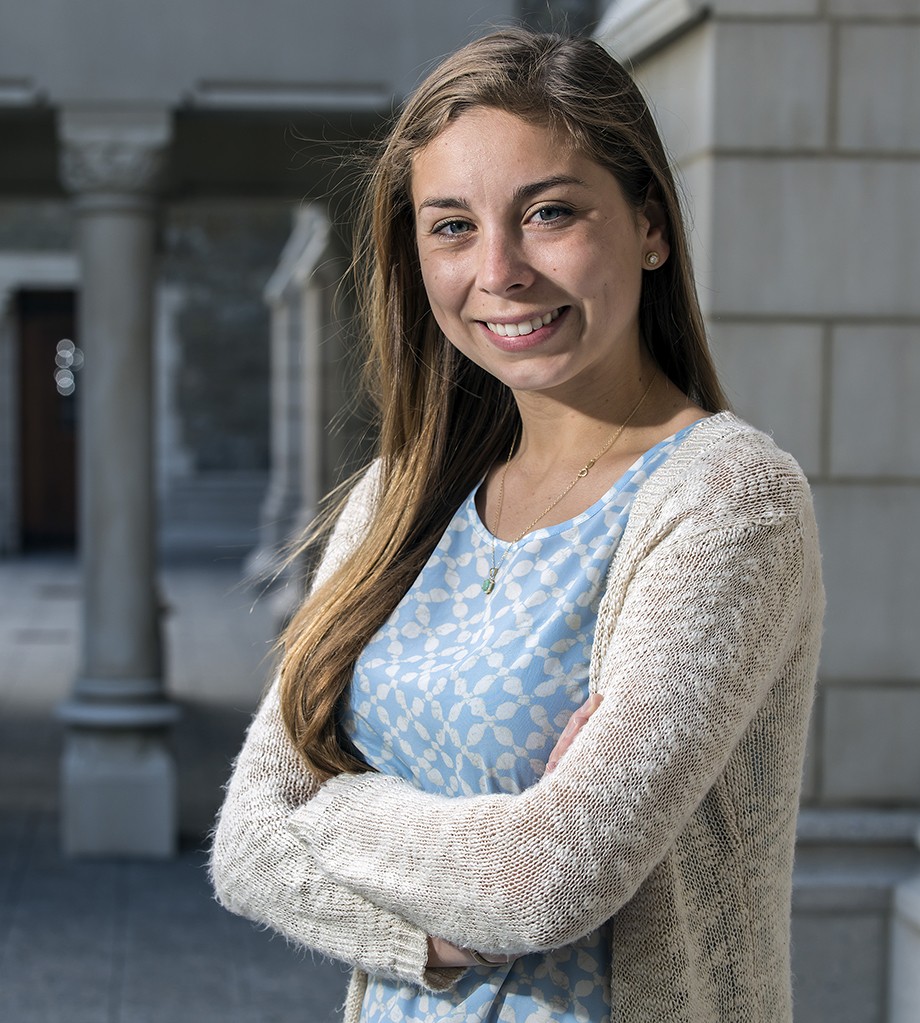 Kellie Murray '16. (Lee Pellegrini)
How has BC made a difference in your life?
BC has given me confidence in myself. All the different experiences have pushed me out of my comfort zone. Whether it's academics, public speaking as a health coach, the volunteer clubs, going to church, everything has helped me be confident in who I've grown to become.
Who has been an influential person during your time at BC?
My first clinical instructor Kendra Conlon from Beth Israel Deaconess Medical Center was one of those nurses you want to be. She is so smart and confident, so in-tune with how to care for people and so compassionate. My class with Colleen Simonelli of CSON was inspiring to me. To hear from someone who is such an expert, and so passionate about being a labor and delivery nurse, made me want to be the nurse who has the answers and can help women. 
What's been one of your favorite memories at BC?
Last summer, I went to Ireland for the first time. I met family members I had never met before. I became really interested in Ireland. So, I signed up for Irish Gaelic with Joe Nugent. It was one of my favorite classes. He taught us so much about Irish culture. This semester, I also took Irish dance with Kieran Jordan and lessons for the tin whistle with Jimmy Noonan. So, my favorite memory relates to this. We had an Irish music and dance night where the fiddle players, tin whistle players and Irish dancers all got together at Connolly House. We got to dance for everyone and the musicians were playing live music for us. It was fun. It was so great. It was really good for me to get in touch with my Irish heritage.
What will you miss most about BC?
I will miss how easy it is to do so many great things. You can go to class and learn, have lunch with your best friends, go volunteer, and then go to the gym. Every day can be filled with so many good things. Think of the Student Involvement Fair. If you're bored or you want to pick up a hobby or join a club, it's all right there. There are endless things to do and take advantage of, and they are all conducive to learning and giving you good experiences that will help you in the future. There's a lot here that can help to build you as a person.

By Kathleen Sullivan | News & Public Affairs