Hometown: Lake Oswego, Ore.
Major: Information systems and marketing
Notable Activities: Fellow at .406 Ventures; founder, Quabblejack, LLC, which launched three revenue-generating ventures; member, Start@Shea Board; student speaker, 2016 Wall Street Council Tribute Dinner; regional president, The Kairos Society; teaching assistant, Analytics and Business Intelligence course; volunteer, Haley House and Project Bread; award winner, Startup Weekend, Global Fashion Battle New York (2014); team member, Capital One Case Competition (2014).
Post-Graduation Plans: Currently in talks with several Boston-based early stage start-up companies; plans on launching his own product or company in three or four years.

Overview:  Presidential Scholar Quintana got the entrepreneurial spirit early on. In middle school, he went on eBay and began buying, fixing up and selling old computers for a profit so he could purchase an Apple computer. In high school, he launched his own company that eventually would evolve into Quabblejack, which sold camera straps and other specialized apparel designed by Quintana. After his freshman year at Boston College, Quintana landed a coveted fellowship at .406 Ventures, a Boston-based venture capital firm where he stayed for two years. On campus, he was a key organizer of the Shea Center for Entrepreneurship's student group, which organized activities and the annual Venture Competition.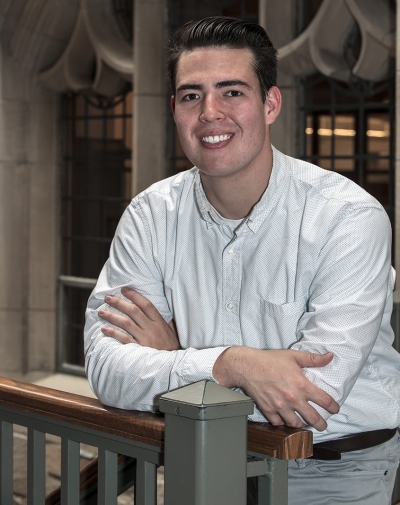 Claudio Quintana '16 (Lee Pellegrini)
What fires your entrepreneurial interest?
I think it's the combination of creation, love for art and technology. I had a cool moment while creating the camera straps while running Quabblejack that put everything in focus. I saw a young person post on social media that the camera strap was her Christmas gift – this was the highlight of her Christmas and she was so excited and was going to take pictures. I really enjoyed what I was making but I took for granted perhaps how much someone else could enjoy it too. Finally, the light bulb went off: I realized that what was important to me could also be important to a total stranger. 
The next time I launch something or join a team, I want it to be an entity that is valuable to someone. Not just what the team thinks is valuable but something that is valuable to others and could make a difference in their lives.

Who at BC has had the biggest influence on you?
Fr. Jim Keenan and Professor John Gallaugher. Over my time here, Fr. Keenan pushed me to think more about the common good and how you tackle problems. Working on an idea, a start-up, or a team, you approach that community-building process in the sense that there's so much more to think about than just the objective or goal. John Gallaugher and I started our connection when I visited BC as a potential Presidential Scholar and continued it all through my time here. We got coffee or lunch at least a couple of times a month. He has this unique perspective and has been such a huge part of BC's entrepreneurial community – having watched so many people build relationships, succeed and fail with businesses. Professor Gallaugher pushed me to go for difficult things and embrace these things that I can go do. 
What advice would you give incoming freshmen?
One of the things people shared with me was "work on something you're interested in." I wish I had learned earlier to share that process of what you're working on with more people, and as early as possible. Now, if there's something I want to work on or am passionate about, I'll go find other people who are also passionate and knowledgeable in those areas, and collaborate. Along those same lines, find a professor who has similar questions that you have or find one that is working on solving problems or doing research on something you're interested in. I'd also suggest that you try to embrace what makes you unique, and bring your whole self to whatever you are working on.
How would you characterize all that you've been able to do? 
The metric that I find most meaningful is, "Was I doing something that I was very passionate about and was I having fun? Was I doing something that was making me better and the people around me better while trying to be part of something larger than myself?" When I look back at everything that I've done, I see where I've been able to thrive and I've seen areas that I wanted to keep working on. Overall, I think I can always look back and say, "I could have done more. I wanted to do more." 
But in some sense, I have an appreciation for the path I took and things I have done to get me here. I'm proud of what I've done and sometimes I need to step back and be thankful and appreciative, and enjoy the moment, because I'm just so focused on the next thing. Everything I did was the result of people around me and I'm fortunate that I was able to channel that into something productive and meaningful.

By Sean Hennessey | News & Public Affairs