Morrissey College of Arts and Sciences junior Jorge Mejía, who has bridged academia and advocacy to serve the needs of the Hispanic/Latino community on campus and in his native Bronx, has been named winner of the University's 2018 Archbishop Oscar A. Romero Scholarship.

The scholarship, which covers 75 percent of senior-year tuition, is given annually to a BC junior who has demonstrated superior academic achievement, extracurricular leadership, community service, and involvement with the Hispanic/Latino community and Hispanic/Latino issues both on and off campus.

"Oscar Romero was, is, and always will be part of my life journey," said Mejía in his acceptance speech at last month's Archbishop Oscar A. Romero Scholarship Award Ceremony. "To be awarded a scholarship in his name is the biggest honor I could ever receive. I am not usually one to seek the spotlight, but the Romero Scholarship to me is not a spotlight. It's a reminder of my/our duty as humans – to realize we are agents of history and hold the tools to rectify structures of injustice."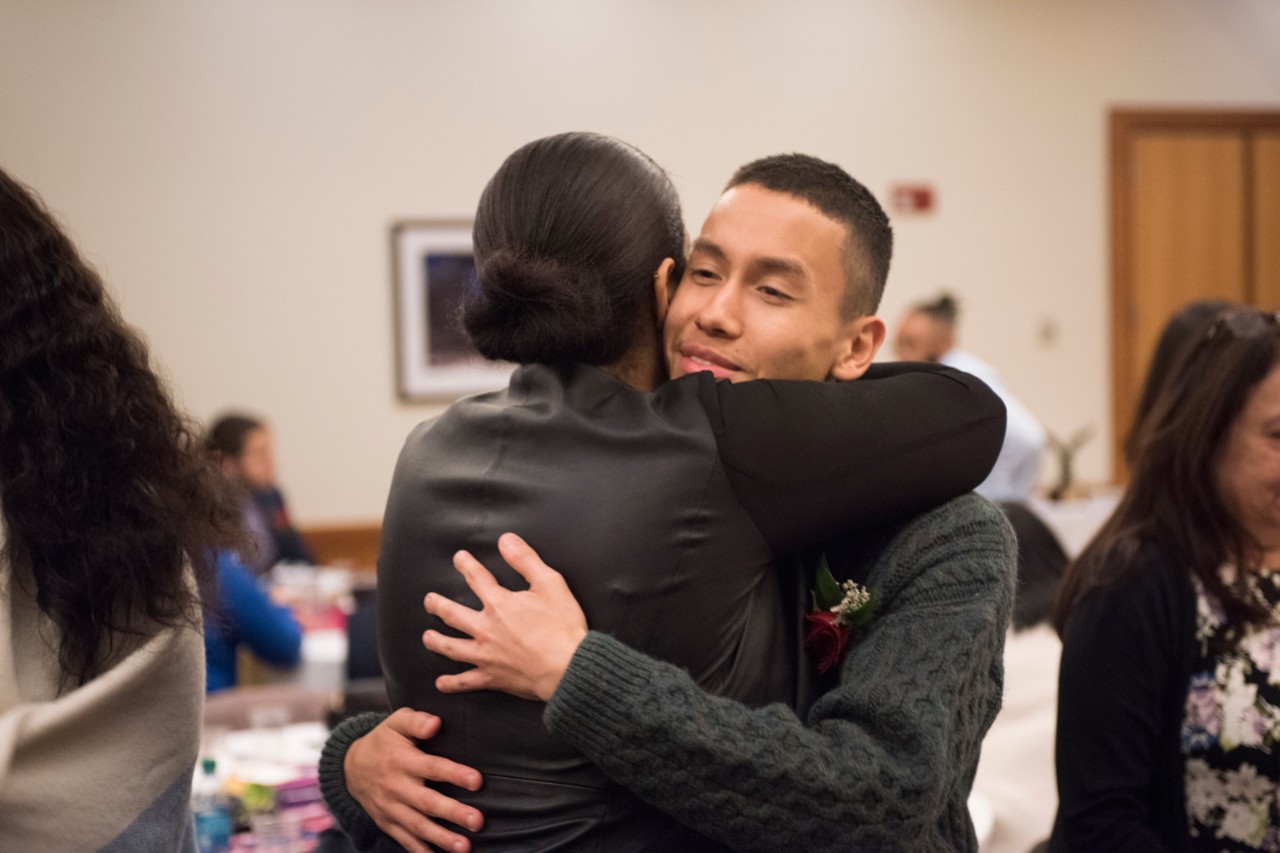 Mejía's parents, Patricia Guerrero and Jorge E. Mejía, were in attendance at the ceremony to see their son, a first-generation college student, win the scholarship. Also recognized at the March 24 event were fellow finalists Kimberly Lozano and Roberto Garcia, as well as Juan Arteaga '99, who was honored with the Rev. John A. Dinneen, SJ, Hispanic Alumni Community Service Award.

A political science major with minors in Latin American Studies and history, Mejía cites several international experiences that have broadened his horizons and his skill set: a summer studying in Ireland, Northern Ireland and Scotland for The Politics of Self-Rule course; another summer studying abroad in Kuwait, Qatar and United Arab Emirates; Sociology Associate Professor Eve Spangler's Social Justice in Israel/Palestine course that concluded with an immersion trip to that region.

As director of Social and Political Action within the Organization of Latin American Affairs (OLAA), Mejía has been committed to expanding the perception of OLAA as only a culture club by emphasizing its advocacy potential. Through his outreach, Mejía has been able to connect OLAA with sponsorships and partnerships with organizations such as the Clough Center for the Study of Constitutional Democracy and the Winston Center for Leadership and Ethics.

Last fall, Mejía organized a panel discussion on "Venezuela: The Origins, Development and Future of the Crisis" that brought together prominent economists, a BC international student from Venezuela and a BC student born in Venezuela and raised in the US, to examine the political and economic issues facing the South American country.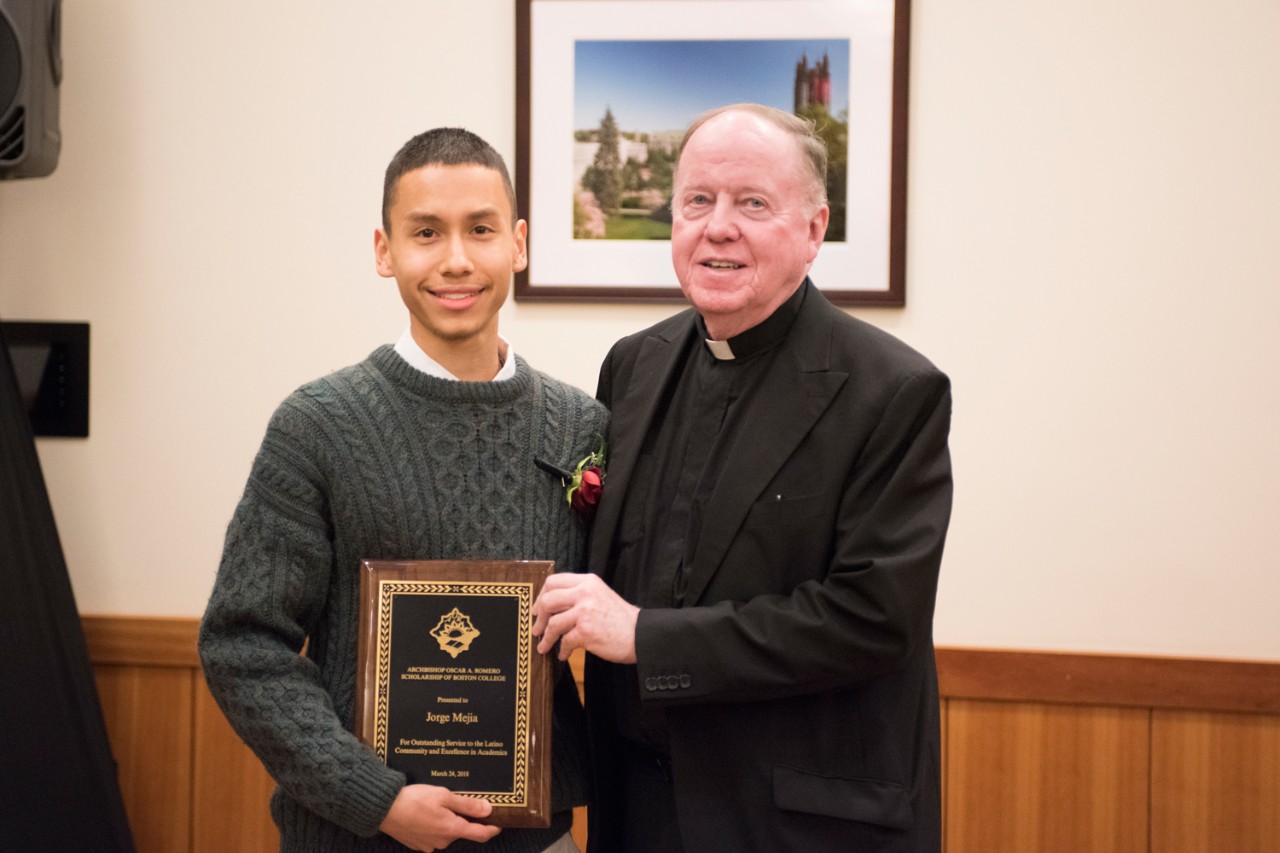 As an undergraduate research fellow at the Global Leadership Institute, he organized an intercultural luncheon between BC student leaders and members of the Mexican Police delegation who were participating in GLI's professional development and leadership training program.

By connecting OLAA in innovative ways with the resources available on campus, Mejía said, "I feel like I was able to link academe with activism in ways OLAA hadn't seen before."

Mejía credits Undergraduate Admission Associate Director Howard Singer as one of the primary reasons he chose to attend Boston College. He met Singer at a student reception in Manhattan and when Mejía attended Admitted Eagle Day, Singer went out of his way to connect with him and give him a personalized campus tour.

Singer has stayed in touch with Mejía throughout his time at BC, hosting lunches for him and other students.  

"I see a man who lives up to the Jesuit ideology," Mejía said of Singer. "He embodies BC's mission. He has accompanied me since I was a name on a page to being named a scholar."

Freshman year, Mejía admits, he questioned whether he belonged at BC. In class discussions, it was evident that he didn't have the same educational foundation as other students.

"I felt so subpar," said Mejía. "For inner-city students, it is such a part of our experience, wondering, 'Am I smart enough? Do I belong here?'"

But through his courses and his international experiences, his work with OLAA and offices on campus, the tables have turned. "I can talk in class about my experiences and involvement, and after class kids will approach me saying 'How did you do that?'

"I think to myself, 'Really? You're asking a kid from the Bronx how I did this?' It confirmed that I belong here and I can be my authentic self."

Last summer, he worked at the West Bronx Housing and Neighborhood Resource Center, helping low-income residents navigate housing and immigration issues. He also was an intern in the East Elmhurst office of NY State Senator José Peralta handling constituent outreach.

 "For me, that was a capstone experience to all the academic formation I have had here. I was able to work at a community-based level with people who were like me and my parents. They didn't have PhDs or LinkedIn accounts. They weren't parliamentarians. They were low-income and received public assistance."

His formative summer experiences helped him realize "there is a visceral de facto comfort that people feel when they talk with someone who looks like them and sounds like them and is willing to help them."

Mejía would like to serve as Bronx borough president or a New York State senator someday.

"What do my accomplishments mean if I don't use it to uplift underserved populations? It means nothing," he added.

"Every time I go from Chestnut Hill back to the Bronx, it is jarring. All inner-city students have a guiding mantra: 'Get out the hood.' Many do and it's very tempting. That, for me, wasn't the option. I couldn't leave the Bronx behind."

—Kathleen Sullivan | University Communications | April 2018