Boston College senior Jesse L. Mu has won a coveted Winston Churchill Scholarship for graduate study in the United Kingdom at the University of Cambridge, the Churchill Foundation has announced.
Mu, a member of the Gabelli Presidential Scholars Program who majors in computer science and minors in mathematics in the Morrissey College of Arts and Sciences, is the first BC student to win the prestigious award since Elizabeth O'Day in 2006.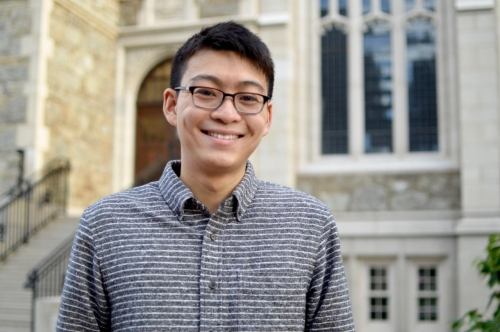 Churchill Scholarships are awarded to the nation's top students in science, mathematics and engineering, and provide a year of graduate study at the University of Cambridge, based at Churchill College. A total of 15 students were selected for the scholarship this year, joining a list of 500 recipients who have won the award since its inception in 1963.
The scholarship was established at the request of former British Prime Minister Sir Winston Churchill to fulfill his vision of a U.S.-U.K. scientific exchange to advance science and technology on both sides of the Atlantic.

The award follows Mu's 2016 Barry M. Goldwater Scholarship, which is considered the premier undergraduate science fellowship in the United States.

During his sophomore year at BC, Mu became interested in research in the intersection of psychology, computer science, and language. Following the guidance of Carroll School of Management Egan Professor of Information Systems James Gips, Mu pursued research opportunities at MIT, where he met post-doctoral associate Joshua Hartshorne. Serving as a research assistant, Mu worked with Hartshorne to explore the computational modeling of human language. They continued to work together at Boston College when Hartshorne became an assistant professor of psychology in 2016.

During the past two summers, Mu spent time at the Technical University of Madrid researching Parkinson's disease and perfecting his Spanish, and at Stanford University, where he worked in a computational psychology lab studying the probabilistic programming language WebPPL. In addition, he served as director, editor, and composer for a documentary on mental health issues in the Boston area called "A Boston State of Mind."

Mu, a resident of Omaha, Neb., said he was honored to receive the Churchill Scholarship and excited for the prospect of studying in the United Kingdom this fall.

"This award would not have been possible without the incredible mentors I've met at BC and beyond, who have encouraged me to develop my interests by seeking out unique opportunities throughout college," said Mu.

"We've made a lot of progress in so-called 'Natural Language Processing' (NLP) technologies recently—think Siri or Amazon Echo—but there's still a lot of work to do before we have computers that can truly communicate with humans," he said. "I'm excited by the potentially world-changing applications of these technologies, and a master's at Cambridge University should provide important skills that will help me join this effort."

Sergio Alvarez, chair of BC's Computer Science Department, praised Mu as an exceptional student who is clearly deserving of the prestigious academic honors he has received.

"Jesse Mu is one of the department's very best students," said Alvarez. "I was lucky that his path brought him to my Artificial Intelligence (AI) course last year. Jesse is on a mission to contribute to a fundamental understanding of human language acquisition and understanding by computational means—including AI—together with techniques from phylogenetics and developmental psychology. The approach that he is beginning to take in his research is illustrative of a broader convergence of computational, biological, and psychological approaches to perception and cognition that we are witnessing in the 21st century."

Professor of Chemistry Mary Roberts, who serves as campus coordinator for student fellowships in the sciences, offered similar praise.

"The Churchill Foundation looks for amazing candidates who have done 'more than can be expected of graduates,'" said Roberts. "For Jesse that 'something extra' began with recognizing as a sophomore that he was fascinated by NLP as explored with computer machine learning. At the time, no expertise in this area was available at Boston College, so Jesse's enthusiasm and academic fearlessness led him to MIT for a seminar on the topic followed by rounds of talking with faculty and post-docs. He persuaded a research group to take him on for a small project, and finished the task well before the MIT folks expected. Clearly, he is an exceptionally bright, articulate and motivated young man who is completely engaged in his chosen field of study. That's the something extra the Churchill committee wants."

Canisius Professor James Keenan, S.J., who directs the Gabelli Presidential Scholars Program, cites Mu as a standout student who represents the best of the program and Boston College.

"When Jesse first arrived here at Boston College he was two years younger than any of his classmates.  Still, there was no lack of maturity," said Fr. Keenan. "We all know how intellectually capacious Jesse is, but those who know him like not so much his talent, as his style.  He is a real presence. You know Jesse is with you because he's attentive, responsive, and engaged; he's quietly confident, humble and caring; he's not afraid to ask the unasked question or to enter into unexamined space.  I know he's obviously filled with talent, but it has always been his style of living that I most admired."  

Mu says his long term plans include a Ph.D. in computer or cognitive science, and research in NLP in an academic or industrial setting. 

"I'm excited to spend this coming year studying in the U.K.," said Mu. "In college, I've put a strong emphasis on international study, with time spent in China and Spain. The Churchill will allow me to pursue my academic interests while continuing to experience new cultures. I look forward to the opportunity."


—Jack Dunn, University Communications