Philosophy major Maura Lester McSweeney '17 is congratulated after winning the 2016 Oscar A. Romero Scholarship. (Photo by Justin Knight)
Maura Lester McSweeney '17, a philosophy major and international studies minor involved in advocacy work on behalf of social justice issues, has been awarded the 2016 Archbishop Oscar A. Romero Scholarship.

The scholarship, which covers a portion of senior year tuition, is awarded annually to a Boston College junior who has demonstrated superior academic achievement, extracurricular leadership, community service and involvement with the Hispanic/Latino community and Hispanic/Latino issues both on and off campus. 

Lester received the award at a March 19 ceremony hosted by the Romero Scholarship Committee. Also recognized were Romero Scholarship finalists Peter Laboy '17 and Jenny Penafiel '17, as well as alumna Eva Maynard '97, who received the Rev. John A. Dinneen, S.J., Hispanic Alumni Community Service Award.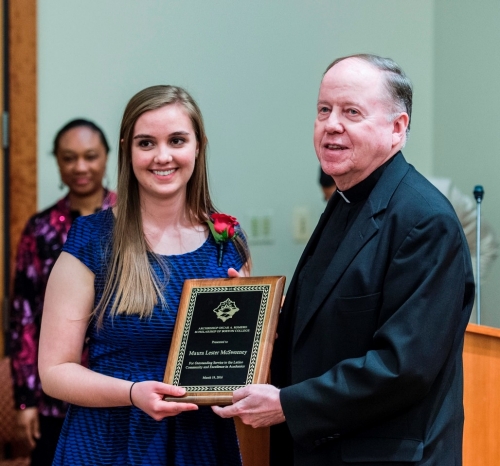 Lester's parents moved from the U.S. to Nicaragua in the 1980s to conduct missionary work. Today, her mother, Anne McSweeney '79, is a translator, and her father, Mark Lester, is co-director of the Center for Global Education and Experience, an immersion and study abroad program. Lester was born and raised in Nicaragua.

"My future's in Nicaragua. Everything I do is aimed at 'How is this going to help me work back at home?'" said Lester. "I want to do something related to human rights."

After attending Jesuit school for 12 years in Nicaragua, Lester applied to three Jesuit universities, ultimately choosing to attend Boston College. 

She cites two experiences during freshman year that would greatly influence her time at BC and her career aspirations. The first was her Perspectives course with Kerry Cronin.

"It was my favorite class. I loved it more than any other class," said Lester. "The readings fascinated me. The discussions fascinated me." She became a philosophy major, following the Perspectives track.

The other was her exposure to advocacy work, via the Ignatian Family Teach-In. Lester has traveled with Campus Minister Donald MacMillan, S.J., to Washington, DC, the last three years to advocate for issues such as humane immigration reform, an increased minimum wage and demilitarization of Central American borders.

"It has been a big part of learning how I can be a useful person in this world," said Lester. "Fr. Don has been so influential. He is so committed to working for justice in Latin America and for immigrants."

Lester also is a Catholic Relief Services student ambassador, part of a network of college students committed to social justice, human rights and global solidarity, who mobilize campuses through educational efforts, responses to international crises and legislative advocacy. Last April when an earthquake hit Nepal, Lester and the other CRS student ambassadors quickly organized a point drive that raised $10,000 to support the CRS response in that country. They also organized a screening of the documentary, "A Bridge Apart," which tells the story of the dangerous journey of migrants from Central America to the US border.

Lester said her work with CRS has helped her further hone the advocacy skills she learned through the Teach-In and is preparing her for "the way I'm going to need to think when I'm doing human rights work in Nicaragua."

The Romero Scholarship holds special meaning for Lester. When she was eight, she and her family traveled to El Salvador for the 25th anniversary of the death of Archbishop Romero, who was assassinated while celebrating Mass in 1980.

"That was a really powerful experience," recalled Lester. "I saw his room, which was very simple. There was a bed, a chair, a crucifix and a desk. I saw his vestments, and the blood stains were still on it."

Earlier this month, Lester took a different type of trip, one that seemed appropriate given her lifetime of Jesuit schooling: a weeklong pilgrimage following the path Saint Ignatius took in Spain during his spiritual conversion. "It was amazing," she said.

Lester cited Campus Minister Margaret Nuzzolese and Volunteer and Service Learning Center Director Dan Ponsetto as administrators who have been particularly supportive of her. 

"Margaret did JVI [Jesuit Volunteers International] in Nicaragua. She's someone I can come to with anything. She has been a great friend and great listener. She has pointed me in the direction of a lot of great opportunities.

"Dan recommended me for a leadership conference my freshman year. It wouldn't have been on my radar."

On campus, Lester has been involved in the Organization of Latin American Affairs and has served as vice president and president of Other Americas, an online and print publication on everything Latin America at BC. She has also served as a Spanish tutor.

--Kathleen Sullivan | News & Public Affairs