UPDATE: On August 25, Cathy Utzschneider took a bronze medal in the 2017 Penticton ITU Aquathlon World Championships in Canada. Utzschneider is on the faculty of the new Master of Science in Sports Administration program at BC's Woods College. She is on the right in the image below.

BC News, August 15, 2017:
A few years ago, Woods College of Advancing Studies faculty member Cathy Utzschneider got some bad news from her doctors: The arthritis in her right knee was so bad she would have to give up running.
Utzschneider wasn't a casual runner. She had competed for many years, and enjoyed success well after age 40. Among her accomplishments were a No. 1 ranking in the indoor 3,000 meters from USA Track and Field, a New England Cross Country Masters championship, and being part of an American record-setting 4x1600 relay team.
Though it appeared that her running career was at an end, this lifelong athlete and motivational trainer – whose Woods College course focuses on developing high performance leaders – was not about to sit on the sidelines. She turned her attention to swimming – and found it suited her just fine: soon after, she competed in, and won, the 2014 Connecticut Masters Games.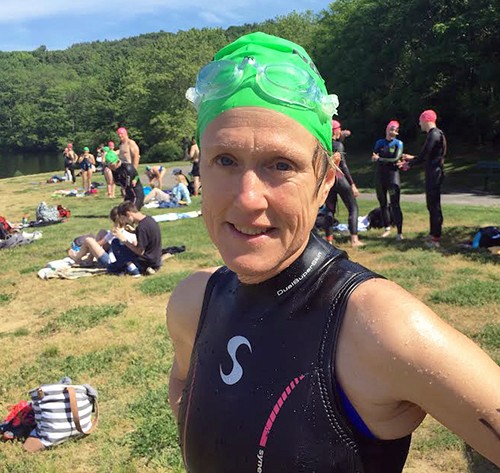 It suited her knee, as well. Back in running form, Utzschneider will represent Team USA at the World Aquathlon Championships that begin August 18 in Canada. The 61-year old earned her spot after placing second last fall at the National Aquathlon Championships (one-mile swim, 6.2-mile run), beating the nation's top-rated athlete in her age group.
Utzschneider's athletic prowess underscores the expertise and vision she brings to her teaching. The author of two books, Utzschneider co-created MOVE! (Motivate, Organize, Visualize, Excel), a self-help method focused on achieving successive short-term goals. MOVE! has been used by hospitals, colleges, athletic teams and individuals in many fields, and is the basis of what she teaches her students to help them reach their objectives.
"While I'm grateful for past accomplishments, I like striving for new goals," says Utzschneider, who also has longtime experience coaching runners and triathletes. "Between teaching and studying performance, I'm one data point. We know more today about the potential of adult athletes than we did two decades ago and it's far greater than we thought."
Utzschneider teaches Developing High Performance Leaders and Leading and Managing Transitions in Sports in the Woods College Master of Science in Leadership and Administration program. While many master's programs in sports management focus on the business of leading a college or professional sports entity, Utzschneider says the Woods program embraces leadership from the perspective of performance through the life span.
"In one class we discuss high performance in all domains – physical, mental and emotional – through many lenses: the physiology of aging as it relates to exercise; fundamentals and challenges of goal achievement; sound body, sound mind and arcs of excellence; the neuroscience of habit, focus, and organization; theories of success including K. Anders Ericsson's theory of 10 years, 10,000 hours; nature versus nurture, or talent versus training; and grit, resilience, and a growth mindset. Essentially, we deconstruct the concept of high performance.
"The ingredients of high physical performance throughout the lifespan mirror those of high performance in sports leadership – and in all areas of life." 
Adds Utzschneider, who holds a doctoral degree in education and joined the Woods faculty in 2006, "Being a professor and a coach is a good combination. One role informs the other. Fr. Burns [Woods College Dean James Burns, IVD] often stresses the college's emphasis on the practical as well as the theoretical. I'm not aware of another college that focuses on high performance and goal achievement to this degree."
Active in several sports during her youth, Utzschneider came up with the idea for MOVE! after college. Unable to find a tennis coach to work with her and her doubles partner, the two of them developed the method to help them set and achieve goals.  
MOVE! grew into a business and two books, MOVE!: How Women Can Achieve Athletic Goals at Any Age and Mastering Running. Former Olympian runner Zola Budd wrote the foreword for MOVE!; and Runner's World editor Amby Burfoot and three-time Olympian Willie Banks endorsed Mastering Running, which included contributions from Boston College men's track and cross country coach Matt Kerr and former assistant coach Tim Ritchie.
Utzschneider's methods and concepts have been used by athletes including triathlete Joe Maloy '08, who finished as the top American during the 2016 Summer Olympics in Rio de Janiero, and former Eagles quarterback Tyler Murphy, who played for the Pittsburgh Steelers after his days at the Heights. 
But Utzschneider's expertise for goal optimization also extends to careers that don't involve sports. "MOVE! clients are all kinds – from beginner to elite athletes, mothers, executives, doctors, artists, people who value identifying and collaborating on main goals. The goal-setting method is rooted in the physical. Physical goals – they don't have to be competitive – provide anchors and help us look forward to performance at any age. I'm as inspired by those who ran world records in the mile in their 70s as I am by a woman who walked three miles after her ankle was fused."
For Utzschneider, there are no plans to slow down, only more goals while keeping everything in perspective.
"A physical goal will make you more effective at work and at home – most importantly, it will accelerate your productivity and joy for life."
-Sean Hennessey / Special to University Communications