An inaugural memorial lecture in honor of the late Rev. Raymond G. Helmick, S.J., an eminently respected theologian who was internationally regarded for his conflict resolution skills, will be held on Dec. 11 from 2-3:30 p.m.
Georgetown University Professor David Little will address "Religion and Conflict Transformation" at the event, which takes place in Devlin 101. A research fellow at Georgetown's Berkley Center for Religion, Peace, and International Affairs, Little is a leading authority on the history of religious freedom, ethics and human rights, and religion and conflict resolution.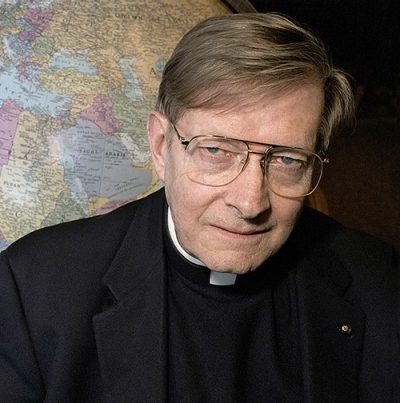 Rev. Raymond G. Helmick, S.J.
The establishment of the memorial lecture is the result of efforts by some of Fr. Helmick's collaborators to commemorate his social justice work through events and initiatives. At Fr. Helmick's death last April, the Boston Globe obituary headline read: "Father Raymond Helmick traveled [the] world for peace."
"Fr. Helmick has left his imprint on our planet with his myriad of concerns that brought him to many parts of the world-peace and reconciliation, climate change, human rights, and the freeing of prisoners," said filmmaker and Art, Art History and Film Studies Department Professor John Michalczyk, who worked with him on 10 films dealing with international conflict resolution, including in Northern Ireland, the Mideast and Balkans.
"For many of us who consider him our mentor, he has left us with the important insight that we must see that there are two historical sides to a narrative and hence we must not demonize the enemy, but welcome him or her into dialogue." 
 Michalczyk, who directs the Film Studies Program, said Little "can address some of the same issues we have confronted in our documentaries on conflict resolution; that is, how religion plays an integral role at times in the reconciliation process."   
BC sponsors of the free, public event – which will include a post-lecture reception – include the Jesuit Community; Center for Human Rights and International Justice; Faith, Peace and Justice Program; Film Studies Program; Boisi Center for Religion and American Public Life, and Winston Center for Leadership and Ethics. Other sponsors are the Cooperative Metropolitan Ministries, Knights of the Holy Sepulcher, and Rotary Club of Scituate, Mass.
Click here to RSVP for the lecture. For more information, contact Michalczyk at michalcj@bc.edu.
–Rosanne Pellegrini / University Communications