Image courtesy of BC Dining

A sumptuous, traditional Thanksgiving dinner with all the trimmings is on the menu for Boston College students who will remain on campus for the holiday.
The special feast will feature such classics as slow-roasted turkey breast with sausage bread stuffing, savory gravy, whipped potatoes, cranberry sauce, green beans, squash, dinner rolls, and desserts—including apple and pumpkin pies—to satisfy any sweet tooth. Vegetarian and gluten-free options also will be available.
Boston College Dining Services surveyed some 1,500 students who indicated that they would remain on campus during the long holiday weekend, according to director Beth Emery. While the majority plan to join friends or family in Massachusetts, plans are under way to accommodate all who opt for Thanksgiving dinner at the Heights.

"We treat the BC campus as the students' 'home away from home,' so an on-campus celebratory feast—gathering of family and friends—is fitting for Thanksgiving," said Auxiliary Services Associate Vice President Patricia Bando, whose team is eagerly preparing for the holiday.
"Although our students have gone through so many challenges during this pandemic, there is so much that they and all of us have to be thankful for, including good health, good food, friendships, educational opportunities, and the future," she added.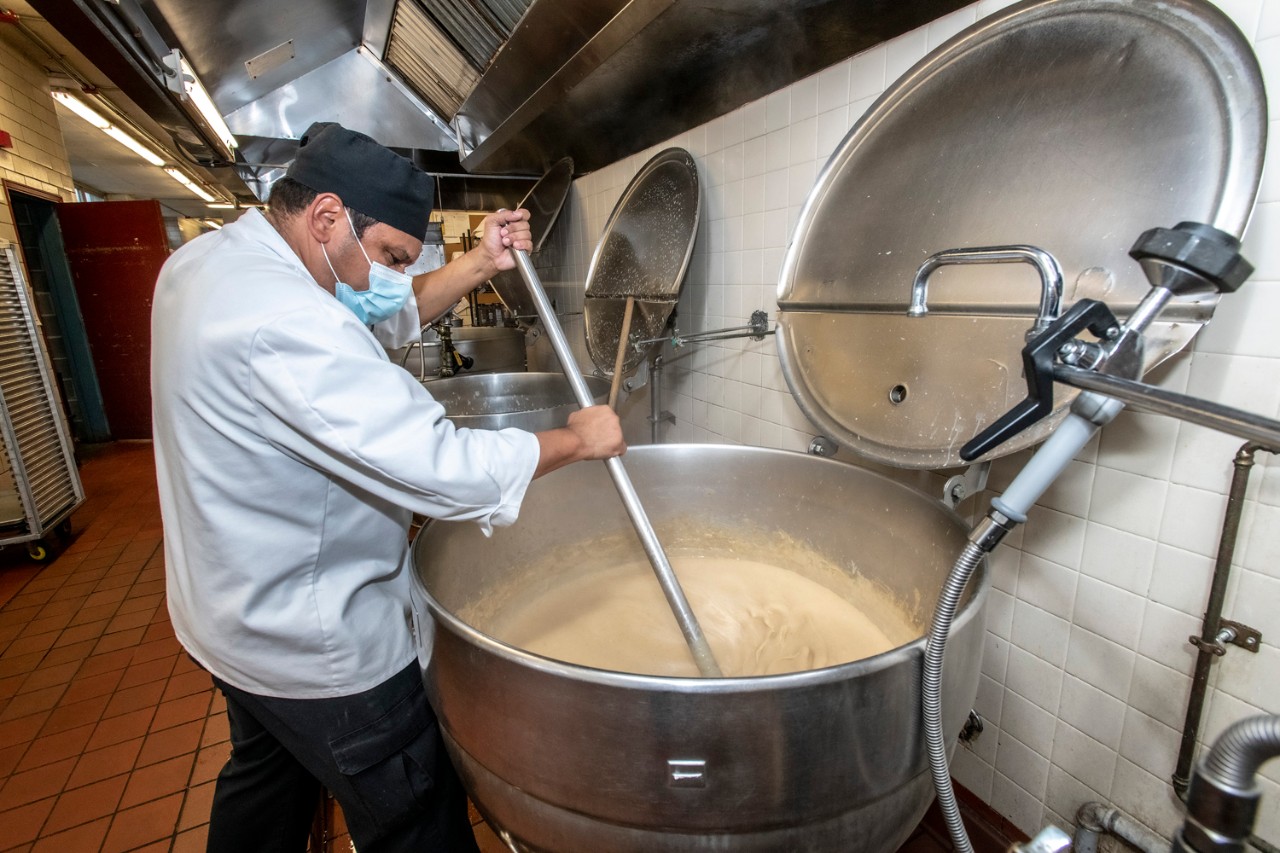 For guests at the all-you-care-to-eat dinner, BC Dining will prepare some 200 pounds of fresh turkey, eight gallons of gravy, and 150 pounds of potatoes. To add a festive holiday touch, the Carney Dining Room in McElroy Commons will be festooned in seasonal decorations and set with china and tablecloths.
"We hope that students enjoy a delicious 'Friendsgiving' meal with their BC family around the table," said Emery.
While logistics are being finalized, the plan is to offer three Thanksgiving dinner seatings between 11 a.m. and 3 p.m., to limit the number of diners at a given time. Pandemic safety protocols will be in place, including a mask requirement, appropriately spaced tables limited to six students, and physical distancing in queuing for the meal, organizers say. 
The $21.99 prix fixe Thanksgiving dinner also is available for purchase by undergraduates and graduate students living off-campus. While the dinner is open to all members of the BC community, including faculty and staff, it is specifically aimed at students who have chosen to stay on campus instead of traveling. Diners may enjoy Thanksgiving meals in McElroy (with reservations recommended via BCDS) or take them out.
For those who may be in quarantine due to the coronavirus, BCDS's catering division "is prepared to deliver the Thanksgiving feast, to make sure every member of our community feels like part of the holiday," according to Associate Director of Food and Beverage Frank Bailey.
BC Dining also offered the option to pre-order a full Thanksgiving meal to go—for pick up on Tuesday, November 24, or Wednesday, November 25—which students can reheat at their apartments. In addition to the Carney menu, each order includes a pumpkin bread, an apple tart, and a pumpkin pie.
Other members of the BC community—faculty, administrators, and staff—could opt to let BC Dining do their holiday cooking as well (reservations were needed by November 20). A cost of $65 included dinner for four with leftovers, and supported a special Curbside for a Cause initiative: With each purchase, four meals will be donated by BCDS— in conjunction with the Office of Governmental and Community Affairs—to local organizations for families in need.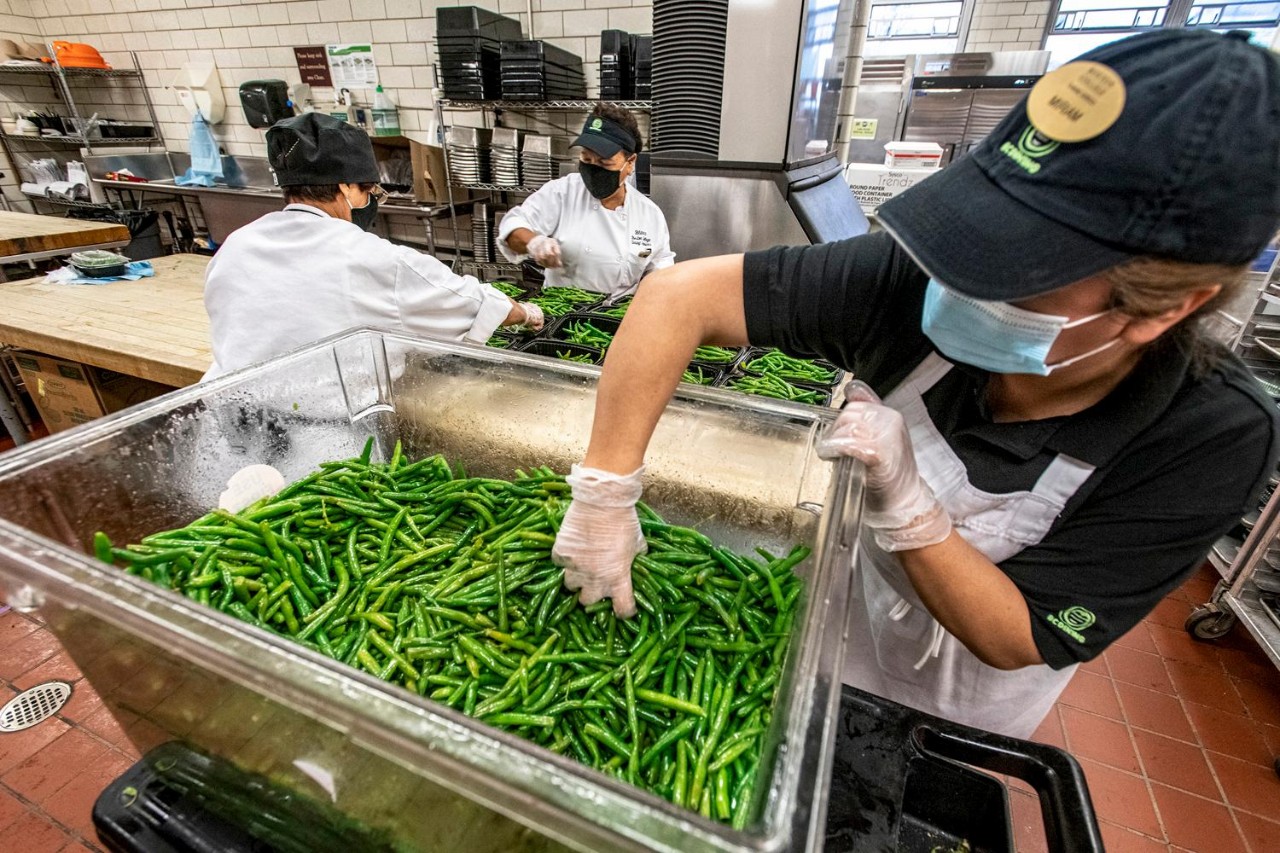 Once again this year, BC Dining offered the University community popular bakery items for purchase, with pre-orders by November 19. Selections included caramel heath, carrot, and cheese cakes, apple and pumpkin pies, and pumpkin fruit or banana fruit breads.
And for students who want to do their own cooking, Bailey and Executive Chef Brad Shannon collaborated with the Campus Activities Board and Residence Hall Association to provide a limited number of Thanksgiving meal kits, accompanied by a video with cooking instructions on how to plan and prepare a 'Friendsgiving.' It will include a live Zoom Q&A to answer student questions. 

Watch BC Dining's Friendsgiving recipe demonstrations.

For some students in apartments, "this will be their first chance to cook their own Thanksgiving [dinner], and a number of junior and seniors are excited about this event," Emery said.
BC Dining also is partnering with the Undergraduate Government of Boston College on a limited number of gift bags with bakery treats to be distributed to students remaining on campus for holiday.
The Walsh Hall Players' Club will be the dining venue for athletes who will be on campus, including members of the football, hockey, and swim teams.
According to Emery, approximately 30 BC Dining team members will work on Thanksgiving to provide food and service at McElroy Commons, Walsh Hall, and St. Mary's Hall for the Jesuit community.
Even for a holiday known for an excess of food, the BC Dining "shopping list"—across all of its Thanksgiving meal programs—is staggering: Bailey estimates that they will prepare a total of 535 pounds of fresh turkey; 20 gallons of gravy; 415 pounds of potatoes; 195 pounds of green beans; 120 pounds of butternut squash; six gallons of cranberry sauce; 100 pies, and 1,000 tarts.
When asked what she hopes student diners take away from the holiday meal, and the experience of being with their peers to celebrate Thanksgiving, Bando said: "Delicious meal satiety, great friends, and wonderful memories."  
Rosanne Pellegrini/University Communications | November 2020