Chef Andrew Wilkinson of North Coast Seafoods hands out samples of kelp "meatballs" at an Introduction to Global Public Health class. (Photos by Lee Pellegrini)

A new nutritious, sustainable, plant-based culinary item being offered by Boston College Dining Services was the show-and-tell star of a recent Introduction to Global Public Health class in 245 Beacon Street.

Nutrient-rich, naturally vegan, and gluten-free kelp "meatballs" are being introduced this semester in select BC dining halls, such as Tully Café and Corcoran Commons. A type of seaweed, kelp is considered one of the most nutrient-dense foods on the planet and contains more than 20 different vitamins and minerals.

The "seaweed-ish meatballs" are an innovation from North Coast Seafoods, a Boston-based, family-owned seafood supplier for some 700 local restaurants and retailers like Costco and Shaw's. North Coast's Chef Director of Research and Development Andrew Wilkinson developed the recipe for the meatballs—a mix of kelp, green chickpeas, brown rice, and spices—during the pandemic when restaurants and collegiate dining halls were essentially shut down.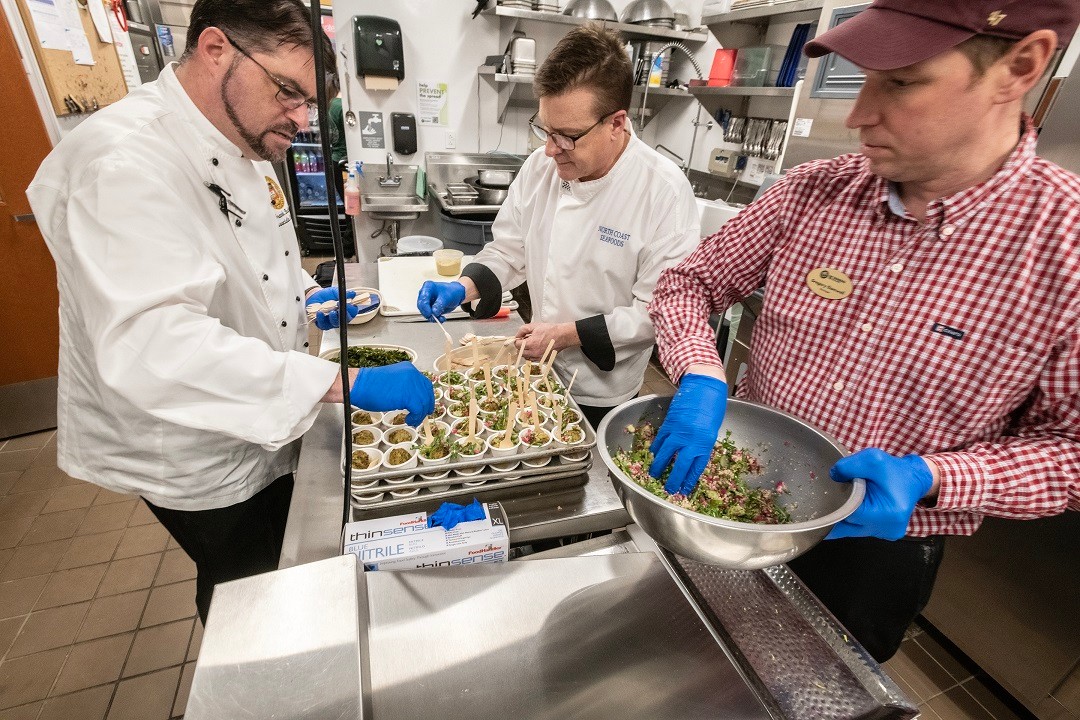 "We're constantly looking at sustainability measures and we wanted to get into the realm of kelp because it has so many benefits," said Dining Services Associate Director of Food & Beverage Frank Bailey. "Chef Andrew has a great passion and found more impactful ways for us to use domestic sea kelp, beyond adding kelp to a smoothie or a soup."

Wilkinson also developed a kelp burger and a salmon-kelp ocean burger.

"What I like about kelp is that it's very clean. It's the only plant in the world that needs no land, no fresh water, no pesticides or herbicides," said Wilkinson, a chef for more than 40 years. His professional experiences include serving as the executive chef of the Rainbow Room in New York City and chef and partner of Skipjacks' Restaurant Group in Boston, as well as working in a hotel in Germany and opening a restaurant in Japan.

Bailey invited Wilkinson to campus to train the BCDS staff and to introduce the product to students and give them a quick tutorial on the health, economic, and environmental benefits of kelp.

"The entire project has been a win-win-win," said Bailey. "BC Dining got knowledge and a new product we believe in. Chef Andrew got to test his product and gained a foothold in a market where he thinks he can have the greatest impact. And the students got a delicious new option that supports their values."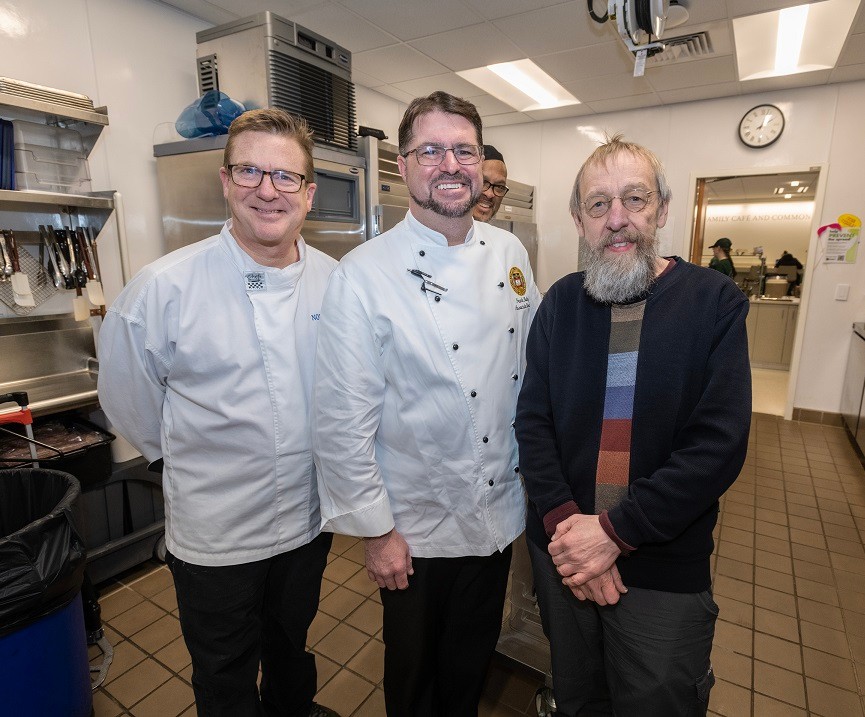 One of Wilkinson's demonstrations caught the attention of Research Professor Kurt Straif, who teaches across the hall from Tully.

Straif invited Wilkinson to his class—which is co-taught by Connell School of Nursing Assistant Professor Lindsey Camp—to talk about the nutritional and sustainable attributes of kelp-based foods and to share samples of his kelp meatballs.

"The climate crisis is primarily a health crisis and will be one of the major public health crises of the 21st century," said Straif, who noted that one of themes of the class is "public health is everywhere."

Joining the class via Zoom was Jesse Baines, chief marketing officer of Atlantic Sea Farms in Maine. North Coast Seafoods partners with Atlantic Sea Farms, which grows the kelp in the Gulf of Maine.

"By farming seaweed, we are taking the pressure off some carbon-intensive, land-based agriculture," said Baines. She noted that encouraging people who fish for lobsters to expand into seaweed farming provides them with an additional income at a time when man-made climate change has negatively impacted the wild fisheries.

"Seaweed also improves the health of the ocean by increasing biodiversity and mitigating the effects of ocean acidification," she added.

"A more sustainable agricultural and food system will be an important component of the mitigation of the climate crisis, and that includes producing and eating less meat, less mono culture, and reduction of the use of pesticides, as well as regional production and consumption," said Straif. He praised BC Dining's commitment to sustainability, both with their menus and other initiatives such Green2Go, a reusable to-go container that helps to reduce waste.

"We have moved kelp to the center of the plate," said Wilkinson. "We are teaching people that kelp is a new vegetable that is extremely healthy."

Added Straif: "Plus, it's delicious!"
 
Kathleen Sullivan | University Communications | March 2023