The new Thomas More Apartments at Boston College. (Photo by Lee Pellegrini)

As the 2016-17 academic year gets underway, two major additions to the Boston College landscape stand out – the Thomas More Apartments residence hall and the McMullen Museum of Art's new Brighton Campus venue – as well as the demolition of 41-year-old Edmond's Hall, future site of a new recreation facility.
The Thomas More Apartments residence hall at 2150 Commonwealth Avenue formally opened its doors to some 490 upperclassmen in August. The approximately 240,000 square-foot  building, occupying the former site of More Hall, also is the new home of University Health Services, which moved from Cushing Hall.
The McMullen Museum, meanwhile, is set to launch the first exhibition, "Beyond Words: Illuminated Manuscripts in Boston Collections," at 2101 Commonwealth Avenue, where it moved after 23 years at its original Devlin Hall location. (Read about the new McMullen Museum here.)

Associate Vice President for Capital Projects Management Mary Nardone lauded the efforts of Facilities Management personnel, private contractors and others who helped the projects to finish on time.
"Boston College has a great track record when it comes to meeting goals and deadlines in our capital projects," she said. "Some factors are out of our control, obviously, such as weather. That's why a good working relationship is so important: It enables you to effectively address those areas where you do have control. And the level of cooperation and communication we've seen has been exemplary."
As Nardone and Senior Construction Project Manager Edward Stokes note, thorough planning and sound decision-making also can mitigate the impact of unforeseen developments – as was the case shortly after the residence hall project began in the summer of 2014.
"We front-loaded some of the project, like expediting the installation of structural steel," explained Stokes. "By doing that, we were in a much better position when the bad winter of 2015 hit; if we hadn't, we would've had some significant delays. 
"Then because this winter was really quite mild and with far, far less snow, we were able to accomplish more than we might have anticipated, especially in the exterior work."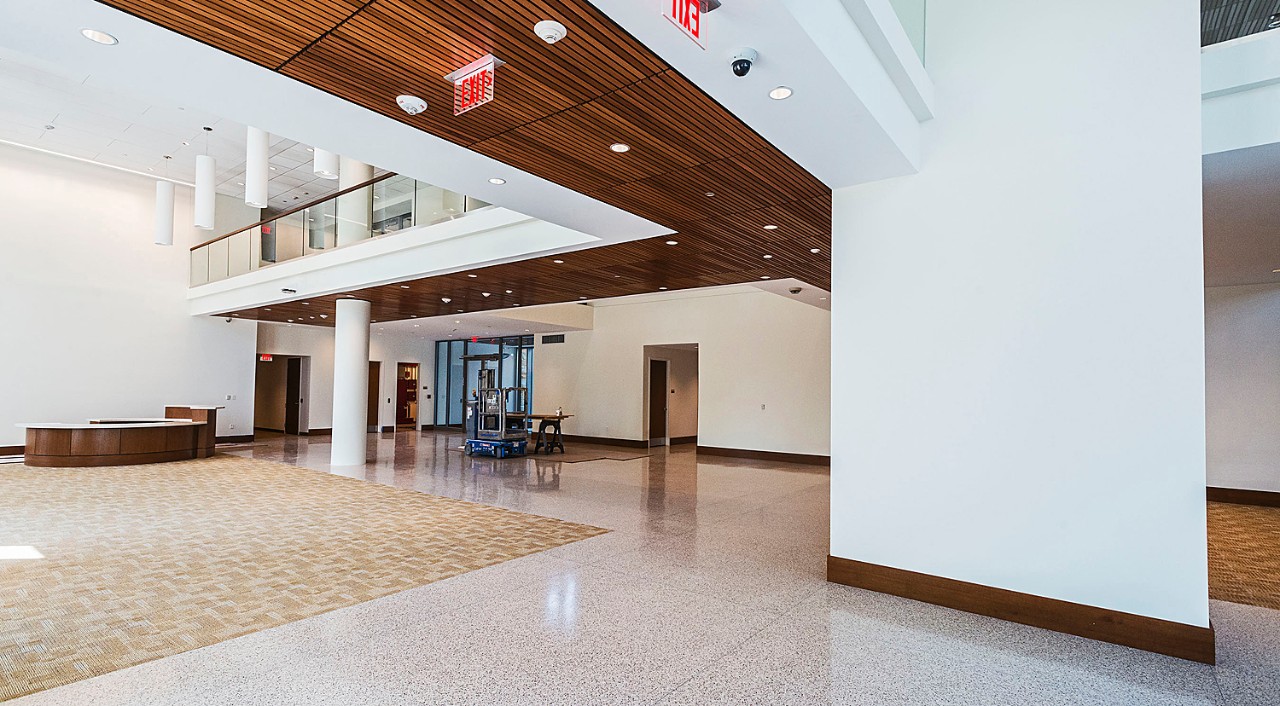 The lobby of Thomas More Apartments. (Photo by Gary Wayne Gilbert)
The new three-wing residence hall, which features four and six-bed apartments and two staff-in-residence apartments, encompasses a southwest-facing, multi-tiered courtyard with considerable open recreational space. Its exterior is composed of brick, granite, a combination of flat and slate-covered pitched roofs, and a mix of punched windows and curtain wall elements.
A hallmark of Thomas More Apartments, according to Nardone and Stokes, is the amount of public and common areas, including a lobby that is accessible during the day and an adjacent 90-person function room that includes a catering prep area and audiovisual equipment.
"The lobby is not just a 'pass-through' area," said Nardone. "We feel it will be an ideal meet-up place, especially when you consider 2150's location in relation to Brighton Campus, the MBTA stop and the rest of Lower Campus." But the University balances the accessibility with security measures, she said: For example, all residence hall apartments require a PIN and a card swipe to enter.
Energy-efficient and conservation-friendly – constructed to take full advantage of natural light – the building features numerous study lounges, seminar, conference and meeting rooms, as well as small "connector areas" with chairs and couches between the building's wings to further accommodate and promote socializing. A reflection and prayer room is available for smaller gatherings that have a spiritual dimension, and there are three music practice rooms.  
The demolition of Edmond's Hall began in early August, said Nardone, and the site should be clear by October 1, when – pending approval – utility work will begin. Once that phase is complete, she said, foundation work will begin on the new 240,000-square-foot recreation facility that will replace the Flynn Recreation Complex; construction will continue through 2018, with the opening slated for early 2019. Read the announcement about the new athletics facility here.
—Sean Smith | News & Public Affairs