In an effort to create a more welcoming and inclusive campus environment, Vice President for Student Affairs Shawna Cooper-Gibson will institute a series of enhancements in the coming months that she hopes will make Student Affairs' centers, offices, and programs more accessible for all students, and improve their experience at Opening Weekend events in August.
Among the enhancements, Cooper-Gibson said she plans to shift LGBTQ+ programming from the Office of Student Outreach and Support Services to the Thea Bowman AHANA and Intercultural Center beginning this summer, to make the BAIC more inclusive for all BC students.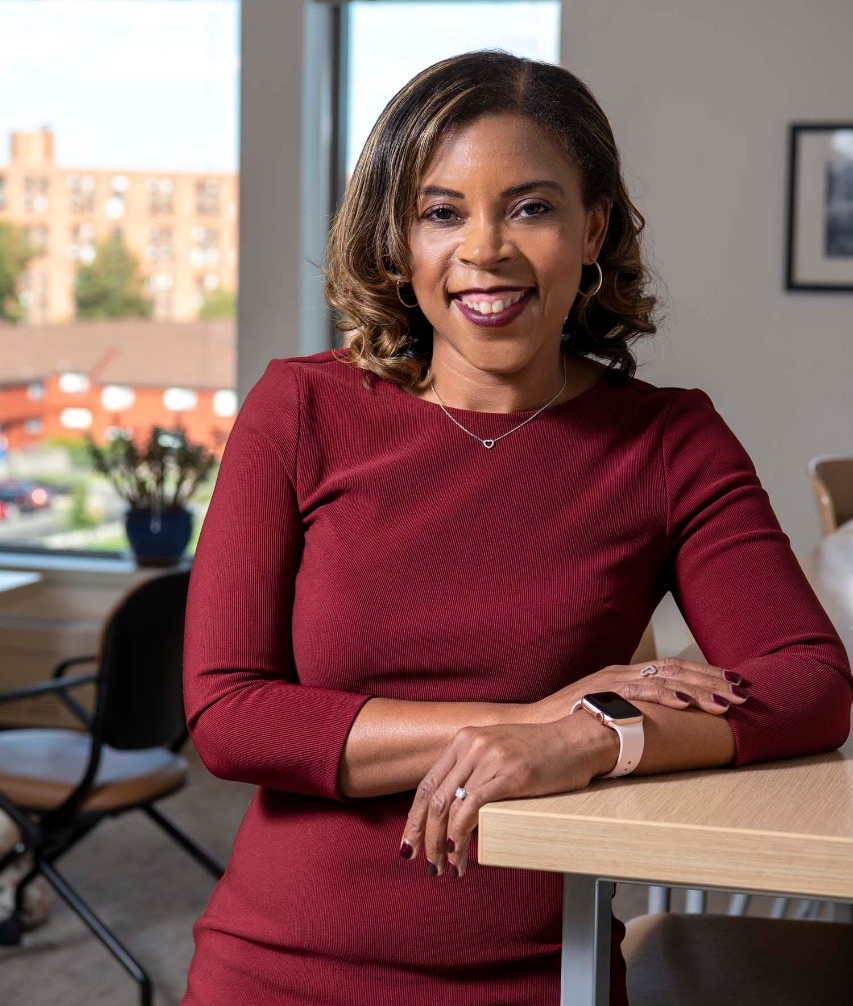 "The goal of the Bowman Center is to support underrepresented students and promote diversity and inclusion efforts across campus," said Cooper-Gibson. "As we plan for the construction of a new facility on Upper Campus that will bring most of our student engagement groups together, we are looking at ways to most effectively serve our students, while simultaneously creating a sense of belonging for all. Placing LGBTQ+ services under the umbrella of the BAIC makes sense and is consistent with how intercultural centers are structured at many colleges and universities. Student Outreach and Support Services Director Caroline Davis has done an excellent job supporting our LGBTQ+ students. As we look to hire someone in the coming year to expand upon Caroline's efforts to serve this population, this adjustment will provide an exciting opportunity to collaborate and bring special attention to intersectionality."
Cooper-Gibson said that she also plans to rebrand the BAIC as the Thea Bowman Intercultural Center, in light of feedback from the campus community that the acronym AHANA (African American, Hispanic, Asian, and Native American) does not adequately represent all students of color.   
"In speaking with students, faculty, and staff, the term AHANA was revolutionary when it was introduced four decades ago, but does not represent the totality of our students of color," said Cooper-Gibson. "I have spoken with students who identify as Latino/a (not Hispanic) and others who identify as Black (not African American).  We want to recognize the term's historical significance while ensuring that the nomenclature is fully inclusive. While I know that change can be difficult, renaming the BAIC as the Bowman Intercultural Center is important as we prepare our students to enter a global society with a common language."
In addition, Cooper-Gibson plans to enhance Opening Weekend for first-year students beginning this fall, grouping them by floors and having them share their stories in an effort to celebrate their differences, commonalities, and diverse cultures. She has hired Rev. Dr. Jamie Washington, a diversity and inclusion expert, to help students to get to know and appreciate the individuals with whom they will live in their residence halls throughout the year. The conversations will be assisted by student leaders from groups such as FACES, Allies, and Bowman Advocates, who will help facilitate group discussions. She also intends to launch a program with students called Cura, in which BC students, staff, and faculty will work to create systemic programs for the coming year that will help build relationships and trust among all students.
Cooper-Gibson, whose 20-year career in the field of student affairs has focused on enhancing inclusivity and building community, said these changes are aimed at making Boston College the most welcoming place possible.
"The BAIC does great work. I want to enhance its outreach and services so that all students, including students of color and LGBTQ+ students, feel welcomed there," said Cooper-Gibson. "Sister Thea Bowman's life was devoted to bringing people together. It is important to make our programs welcoming across cultures."
Similarly, Cooper-Gibson believes that changing the structure of Opening Weekend will make it more inclusive, so that students who do not see themselves as diverse will look at things differently by sharing their stories and listening to the stories of others. "Progress has never been made when we don't talk to each other," she said. "I want all students to realize that they are a part of a diverse culture."
Cooper-Gibson says that given the number of BC students who go on after graduation to become leaders in the private and public sector, it is important that they embrace interculturality so that they can effect change beyond BC.  "This is our goal, to incorporate the Magis—the more—for all students by being a more welcoming and inclusive campus. Bringing people together is a central component of our efforts as Jesuit university, and a priority for me as vice president for Student Affairs."
Cooper-Gibson said that she decided to focus on these particular enhancements after discussions with senior administrators, Student Affairs staff, and BC students, and that she will follow an iterative process that will allow her and Student Affairs staff to adjust their efforts accordingly.
"We are trying to build systemic change that will allow for a broader impact on the BC student experience," she said.  "New ideas are not always well-received, and it can take time to achieve a positive impact, but our intention is to bring people together after a grueling pandemic and provide mentorship, support, and love to all of our students. It is an opportunity to break barriers that separate people and build a closer BC community.  I look forward to working with our partners across campus to implement these exciting enhancements." 
Jack Dunn | University Communications | April 2022