Reverend J. Donald Monan, S.J., the 24th president of Boston College, who was credited with saving the University from fiscal crisis and guiding it into a period of then unparalleled financial and academic success, died on March 18 at Campion Center in Weston, Mass. He was 92.

[A Mass of Christian Burial was celebrated at St. Ignatius Church in Chestnut Hill on Wednesday, March 22. Fr. Monan was laid to rest at the Jesuit Cemetery at Campion Center.]
His successor, Boston College President William P. Leahy, S.J., praised Fr. Monan as a skilled leader and faithful Jesuit.
"Fr. Monan devoted more than four decades of his life to Boston College, playing a decisive role in its reorganization and increased recognition in American higher education," said Fr. Leahy. "He has left a lasting legacy, and earned the gratitude and respect of the entire Boston College community for his leadership during his years as p​resident and ​c​hancellor."
"I would like to ask that all of us not only always pursue excellence and always achieve excellence by others' standards. I want to ask something more, because I think we have the opportunity and the resources for more. I ask that we create new standards of excellence, and that we be the first to achieve those standards. I believe we can do it." —J. Donald Monan, S.J.



Fr. Monan served longer than any Boston College president, but his tenure will be remembered for far more than its longevity. Under his 24 years of leadership, Boston College successfully completed the transition from a financially strapped, predominantly male commuter college to a prosperous, coeducational and nationally renowned university. In July 1996, upon stepping down from the presidency, Fr. Monan became Boston College's first chancellor.
Fr. Monan's effectiveness as president touched numerous facets of Boston College – finances, academics, enrollment, student life, the campus physical plant and community involvement. He presided over two successful capital campaigns, including The Campaign for Boston College from 1987-91, which raised $136 million and helped to boost the University's endowment to among the 40 largest in the nation. In addition, applications for admission rose dramatically during Fr. Monan's years as president – from 7,000 in 1972 to more than 16,500 in 1996.

When Fr. Monan was presented with an honorary Doctor of Laws degree at Boston College's 1996 Commencement Exercises, the University announced the establishment of three professorships in his name.

At the time of his retirement as president in 1996, U.S. News & World Report ranked Boston College 40th among national universities in the U.S. and 16th in commitment to teaching; BC also was included in Barron's Top 50: An Inside Look at America's Best Colleges.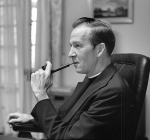 None of those distinctions applied to Boston College when Fr. Monan arrived in September 1972.  The University was dealing with a serious structural deficit and the campus had suffered several years of unrest. Student dissatisfaction was high and faculty morale low, and many alumni were unhappy with what they saw as unchecked student behavior, particularly in regard to the Vietnam War.  

While Boston College labored under these circumstances, the 47-year-old academic dean and vice president at Le Moyne College in Syracuse, NY, prepared for a golfing vacation in Canada, to be followed by an extended period of research. Just before he departed, Fr. Monan took a phone call from Fordham University Provost Francis Mackin, S.J., a member of the BC Board of Trustees.
Fr. Mackin had been impressed with Fr. Monan when he was a finalist for the Fordham presidency a few months earlier, and he asked Fr. Monan to consider the job at Boston College.  The two Jesuits met in Montreal the next morning and Fr. Monan decided to put his sabbatical on hold. Shortly afterward, Boston College named Fr. Monan its 24th president.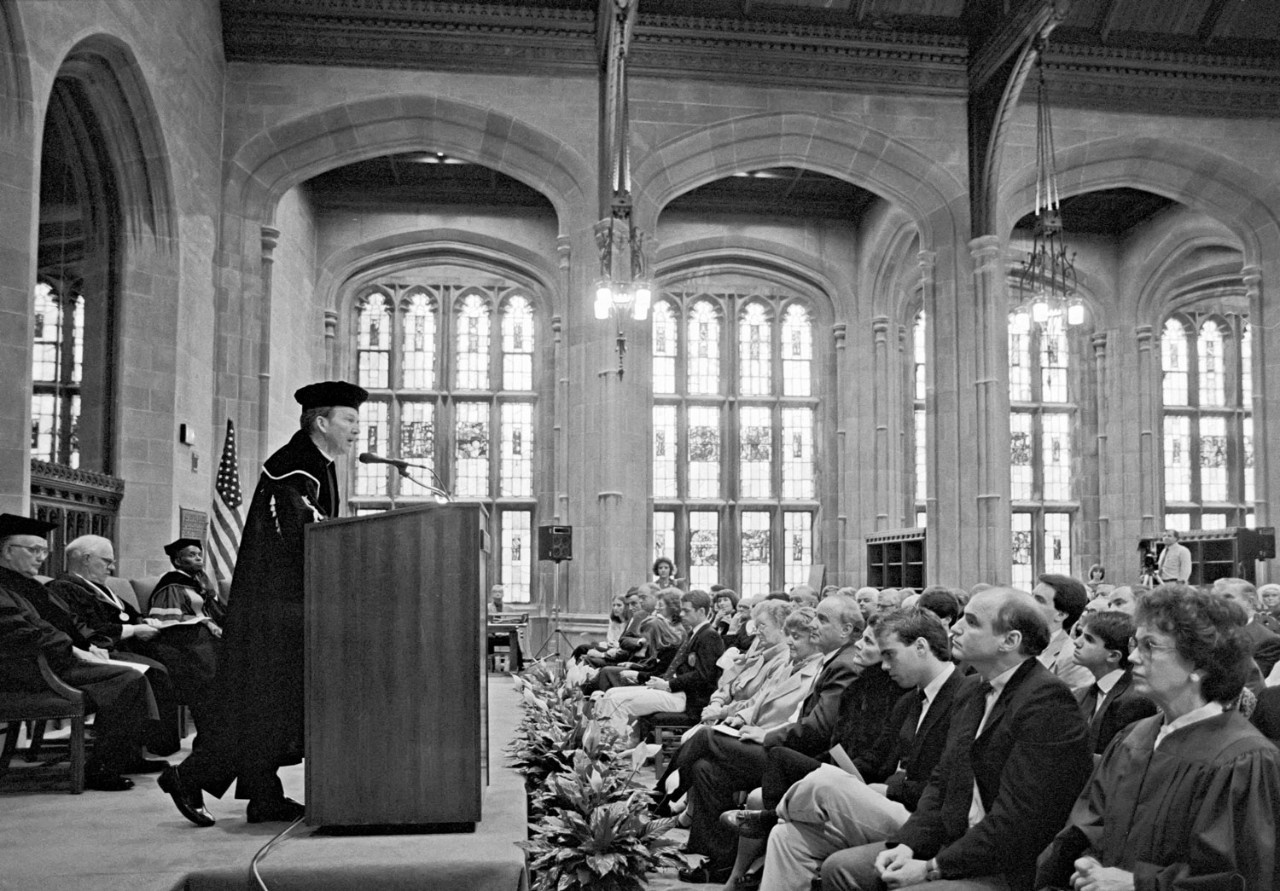 "I wouldn't have come to Boston College at all if I hadn't felt that it had great existing strength, despite the problems," Fr. Monan said in 1992. "It had a marvelous campus, a strong student body and very good faculty, who not only were academically strong, but also were committed to the school. They showed that commitment when the University was financially hard pressed and they went without any type of salary increase. Coming from the outside, with a fresh perspective, I could see that the existing strength held potential for even greater advancement."
Fr. Monan set an aspirational tone for his administration from its earliest days. "I would like to ask that all of us not only always pursue excellence and always achieve excellence by others' standards," he said when addressing a gathering at the start of his presidency. "I want to ask something more, because I think we have the opportunity and the resources for more. I ask that we create new standards of excellence, and that we be the first to achieve those standards. I believe we can do it."

A video tribute: Fr. Monan, who had served on the committee convened by the National Endowment for the Humanities that led to the establishment of the Massachusetts Foundation for the Humanities and Public Policy—known today as Mass Humanities—was among recipients of the inaugural Governor Awards for the Humanities at the organization's 40th anniversary gala in 2014.
During the first year of his presidency, Fr. Monan and his top managers devised a long-term financial plan and put the systems and controls in place to execute the plan. As the rapidly improving financial situation became apparent, faculty morale rose quickly.

Fr. Monan then turned his attention to restoring the centrality of the academic mission of Boston College, which had been shaken – as it had been at other institutions – by the social turmoil of the 1960s. He sought a national reputation for Boston College not only for superior academics, but as a distinctly Catholic and Jesuit institution focused on students' moral and ethical development. He tightened faculty promotion and tenure requirements, sharpened the curriculum, and capped undergraduate enrollment to allow the University to focus on recruiting higher-caliber students.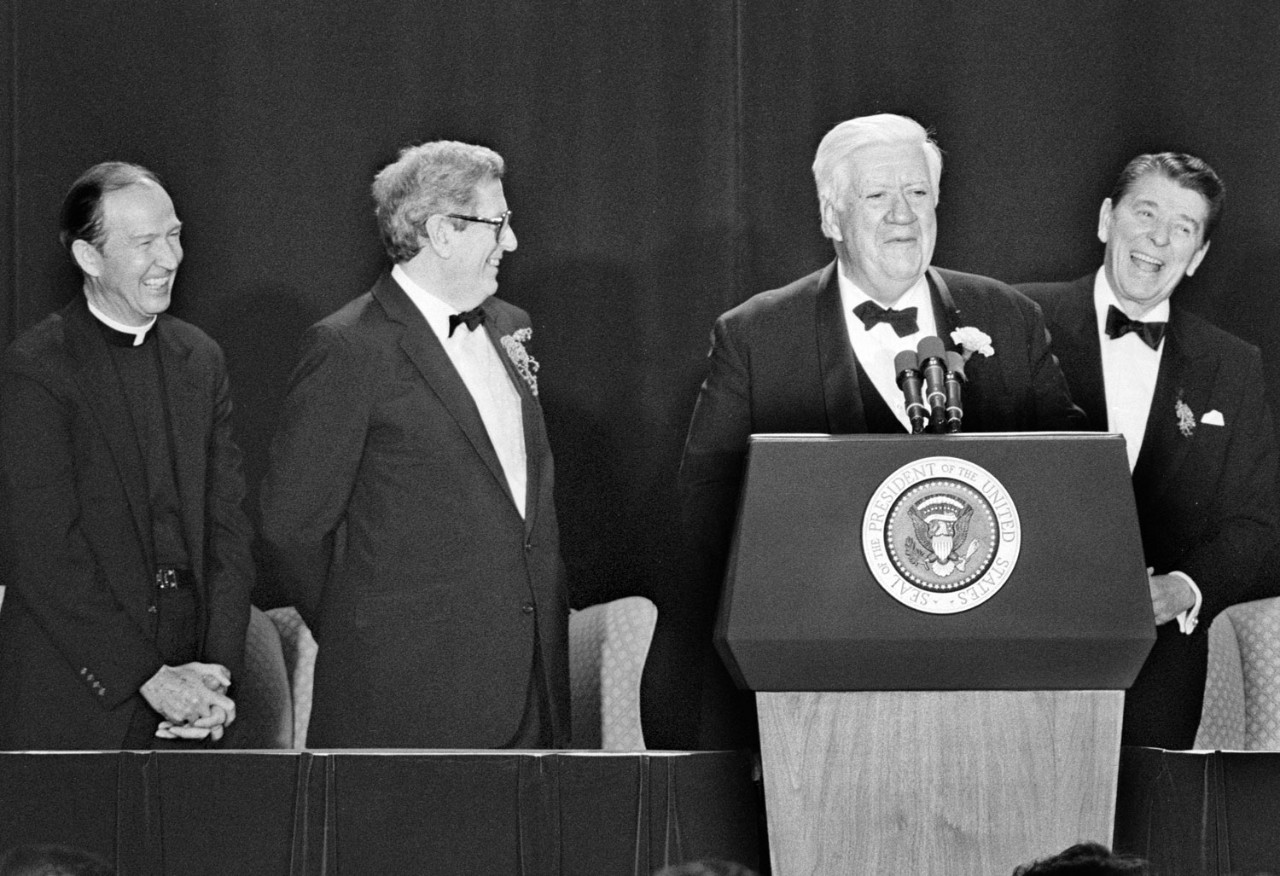 To support Fr. Monan's high aspirations, Boston College soon embarked on a program of building new academic and athletic facilities, including Robsham Theater in 1981, the Thomas P. O'Neill, Jr. research library in 1984, the refurbishment of Bapst Library and the establishment of the Burns Library of Rare Books and Special Collections in 1986, the  Silvio O. Conte Forum in 1988, the Eugene F. Merkert Chemistry Center in 1991, the McMullen Museum of Art in 1993, an expansion of Alumni Stadium in 1994, and a law library, which opened in 1996.

If Boston College were to prosper, Fr. Monan realized it would need to transform itself from a regional commuter college to a national residential university and would need the facilities to accommodate the change. The first step on that road was taken in 1974, when Boston College acquired Newton College of the Sacred Heart and with it a complete campus on 40 acres. A total of 13 student residence halls were acquired or constructed on the BC campus during his tenure.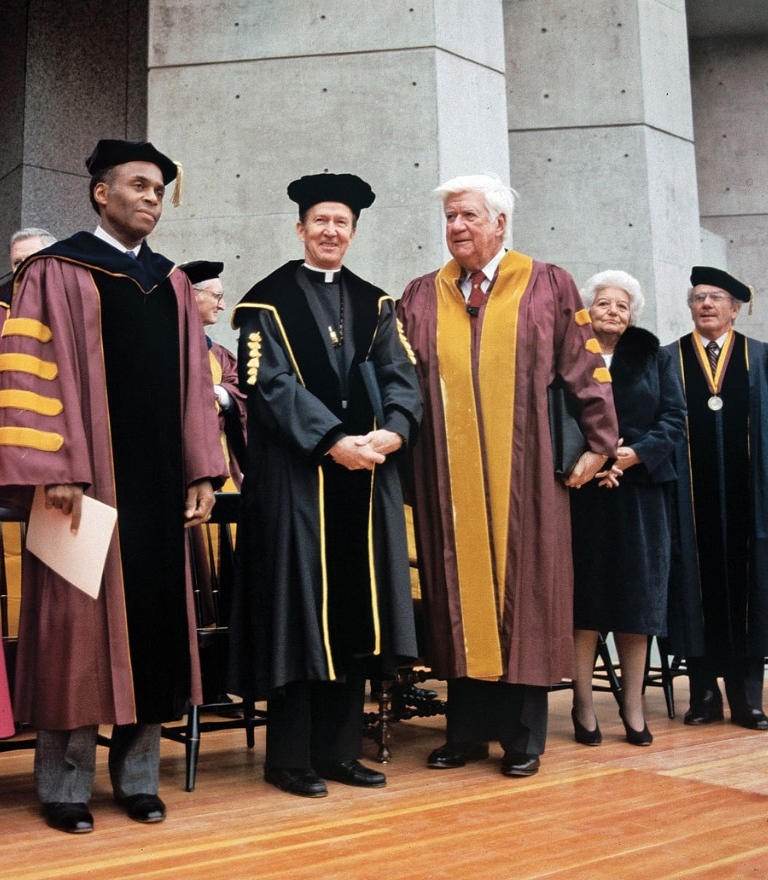 BC's enrollment strategy took an increasingly national and international focus. In 1972, the freshman class largely hailed from Massachusetts and the Northeast, but by 1996, students came from all 50 states and 40 countries, with significant numbers of students coming from California, Texas, Florida and Illinois.

Fr. Monan's second decade at BC saw the University enjoy increased national visibility, thanks in part to the success of its football team and its Heisman Trophy winner Doug Flutie during the mid-1980s. But it was BC's academic strength that continued to attract students from across America and the world, coinciding with the University's efforts to diversify the ethnic and cultural backgrounds in its student body. By the time he stepped down, some 20 percent of the full-time undergraduate population was African-American, Asian, Hispanic or Native American students, a marked change from past decades.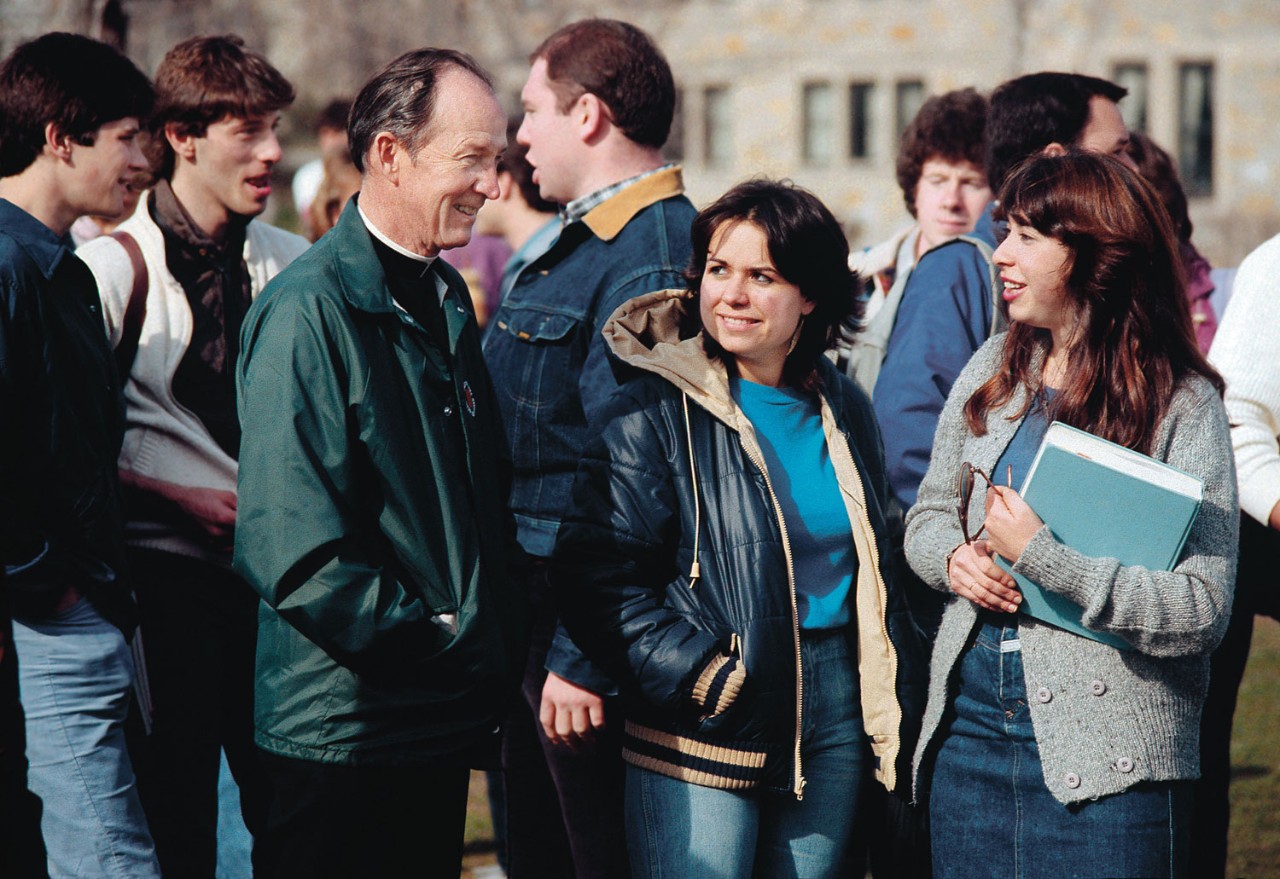 In addition, Fr. Monan placed a heavy emphasis on academics for the University's student-athletes. Boston College has long been among the 10 best Division I-A colleges and universities in the nation in graduating its varsity athletes, who succeed under the same demanding curriculum as the rest of the student body. In 1996, the National Football Foundation and College Hall of Fame presented Fr. Monan with its Distinguished American Award, recognizing Boston College's commitment to helping student-athletes complete their education.

Fr. Monan made his presence known outside of the University as well, staying active nationally on a number of educational and social issues, especially Catholic higher education. He served as a delegate to the Vatican Congregation for Catholic Education meetings with Pope John Paul II to prepare the 1990 papal document on Roman Catholic higher education. Fr. Monan served on the U.S. Conference of Catholic Bishops' committee charged with implementing that document—Ex Corde Ecclesiae—to American Catholic colleges and universities.

In 1996, the National Catholic Educational Association honored Fr. Monan with its Saint Elizabeth Ann Seton Award, which is presented to individuals whose contributions have significantly advanced the education and well-being of America's children.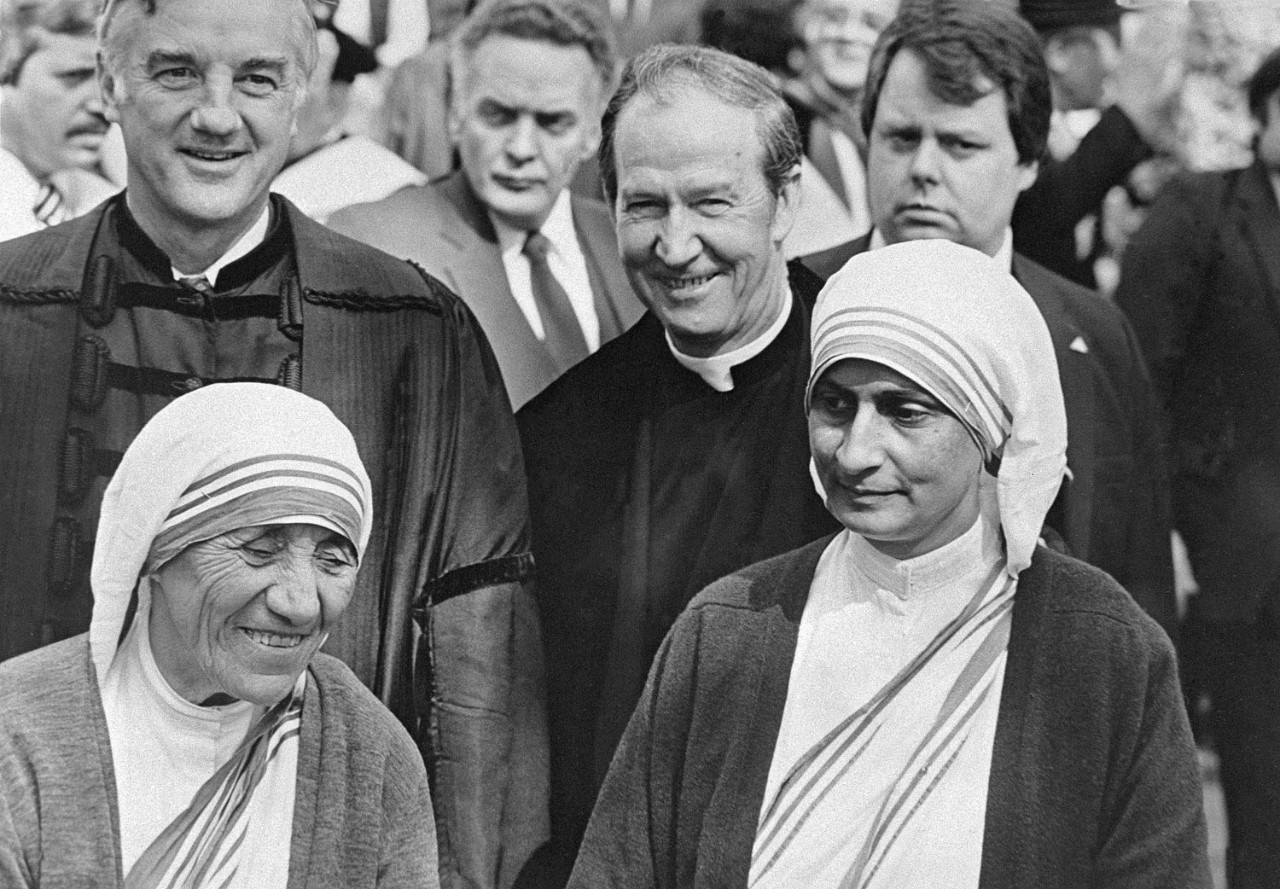 On many occasions, Fr. Monan embodied the University's allegiance to the Jesuit belief in social justice. Following the November 1989 slayings at the University of Central America in El Salvador, Fr. Monan was among a group of Jesuits who visited the scene of the tragedy. He became a vocal critic of the Salvadoran government's investigation of the case and he eventually urged the United States Congress to withhold aid to El Salvador until the Jesuits' murderers were brought to justice. In 1993, he delivered the keynote address at a Washington, DC, gathering in tribute to U.S. Rep. Joseph Moakley of Massachusetts for his efforts to combat human rights abuses in El Salvador.

Locally, Fr. Monan worked to affirm the longstanding ties between Boston College and the Greater Boston area. He rejuvenated BC's Boston Citizen Seminar series, which provides a forum for discussions on city-wide and national issues, and led the University's participation in numerous programs to aid Boston youth, such as the Greater Boston One to One mentoring effort.

Fr. Monan also established the Boston College Neighborhood Center in Brighton in 1995. The store-front facility—the first of its kind in Boston—provides a link between the University and its Boston neighbors by offering a variety of outreach and volunteer programs, as well as information about Boston College and its admissions process.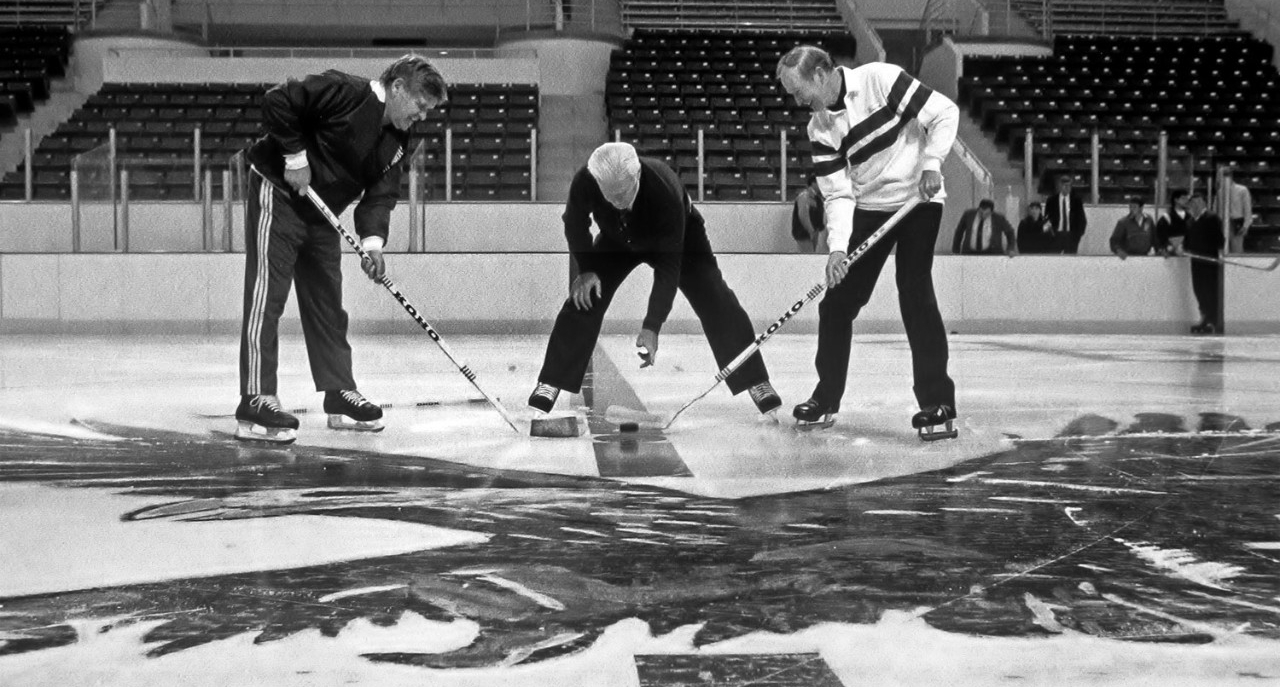 He became an estimable figure in city affairs in his own right, as well. When, in 1992, Bank of Boston was excluded from taking part in the financing of the project that later became the Fleet Center (now the TD Garden), Fr. Monan—then a Bank of Boston director—called the property's owner and persuaded him to include the bank in the deal. And, in 1993, Fr. Monan played a significant role in bringing about a compromise to save the plan, then at an impasse, by arranging a meeting among the project's principals.

In February 1994, Fr. Monan informed the University's Board of Trustees of his intention to step down from the presidency of Boston College and asked that the board begin the search for his successor, agreeing to stay on until that individual was identified. Two search committees met with members of the University community, invited nominations, screened 55 candidates and narrowed the field to several finalists. None of the finalists, however, were able to disengage from their responsibilities in an appropriate time frame and, in June 1994, the board asked Fr. Monan to extend his presidency for a period of up to two to three years. Fr. Monan agreed and launched the addendum to his tenure by naming an executive vice president, establishing the position of associate vice president for state and community relations, and commissioning a major study of Boston College's long-term academic goals and priorities as it prepared to enter the new millennium.

After assuming the chancellorship in 1996, Fr. Monan remained active in local and national affairs. In 1996-97, he served as interim president/executive director of the Association of Jesuit Colleges and Universities.

In 1999, Fr. Monan was one of several Boston leaders that led a successful push to keep the New England Patriots from moving to Hartford, Conn. The group—which included several BC graduates—was able to rally support in the business and political communities behind a package that kept the Patriots in Foxborough.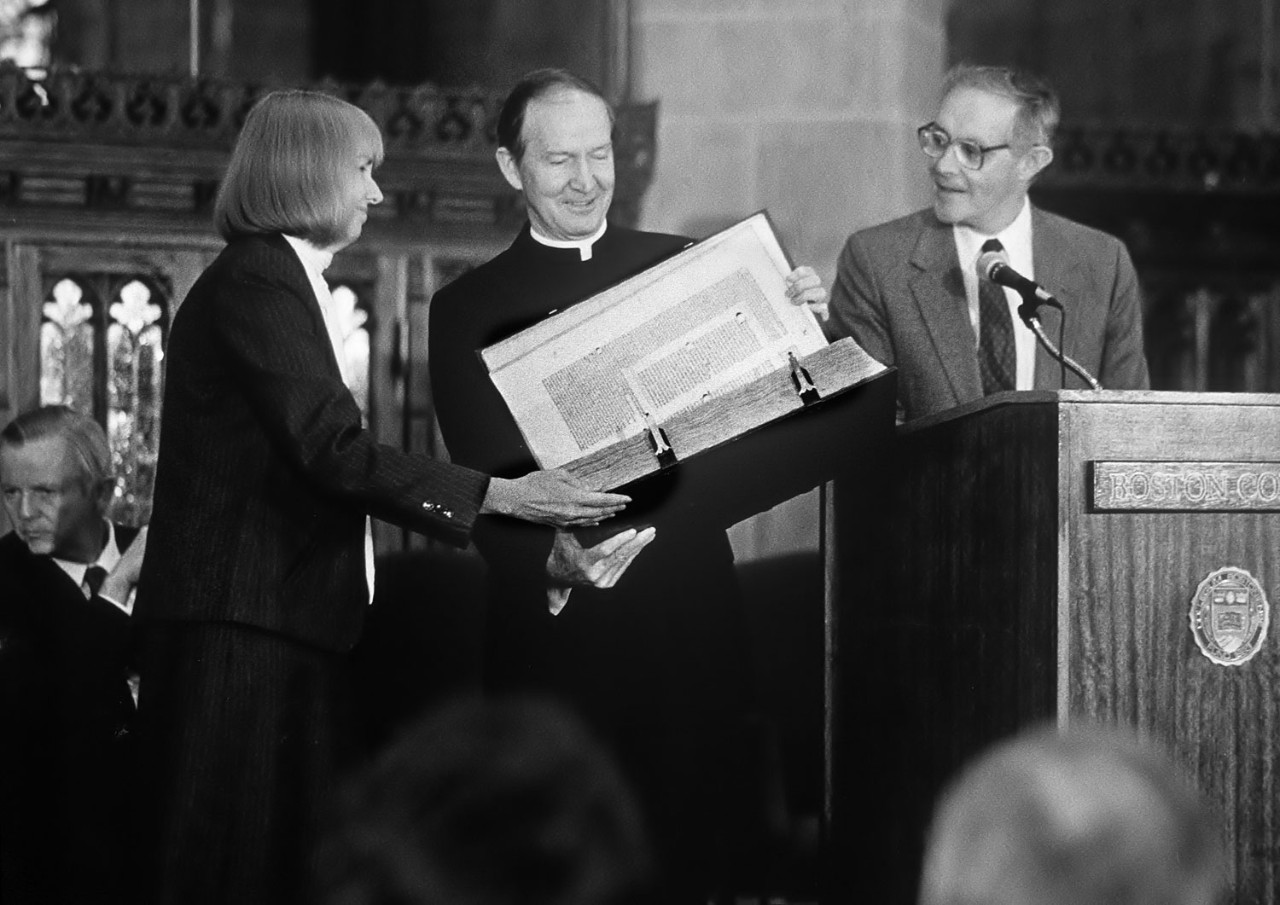 In 2002, Massachusetts Supreme Judicial Court Chief Justice Margaret Marshall appointed Fr. Monan chair of a committee that would seek ways of improving the state's judicial system. The panel's report, issued in 2003, provided a review of the standards and effectiveness of managerial systems within the courts and offered recommendations for improvement.
Fr. Monan also presided at the funeral Masses or delivered eulogies for a number of prominent alumni, friends of the University and key civic figures, including former Speaker of the House Thomas P. "Tip" O'Neill '36, and U.S. Sens. Mike Mansfield and Edward M. Kennedy, a former Boston College Trustee; and former Boston Mayor Kevin H. White, a graduate of BC Law.

A collection of Fr. Monan's most notable speeches, Echoes of a University Presidency, was published in 2008. The volume contains 70 insightful, highly readable and inspirational selections that capture the life, times, spirit and direction of his remarkable 24-year administration.

Born in Blasdell, NY in 1924 to a family with roots in Northern Ireland—birthplace of Boston College founder John McElroy, S.J.— Fr. Monan attended Canisius High School in Buffalo before entering the New York Province of the Society of Jesus at St. Andrew-on-Hudson. After concluding his philosophical studies, he taught at St. Peter's College in Jersey City, NJ, studied theology at Woodstock College and was ordained a Jesuit priest in 1955.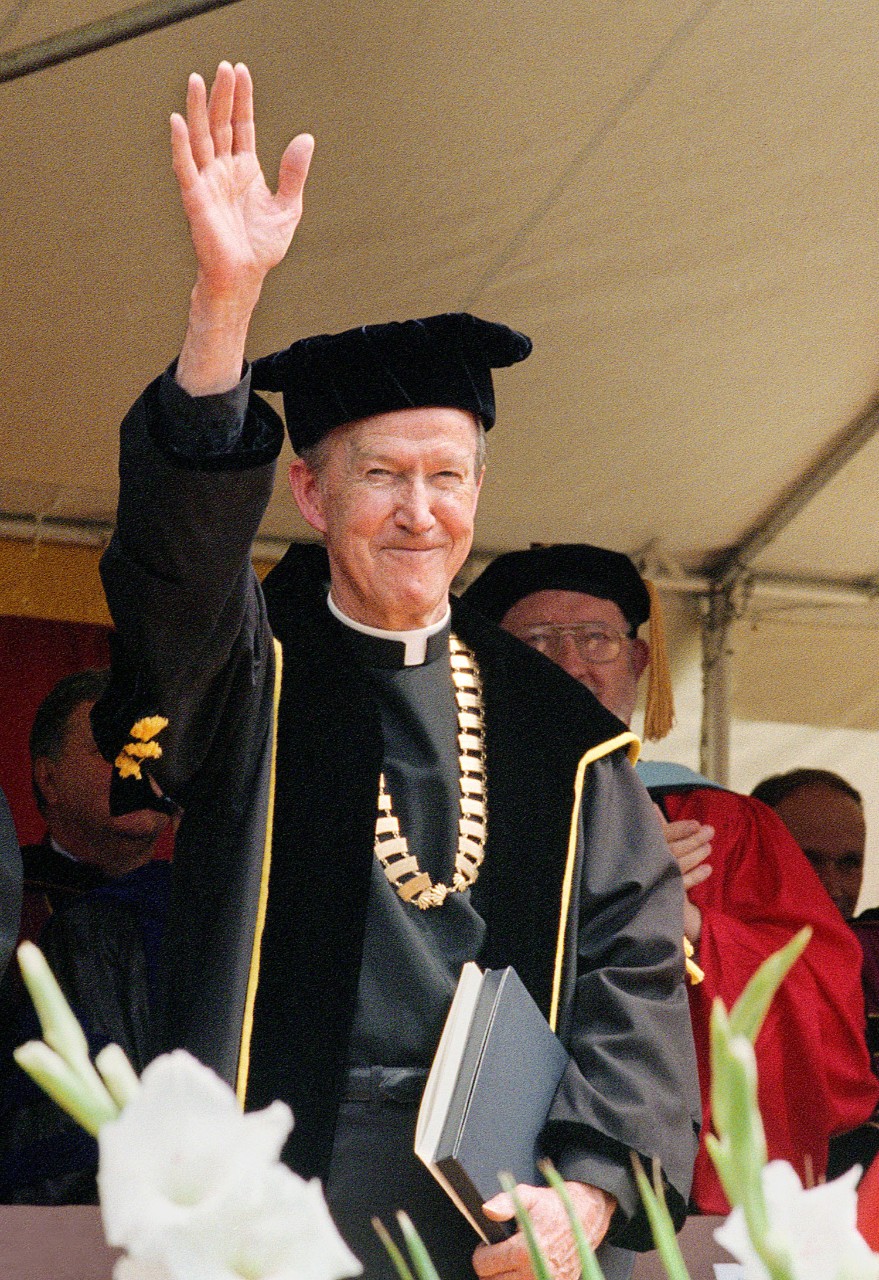 He earned his doctorate in philosophy at the University of Louvain, Belgium, and continued his postdoctoral research at the universities of Oxford, Paris and Munich.
In 1961, a year after joining the Le Moyne philosophy department, he became its chairman. Seven years later, he was appointed academic dean and vice president, serving as director of long-range academic and fiscal planning.

Fr. Monan's publications include Moral Knowledge and its Methodology in Aristotle and, as co-author, A Prelude to Metaphysics. He received more than a dozen honorary doctoral degrees from institutions ranging from Harvard and Boston College to the National University of Ireland. He was the former chairman of the National Association of Independent Colleges and Universities and of the Association of Independent Colleges and Universities in Massachusetts, served as a director of Bank of Boston (1976-96), as interim president of the Association of Jesuit Colleges and Universities (1996-97), board member of the Naval Academy Endowment Trust and the Yawkey Foundation.

He served on the board of directors of The National Mentoring Partnership, of the Massachusetts Mentoring Partnership, of which he served as co-chair from 1992-2001, and of the National Leadership Roundtable on Church Management. Fr. Monan was also a member of the Jesuit Philosophical Association, the Society of Phenomenology and Existential Philosophy, the Society of Ancient Greek Philosophy, and the Massachusetts Historical Society.
In February 2006, he was among recipients of the 2006 New England Higher Education Excellence Awards.

In May 2007, he was honored by Catholic Charities for his multiple contributions to civic life in the Boston community, and in November of that year, he was honored by The American Irish Historical Society for his contributions to American higher education as well as his ongoing support of Ireland and his leadership in the American Irish community.

In the spring of 2011, the New England Province of the Society of Jesus honored Fr. Monan with its Ad Majorem Dei Gloriam Award in recognition of his long and selfless service for the greater glory of God.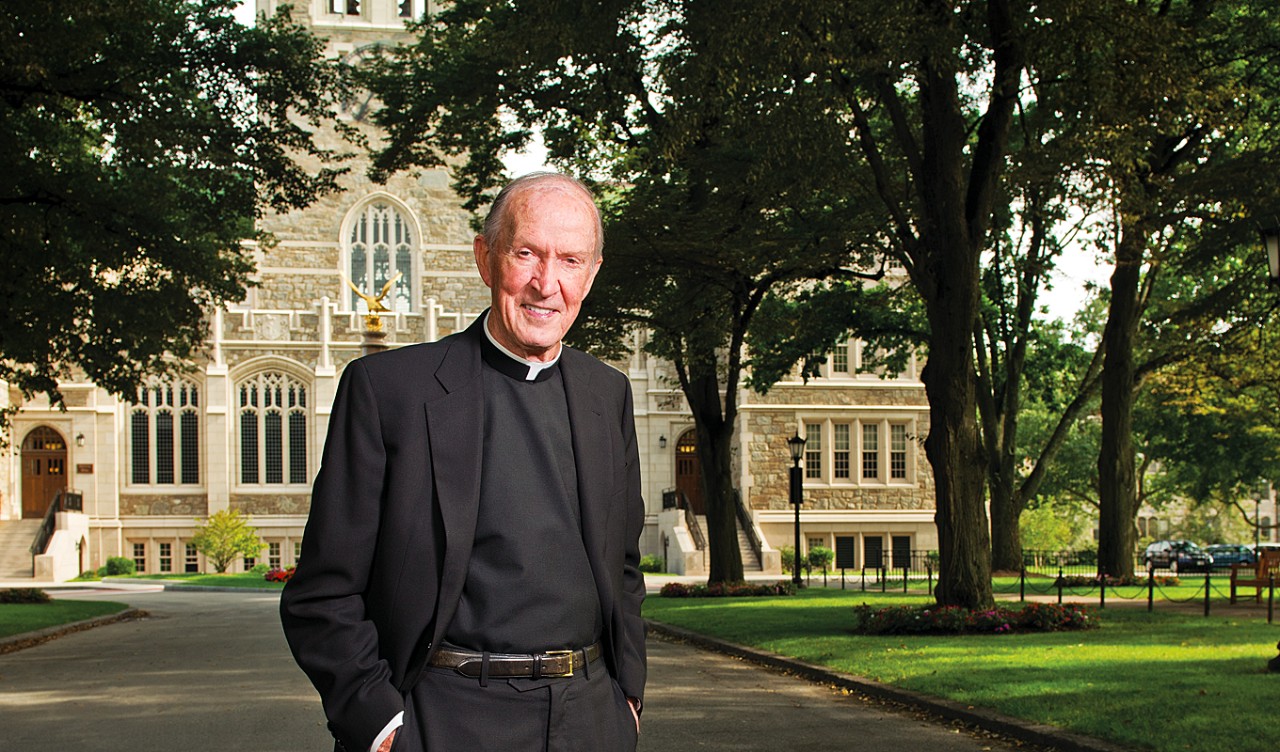 Fr. Monan, who had served on the committee convened by the National Endowment for the Humanities that led to the establishment of the Massachusetts Foundation for the Humanities and Public Policy—known today as Mass Humanities—was among recipients of the inaugural Governor Awards for the Humanities at the organization's 40th anniversary gala in 2014.

Most recently, he was honored by the Boston College community at a celebration of his 90th birthday at Cadigan Alumni Center on the BC campus in January of 2015, and was recognized as one of the "Four Pillars of Mass Mentoring Partnership's First 25 Years" at the organization's anniversary celebration in February 2017.

He is survived by nephews Patrick, Edward, and Michael Monan, Kevin Cheeley, and Anthony J. Bellia, Jr.; nieces Margaret Monan Finnegan and Kathryn DeSprit; and cousin Cynthia L. Egan. He is predeceased by his parents Edward and Mary Ward Monan, and his niece Maureen Bellia.

—University Communications