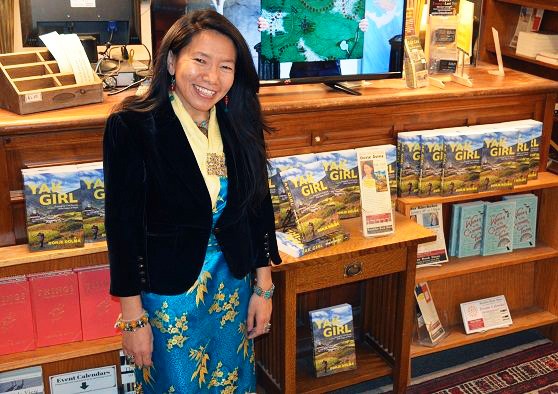 At age seven, Dorje Dolma was living in one of the most remote places in the world, protecting her family's goats and sheep from wolves and snow leopards. By age 10, she was facing a life-threatening condition and would encounter an American woman, with Boston College ties, who would change the course of her life.
In her new memoir, Yak Girl: Growing Up in the Remote Dolpo Region of Nepal (Sentient Publications, 2018), Dolma describes her childhood in Dolpo, an isolated region of Nepal in the Himalayas near the border with Tibet. It is an area that has become more familiar to Westerners since the publication of Peter Matthiessen's award-winning book The Snow Leopard and the Oscar-nominated film "Himalaya." In her village there was no electricity, no running water, no roads, no medicine and no schools. What her home did have was family, tradition, nature, and beauty.
Dolma is the oldest of 11 children born to Dolma Tsering and Karma Dhandul. By age five, Dolma's days were filled with chores either in the home or, preferably, high in the mountains where she would watch over the family's animals while they grazed.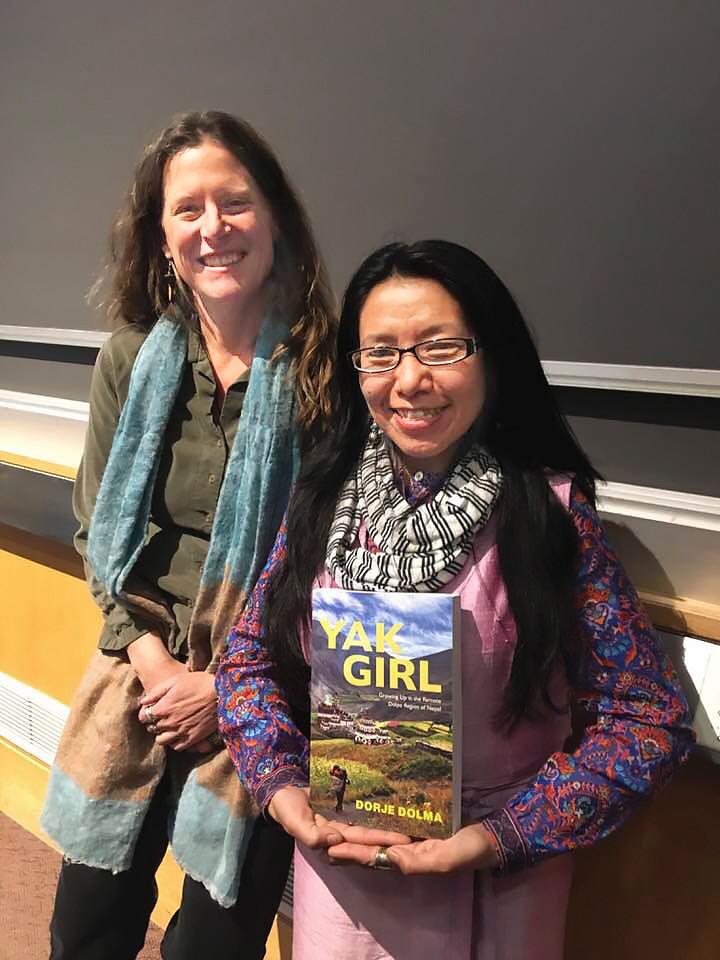 In a recent author talk at Boston College, Dolma recalled happy times from her childhood. "The river was my friend and my playground. I sang songs along to the soothing sounds of the water, and with the gifts the river brought down—sticks and stones—I built little rock houses."
But there was also much hardship. The brutally cold winters after a poor harvest season were especially difficult. When Dolma was six, her best friend died after eating unripe berries. Five of Dolma's younger siblings also died. Dolma read a heartbreaking passage from her memoir about participating in her little sister's cremation ceremony.
When she was 10, her family decided to travel to Kathmandu to seek possible medical help for Dolma, who had a curvature of her spine that was causing extreme back pain and affecting her breathing. The journey, on foot, took the family one month to complete. Dolma would never see her village again.
As the family approached the city, Dolma writes that she felt she had traveled to another planet. It was 1995, and it was the first time she tasted a fresh orange, saw an airplane (or any vehicle) or used an electric lamp.
In Kathmandu, Dolma and her family received care from ROKPA International, a humanitarian organization that operated a soup kitchen, medical clinic, and children's home. There she met American volunteer Jennifer Cleary. The daughter of two BC graduates, Cleary had attended Boston College in the 1980s, playing soccer for the Eagles.
Cleary soon learned from doctors that Dolma had a very severe case of scoliosis. Left untreated, the scoliosis would worsen and crush her organs. Dolma had less than two years to live. Cleary also learned that due to the complexity of the case, there was no possibility of Dolma getting treatment in Nepal.
"I had no idea what would unfold but I felt deeply moved to help her," recalled Cleary. "It was just one of those magical moments in life where one feels an instantaneous connection to a person."
Cleary returned to the U.S. with Dolma's x-rays, hoping for better news from surgeons in the States. She found a medical team willing and able to do the necessary surgery. Cleary traveled back to Kathmandu to bring Dolma to the U.S., where the child underwent four very grueling surgeries over the next two years.
Cleary's mother Margaret McCluskey Cleary '59, MS '61, a nurse, stayed with Dolma as she recuperated from her surgeries. "Dorje told me stories about her name, her family, and her life dreams. She said she always knew she had a life somewhere other than the mountains. She was remarkably intuitive and wise," said Margaret Cleary, who attended Dolma's reading at BC.
Dolma was eventually adopted by Jennifer Cleary. She would go on to graduate college and become an early childhood teacher. She is also an artist.
It wasn't surprising to Margaret Cleary that her daughter did so much to help give Dolma a new chance at life. Jennifer was always helping others even as a young child, according to Margaret Cleary, who recalled backyard fairs Jennifer organized to help those with leukemia. "My late husband [Gerald Cleary '52] and I attempted to instill in our children the virtues that attracted us to each other."
While many outsiders might view Dolpo in terms of what it lacks, Dolma sees the region differently. "Even though life was hard up in Duplo, I'm really grateful that I had the experience of being in nature. It's so magical to be surrounded by vast mountains, rivers, and valleys in complete silence. Complete silence is hard to come by. Being in nature taught me to have patience and appreciate little things in life."
Margaret Cleary got the opportunity to travel to Kathmandu with Dolma in 2000 for a family reunion. "It was a mixture of love, laughter and tears, with her father rubbing Dorje's back in wonderment," recalled Margaret Cleary.
Dolma is extremely grateful to her parents. "One of the greatest gifts my parents gave me was letting me go," she writes in her memoir. "I am ever so grateful for their decision to get help for me by making the long journey to Kathmandu and praying for me. And I feel my parents' blessing every day."
Dolma is donating part of the proceeds from Yak Girl to the medical and educational needs of the people from the Upper Dolpo region.
—Kathleen Sullivan | University Communications