Patrick Downes '05 at the Marathon finish line. (Photo by Justin Knight)

"I ran with the city in my heart."

Three years after the Boston Marathon bombings, survivor Patrick Downes '05 completed the 120th running of the race on a prosthetic blade, becoming the first Boston bombing amputee to complete the entire Marathon on foot.
Downes ran the 26.2 mile course in 5 hours, 56 minutes, and 46 seconds, crossing the finish line three minutes before 2:49 p.m.—the time the first bomb exploded in 2013.

The alumnus ran to raise funds for the BC Strong scholarship, established by the Class of 2005 in honor of Downes and his wife, Jessica Kensky, who also lost a leg as a result of the bombings and later had to have her remaining leg amputated. Kensky was waiting for him at the Marathon finish line this year.
The BC Strong scholarship will be awarded to a deserving student with preference to those who excel with a physical disability or dedicate time to serve others. A goal of $250,000 has been set to endow the scholarship.

'As the miles pass, he thinks of everything he loved about the sense of community and the spirit of service at Boston College, and imagines the first scholarship recipient arriving at The Heights to a warm welcome.''—Boston Globe on Patrick Downes' training for Marathon 2016.

At a panel discussion in Robsham Theater last year, Downes said the BC community had played an important role in their recoveries, and also recalled how the "rich, indescribable capacity of the human spirit" had often been a topic in his philosophy and theology classes at BC, but seeing it demonstrated in real life was remarkable.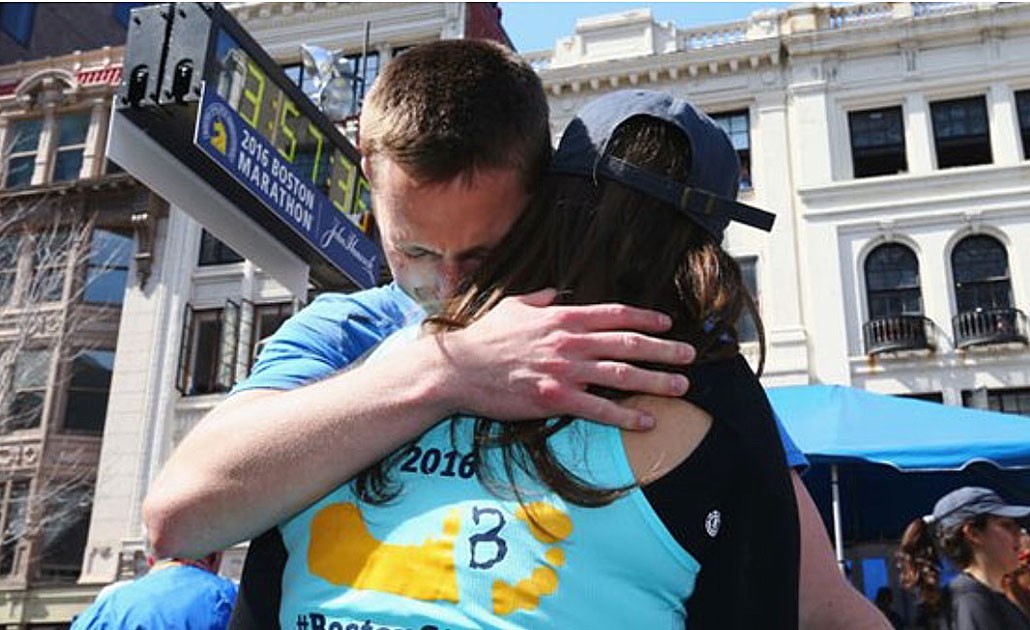 Patrick Downes and his wife, Jess Kensky, at the finish line of the 2016 Boston Marathon. (Photo via WBZ-TV News; watch the full report below.)
"This was a public disaster, but so much care and love has come with it," he said at the time. "It's important to remember that people struggle under a cloud of anonymity, and there's no panel discussion for them to talk about it. I've learned in a very intimate way what it means to have a connection with someone. We may not have words to define it, but we know we're part of something special."

In 2014, Downes and Kensky completed the Boston Marathon on hand cycles together. Over the past year, he began using a running blade and in January ran the Walt Disney World Half Marathon in Orlando, while Kensky used a hand cycle.

Downes was accompanied on his Marathon run this year by his brother Brendan '07, sister-in-law Sarah and BC friend Tom Treacy '05, as well as B.J. Ganem, a military member and amputee.

—Patti Delaney | News & Public Affairs

Patrick Downes and his wife Jess Kensky spoke to WBZ-TV's Steve Burton at the finish of Downes' Boston Marathon run.