Photos by Lee Pellegrini and Peter Julian
Mike Lupica '74, the prolific and provocative sports columnist and best-selling author, recounted a very familiar and momentous Boston College football tale to underscore the topic of a recent presentation in Gasson 305: "The Next Moment is the One That Can Change Everything."
"Often forgotten in the retelling of the famous last-second 'Hail Mary' pass from Doug Flutie to Gerard Phelan that won the 1984 game for BC over Miami is the second-down, 13-yard pass to tight end Scott Gieselman that moved the ball to the Hurricanes' 48-yard line," he explained. "Doug knew he needed to get to midfield so his final pass would reach the end zone. But if Gieselman doesn't catch that previous pass, there's probably no 'Miracle in Miami.' That's the moment that changed everything."
Lupica, who characterized his BC diploma as "the degree of my dreams," was back on campus for a three-day residency coordinated by English Professor Carlo Rotella. During his visit, Lupica took time to share his experiences as a writer and media professional with students who may follow a similar path. He gave talks to a class on sports writing taught by adjunct faculty member and Associated Press sports writer Jimmy Golen and both sections of Assistant Professor of Communication Michael Serazio's Sports, Media, and Culture class.
"The first half-hour I posed questions about the professional challenges of sports journalism, the dramatically changing media landscape, and the fraught intersection of sports and politics, among other topics," said Serazio. "During the second half-hour, students asked him a variety of questions, including the particularly incisive, 'If a white quarterback like Tom Brady had taken a knee to protest racial injustice, as former 49ers quarterback Colin Kaepernick had, would the National Football League, the president, and nation as a whole, have reacted differently?'"
Lupica's response: "The reaction would have been far less mean and far less extreme if it had been a white, Super Bowl-winning quarterback doing the kneeling, and I don't believe the president would have called Tom Brady an SOB."
While at BC, Lupica wrote for The Heights—he met with some of the paper's current staff during his residency this month—and freelanced for the Boston Phoenix, Boston Magazine, and The Boston Globe; an assignment from Globe sports editor Ernie Roberts, a well-known mentor to aspiring sportswriters, resulted in a front-page story on Pam Lake, BC's star baton-twirler known as "The Golden Girl." "She had the best pair of hands on the BC campus but she doesn't play football," served as Lupica's lede.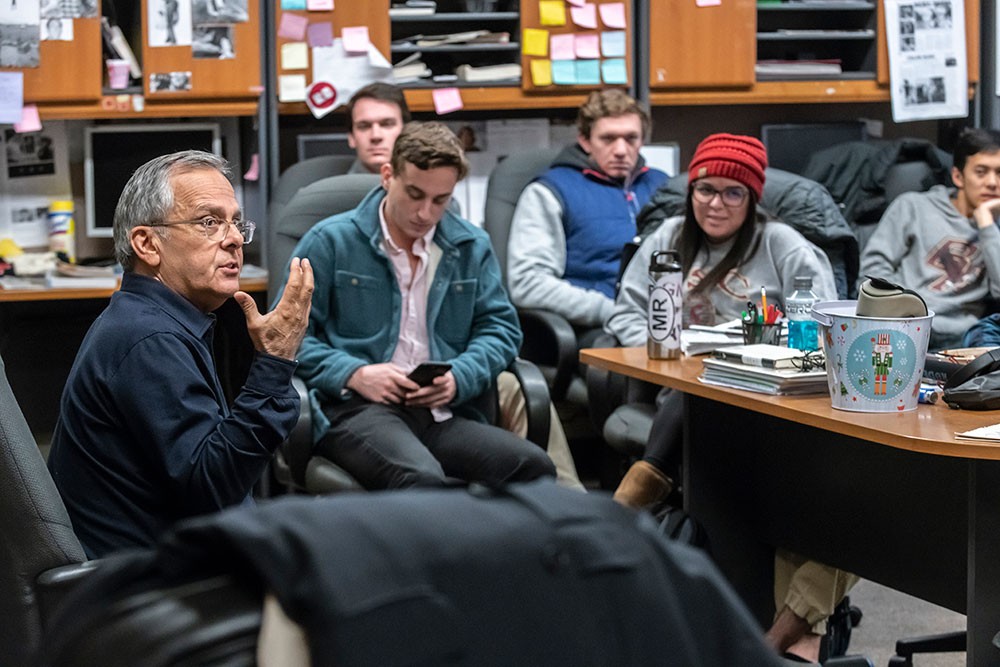 He started working for the New York Post in 1975 on a temporary basis, and then the next moment changed everything: At age 23, he was assigned to regularly cover the NBA's New York Knicks, which in 1977 led to a column for the New York Daily News, where he stayed for 40 years—not including short stints at the ill-fated The National, and one year writing for Newsday.
He began reaching a nationwide television audience in 1988 when he became a regular panelist on ESPN's "The Sports Reporters," which aired until 2017. He also wrote "The Sporting Life" column for Esquire for 10 years.
At his Gasson 305 talk on Nov. 15, the Oneida, NY, native—introduced to the crowd of students, friends, and faculty by his all-time favorite BC instructor, retired English Associate Professor Emeritus Paul Doherty—said, "I followed the advice that to be a good writer you need to be a good reader and be exposed to good writing. While in high school, I decided I wanted to write for a newspaper and write books. Life has come full circle."
Lupica wrote his first sports book in 1984, an autobiography with baseball Hall of Famer Reggie Jackson, followed by 15 sports titles. But when his son Alex, then 12, failed to make a youth basketball travel team, lightning struck again. Based on the suggestion of former Knicks and Houston Rockets Coach Jeff Van Gundy, Lupica recruited all of the boys who had been cut and formed his own team, scheduled games, and created an opportunity that would not have ordinarily existed. The team was awful, but they improved with every game, and won their last game by one point on a free throw with three seconds remaining, and euphoria erupted, he recalled.
"We had our post-season party, but I couldn't let go of the season," said Lupica. "I'd seen something special watching these kids, which motivated me to write a three-page outline for a novel, which became the best-selling YA [young adult] book Travel Team. I've written 20 YA books since then. It changed my life."
Prompted by an audience member's question, Lupica cited the U.S. Olympic hockey team's "Miracle on Ice" victory over heavily favored Russia in the 1980 Winter Olympics as the "greatest story" he ever covered—and one which also reflected the evening's theme. He noted that after Team USA had tied the score at the end of the first period, the Russian coach benched the team's starting goalie, widely considered the world's best at that position. It was "the turning point," he said: The US would go on to score two more goals off the replacement goalie, enabling them to advance to the finals and win the gold medal.
"While most people remember Mike Eruzione's third-period goal which gave Team USA a 4-3 lead," Lupica said, "it was Mark Johnson's first-period goal with one second left—tying the game at 2-2—that changed everything."
—Phil Gloudemans | University Communications