In the Jesuit tradition of "men and women for others," Boston College alumni embrace opportunities to continue to make a difference in the world after their time at the Heights. The Alumni Association's popular Global Days of Service initiative – which this year runs April 1 through May 31 – gives all Eagles a chance to unite and serve in their communities, whether in the Boston area, around the country or across the globe. 
An army of dedicated BC volunteers will fan out to make a collective impact, sharing their time, talent and resources to make a difference in the lives of others. Through service projects both big and small, they will reconnect with fellow classmates, make new friends, and share in the Jesuit ideals that are central to the University's mission.
Associate Vice President for Alumni Relations Joy Haywood Moore '81, H'10 discussed with Chronicle the importance of the initiative, which last year drew some 1,300 participants who volunteered more than 1,800 hours for 40 service projects. For more on the 2017 project, click here.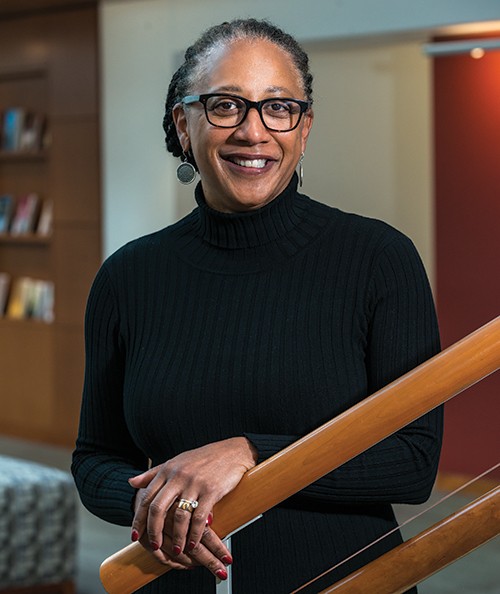 How has the Boston College Global Days of Service initiative evolved since its launch a dozen years ago, and to what do you attribute its success, in terms of engaging and inspiring our alumni to participate?
Global Days of Service invites and unites the Boston College community – its alumni, parents, and friends – to follow the call of St. Ignatius to transform the world through making a difference in the lives of others in the areas we live, work, and play. We are asking our community to serve in a planned project, lead a project, or share the details of an individual project – including the volunteering they do on an ongoing basis.
Is this initiative unique to Boston College, in terms of rallying alumni to volunteer to this extent?
Many institutions hold service days as a part of their alumni programming. The scope and size of these projects vary as widely as the institutions that host them. One unique aspect about the Boston College Global Days of Service is that we collaborate with the Association of Jesuit Colleges and Universities and share our service projects with the network of all 28 Jesuit institutions to encourage our alumni community to come together in service for others. 
How many alumni volunteers are anticipated to take part this year, and in how many different service projects and locations?
This year, projects will take place in 40-plus locations and we anticipate participation by over 1,300 alumni, parents, families, and friends.
What are some examples of the types of 2017 volunteer efforts – in the Boston area, across the country and around the world?
Many of the projects are addressing food insecurity and hunger; as such, there are many projects at food banks and pantries. There are also projects at schools, homeless shelters, safe-houses and environmental clean-ups. In the Boston area, alumni will serve at the Greater Boston Food Bank, St. Francis House and Rosie's Place, among others.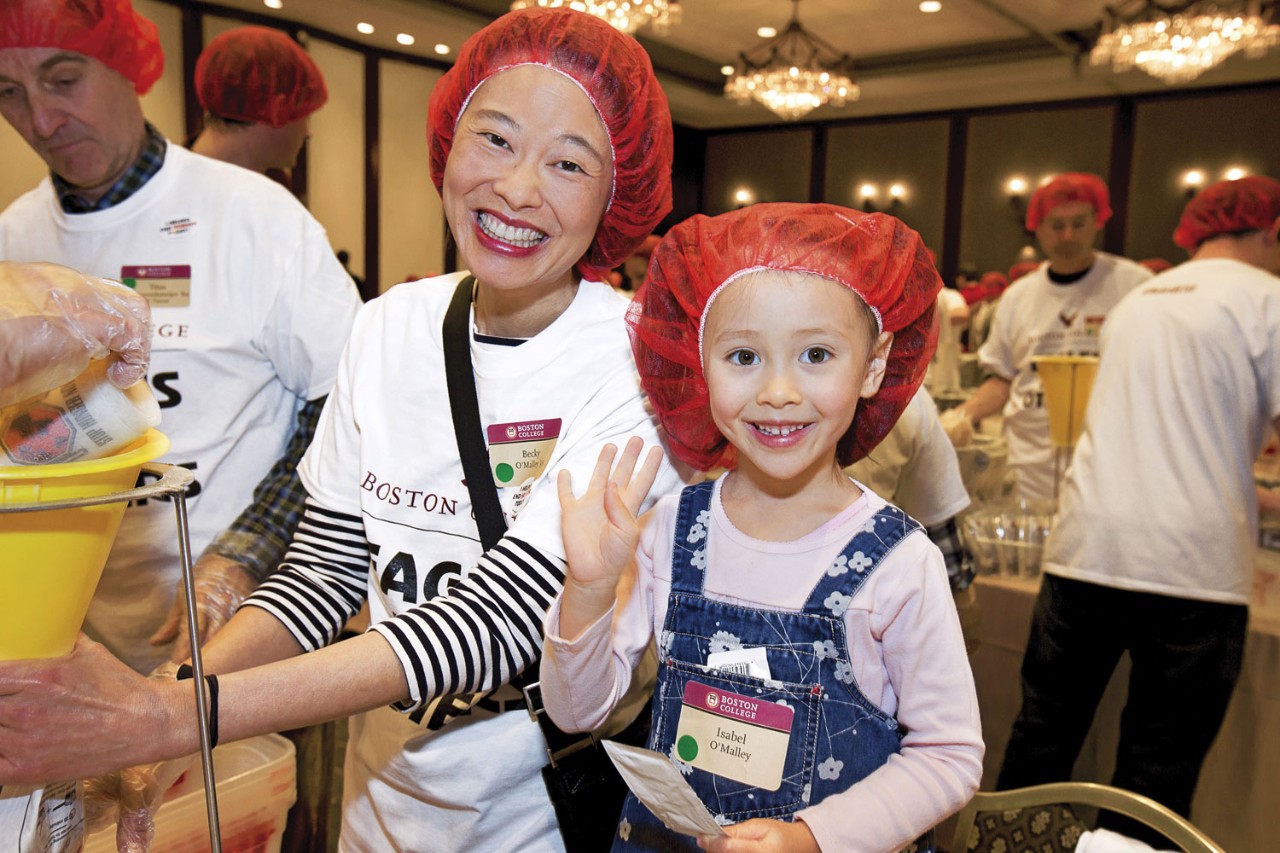 Alumni often participate with their children and other family members. What feedback have you gotten from them about their experiences?
Alumni enjoy bringing their children, families, and friends into the BC community through service, as being "men and women for others" celebrates one of the core values of a Jesuit education. Justin McCarthy '87, a dedicated volunteer leader in the Los Angeles area, describes it like this:
"I feel energized when I volunteer. Helping others takes me outside of my regular routine, makes me grateful for my own life – and I always meet great people! Boston College service projects at the Los Angeles Regional Food Bank have exposed me to the hunger and overwhelming needs of people right in my own community. On BC volunteer days, participants usually include Eagles of a large range of ages, majors – and everyone has a different story. What's fun is we all share memories and traditions that bring us back to our own special time at Boston College. Volunteering as part of BC's Global Days of Service connects me to something bigger than what is happening in my own community. The collective efforts of our alumni around the world are awesome!"
What do you hope these alumni participants take away from their involvement in Global Days of Service?
We hope that those who participate feel a greater connection to their communities, the BC community, and the Jesuit spirit. We want our alumni, parents and friends to know that their University is committed to keeping them engaged in meaningful ways that demonstrate our pride and ongoing endeavors to be "Eagles for Others!"
What would you say on behalf of BC to these alumni volunteers about the importance of their participation? And to those considering volunteering for the Global Days of Service?
Service is in the fabric of what students encounter during their days at the Heights. This is one of the many threads that alumni carry with them as they spread across the globe and they have a strong desire to continue to serve the communities in which they live and work. To those considering volunteering for Global Days of Service: Join us! You will meet new people, have fun, and give back to your community.
–Rosanne Pellegrini / University Communications