Accomplished 2006 alumna Elizabeth O'Day was back at Boston College in the fall, this time teaching undergraduates – only one of the many meaningful ways she's advancing science and making a difference.

The former biochemistry major taught the weekly elective course Human Metabolism, Disease & Entrepreneurship (HMDE), which aims to provide an understanding of biochemical pathways to human disease, and to learn how to use this information to help patients.
Her energy and drive extends well beyond the Merkert Chemistry Center classroom, however.

O'Day is the founder and CEO of Olaris Therapeutics, a Cambridge-based venture capital-financed pharmaceutical company that develops "tailor-made" medicines for diseases with little to no treatment options and dismal survival rates. Launched in 2013, the company predicts that its technology will fundamentally change how these diseases are treated and diagnosed.

"When I take on a task," says the Braintree, Mass., native, "I do it full force."

O'Day achieved what no one at BC – and few, if any, at other universities – has done, winning four of the nation's most coveted academic awards for her scientific research: Beckman and Goldwater fellowships; a Winston Churchill Scholarship to study at Cambridge University (in lieu of accepting a Fulbright grant recommendation); and a National Science Foundation Graduate Research Fellowship. She also received BC's most prestigious undergraduate honor, the Rev. Edward H. Finnegan, S.J., Award.    

While at BC, she founded Women in Science and Technology because she and her fellow female scientists saw too many young women repress their science interest due to the "geek" stereotype.  WST, now entering its 12th year, has provided more than 600 female high school and college students the opportunity to learn about science careers through a month-long, weekend program of research, lectures, field trips, and sessions with mentors from scientific disciplines.

O'Day also found time to play on the BC rugby club team.
Today, O'Day is busy as ever. She serves on the advisory board for Women in the Enterprise of Science and Technology, a learning community that provides professional women with the inspiration, knowledge, and connections to reach their full potential.

While earning a doctorate at Harvard in biological and biomedical sciences, she founded Lizzard Fashion, an online, eco-friendly T-shirt company that promotes science through fashion. A portion of the profits supports cancer research.

In 2010, O'Day launched Proyecto Chispa (Project Spark), which recycles electronics and uses the resale of parts to build computer centers in Latin American orphanages.

Three years ago, she was selected as a World Economic Forum Global Shaper, which recognizes young professionals with exceptional potential, achievements and the drive to make a contribution to their communities.

"I believe we will 'cure' cancer one day. Cure could mean completely eradicating the disease, but it could also mean we use science to completely manage it. When someone is diagnosed with cancer, clinicians will be able to identify the most effective treatments for that patient and use tailored medicines to keep that cancer at bay."



What motivates her?  She credits a biologist uncle with igniting the spark, but when O'Day was six years old, her older brother Rob was diagnosed with neuroblastoma and spent two years in successful treatment at Boston's Children's Hospital.

"That experience surely influenced me," she recalls.  "I was terrified and a little angry. I didn't understand why the doctors couldn't just make him better. I remember being told to pray that Rob's medication would work; believe me, I did. However, now, with our increased understanding of disease, and technology advancements, I think we can use science to complement prayer to help patients like my brother."

O'Day, who identified biochemistry as her profession in seventh grade, says she's always been more interested in the prospect of creating drugs than prescribing them as a physician.
"I believe we will 'cure' cancer one day. Cure could mean completely eradicating the disease, but it could also mean we use science to completely manage it," O'Day declares.  "When someone is diagnosed with cancer, clinicians will be able to identify the most effective treatments for that patient and use tailored medicines to keep that cancer at bay.

"We're also moving into an era of preventative medicine where technology will let us identify disease at its earliest onset, which could allow patients to implement lifestyle changes so that they never even develop the disease. It's an exciting time in biotech."

If she can't accomplish it herself, she's betting on the next generation of scientists, one or more of whom may have been students in her HMDE class at BC, which was uniquely characterized by two guest speakers for every session.  Following a lecture on the biochemistry that undergirds and influences conditions and diseases that afflict humans today, a patient suffering with a specific diagnosis shared his or her story.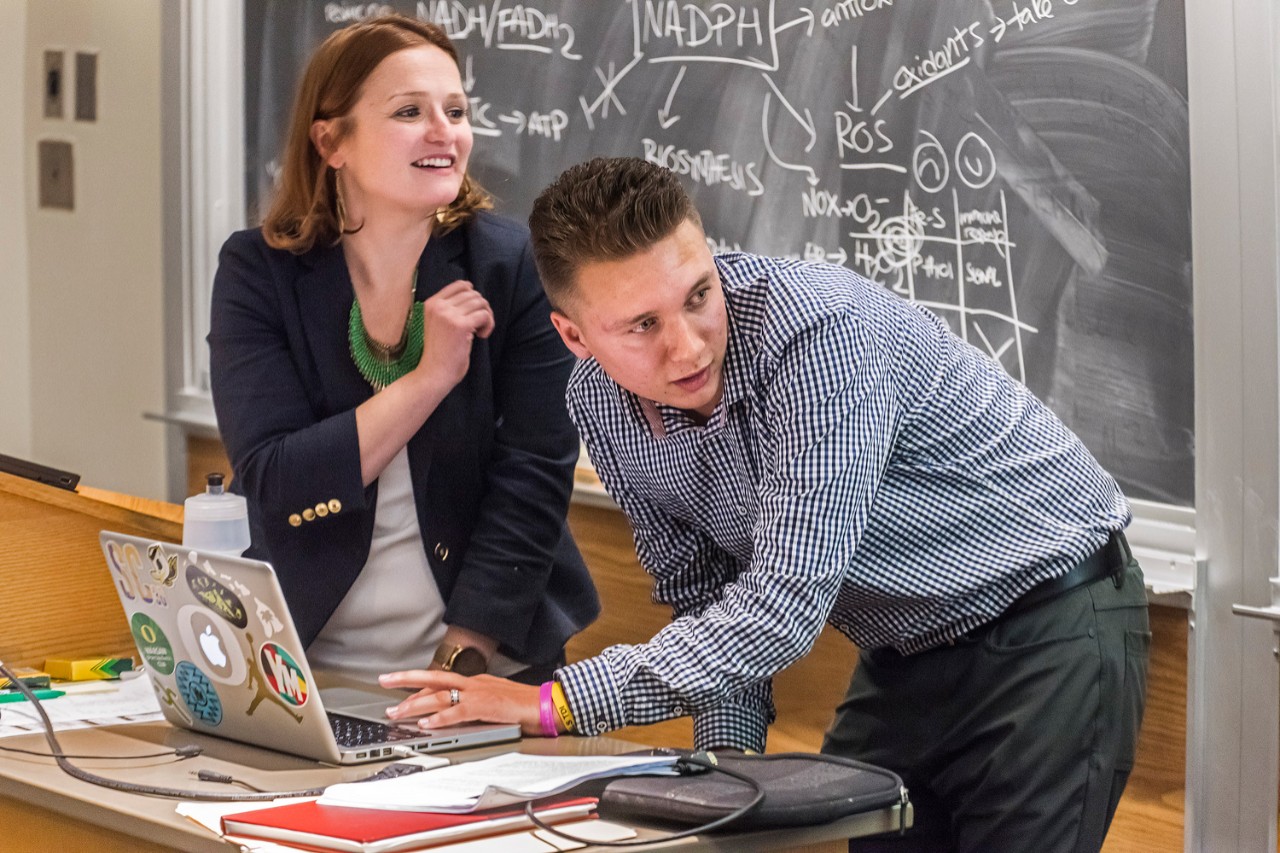 One  class featured Osiel Mendoza, a 22-year-old advocate and fund raiser at the ALS Therapy Development Institute in Cambridge, Mass. A year ago, Mendoza was diagnosed with ALS (amyotrophic lateral sclerosis), the same progressive neurodegenerative disorder that afflicts former BC baseball captain Pete Frates '07.

Mendoza, no more than two years older than most BC seniors in the class, spoke frankly about his life and future with an incurable disease of the brain and spinal cord nerve cells that control voluntary muscle movement.  The students were noticeably moved.

"Many of these students will eventually work in scientific or medical professions," explains O'Day.  "It's important that they not only achieve a deep understanding of the science, but appreciate the application of the science and its potential impact on people.  It's equally important for students to hear about scientific or medical gaps hindering our ability to serve patients; I hope they imagine ways they could fill in those gaps. That's why nearly every class has a guest patient."   

Professor Marc Snapper, chair of BC's Chemistry Department, called O'Day "uniquely qualified" to offer the course: "Her longstanding departmental history, impressive research training and pharmaceutical business experiences all position her well."

A measure of O'Day's growing stature was her invitation to speak last year at the annual meeting of the World Economic Forum, which described her as one of the new leaders for the "fourth industrial revolution." She joined 500 outstanding international female attendees from every segment of public life, including American executives such as Hewlett Packard's Meg Whitman and Facebook's Sheryl Sandberg, as well as Christine Lagarde, head of the International Monetary Fund; Kemi Adeosun, Nigeria's Finance Minister, and Fabiola Gianotti, director general of CERN (European Organization for Nuclear Research).

In an essay for the forum, O'Day – who serves on the WEF's Global Future Council on Biotechnologies, a knowledge network that provides a forward-looking think tank for the forum – mused on the outlook for what she described as "personalized medicine."

"In the future, monitoring your health could be like a real-world video game. Future biomarkers will be able to more accurately identify increased risk of stroke or cardiovascular disease, the onset of dementia, macular degeneration, diabetes, and many other health related issues.

"By empowering patients with the ability to access and monitor their own molecular data, patients can take center stage in controlling their own health."
—Phil Gloudemans | University Communications