Bernie O'Kane graduated from Boston College fifty years ago and has devoted his life to the University ever since. It's the only place he's ever worked—he started in financial aid, spent nearly two decades in student affairs, has been the director of employee development since 1994, and has no plans to slow down any time soon. He's earned three degrees from BC. The love of his life, the deceased Patricia O'Kane, was an alumna (and a seventeen-year University employee), as are all three of their sons. For O'Kane, then, BC has been a life's journey. Boston College Magazine asked him to share what he's learned so far.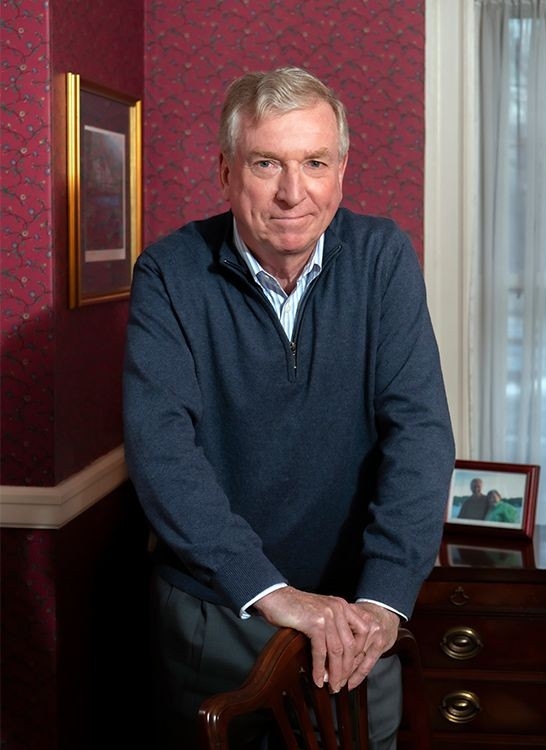 ---
I'm the youngest of three. When I was eight months old, my father died of cancer. My father's mother and his aunt invited us to live in their home in Chestnut Hill. We lived on the first floor and they lived on the second floor. All the men in these women's lives had died, so they did it all. We had no income in my family. We were on Aid to Families with Dependent Children, which is now called welfare. My mom eventually worked in a public school cafeteria, and then at Pine Manor College.
I was the first in my immediate family to go to college. When I came to BC I felt everybody was smarter, wealthier, and better looking. First-generation students harbor incredible self-doubt, but at BC, I was given the opportunity to use my intelligence, judgment, and skills for the first time. Inviting first-generation students into the BC community, where we can be mentored and supported, is phenomenal.
Our sons all graduated from BC. Conor was a theater/theology double major, Drew was a film major, and Greg was a theater major. When Greg chose theater, I questioned the decision. He said, "Dad, your advice to us was to use the gifts we have been given and apply them wherever needed." And I said, "You are correct, son." And I closed my mouth because he was right.
BC can't survive if our employees remain static. The expectation is that we get better, all of us, and continue to learn. Whether we work directly with students or not, if we do the best we can every day in our work, we are making this the best educational experience for our students that it could possibly be. That's our goal.
I am excited to attend a new course or program. I don't care if I'm the oldest person in the room. I might be going on my 50th year here, and you might be 23 years old, but I'm willing to sit with you and learn.
Every human being has value and it doesn't matter what role we're playing. We are all as important as any other human. In religious terminology, we're all God's children. Working in a university that's grounded in the Ignatian tradition has deepened my spirituality.
Patty retired in 2015. I'm glad she did, because she only lived two and a half more years. Back in '84, she began to develop an autoimmune illness that presented itself as psoriatic arthritis. It hit a crisis in 2005, when she was unable to walk for three months. Through the grace of talking with a Jesuit, we learned of a doctor. He prescribed medications that enabled Patty to not only get up and walk, and work, but for us to have a full life. Then in the summer of '17, a number of additional symptoms began to develop. On my birthday we were Skyping with the boys in New York and my son said, "Dad, something's wrong. You've got to get Mom to the hospital." Within hours she was in the ICU, unconscious. I never got to speak to her again. She died about three weeks later at Mass General. We were married for forty-one years—plus five and a half dating years. She would always add that in!
The Boston College community has a soul. They celebrate with you and support you when you're down. But that doesn't adequately describe the love that's here. We had 100 programs printed for Patty's funeral. There were 700 to 800 people in St. Ignatius Church! The depth of that support is extraordinary.
I have learned that grieving is a process. Nothing prepares you to understand it, to grasp the depth of it. I've tried to allow myself to experience it, not to intellectualize it or to compartmentalize it. It is learning to love someone in a new way.
With Patty I learned that love develops and strengthens through becoming more vulnerable—allowing someone to see your weaknesses, your challenges, to enter into your joy, to appreciate your differences and not to judge. That's a glorious unfolding of a life together that I didn't anticipate. One of the things that we always said was that individually we were strong, together we were invincible.