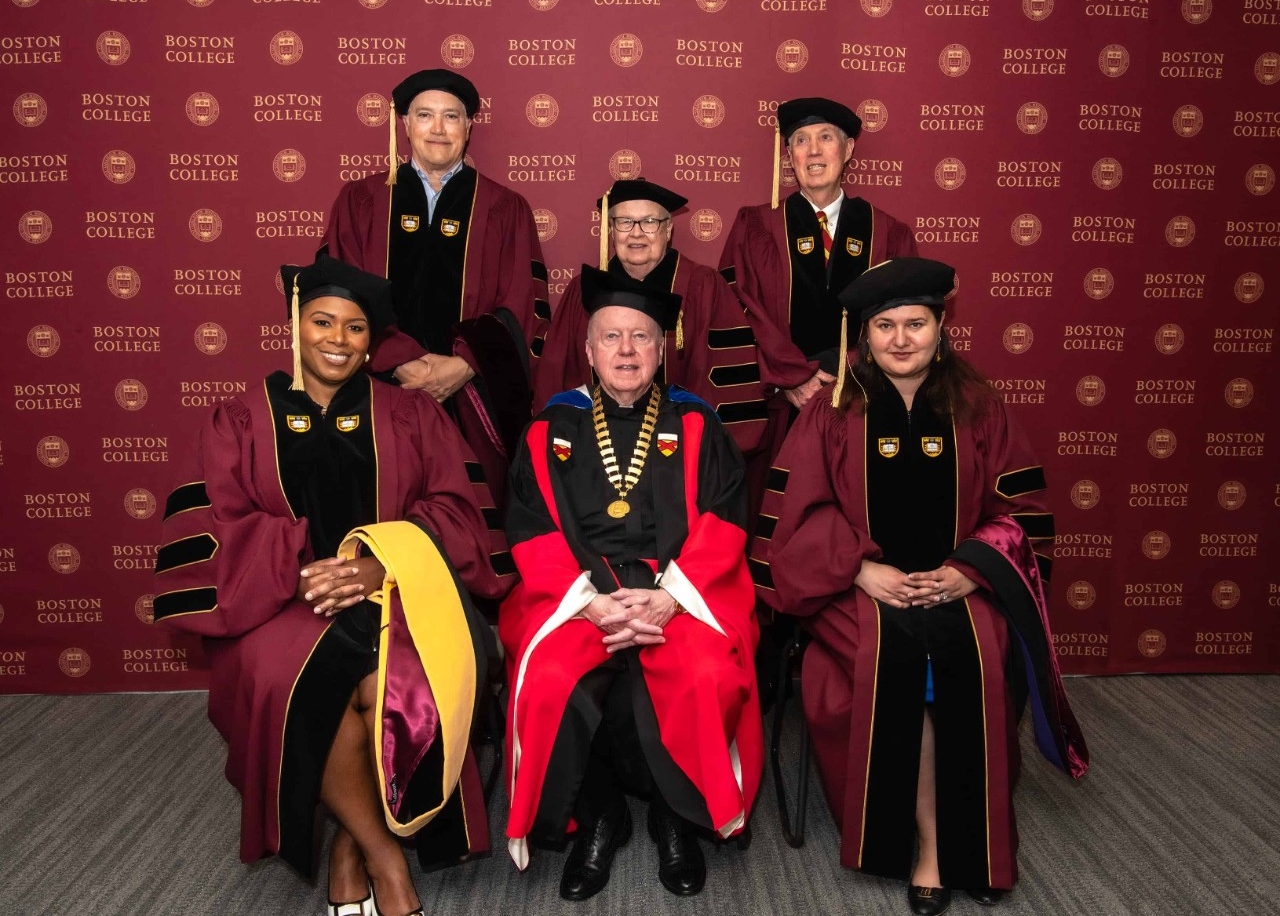 L-R standing: Herb Scannell '79, Sister Jeanne McGowan M.Ed. '90, Jerry York '67; seated: Katrina Shaw M.S.W. '98, University President William P. Leahy, S.J., Ukraine Ambassador to the U.S. Oksana Markarova. (Lee Pellegrini)
At its 147th Commencement Exercises on May 22, Boston College presented honorary degrees to five distinguished individuals. Read about the honorees here; their degree citations are below.

OKSANA MARKAROVA
Oksana Serhiyivna Markarova was appointed as Ukraine Ambassador to the United States on April 20, 2021. Ten months later, her life—and those of her fellow citizens—was forever altered when Russia launched a full-scale invasion of Ukraine.
In the midst of the ongoing threat to her country's existence, she has been an eloquent and effective diplomat and spokesperson. Through extensive media and public appearances, she has conveyed a sense of the crisis Ukraine is enduring, and made a compelling case for international assistance and intervention. She has declared on behalf of the Ukrainian people, "We are fighting against evil, which is a threat not only to Ukraine, but to everyone who believes in democracy." She has highlighted the courage and resilience of her country's soldiers and its civilians, and called Ukrainian women "the heroes of this war, who risked their lives to deliver food, to help our brave armed forces, and to try to secure some kind of normalcy in this horrible war."
Her effectiveness as an ambassador reflects extensive public and private sector experience, including as Ukraine's minister of finance. She co-authored Ukraine's macroeconomic revival program, conducted fiscal consolidation, and structured and coordinated two International Monetary Fund programs.
In recognition of her courageous and unwavering devotion to Ukraine, Boston College awards Oksana Markarova—on behalf of the people of Ukraine—the degree of Doctor of Laws, honoris causa.
---
SISTER OF SAINT JOSEPH JEANNE MCGOWAN, S.S.J., M.ED. '90

A dedicated educator and administrator, Sister Jeanne McGowan embodies the commitment of the Sisters of Saint Joseph to be "ready for any good work."
She is the founding president of La Salle Academy in Philadelphia, a Catholic grade school that opened in 2003 to serve the "poorest of the poor." For 20 years, her leadership and vision have guided the school to provide all students, regardless of their families' resources or circumstances, with a high-quality education and an opportunity to reach their full potential. Prior to leading La Salle, she was a teacher and principal of Our Mother of Sorrows Catholic School in West Philadelphia, and also served as the president of the Philadelphia Archdiocesan Principals Association.
She earned a bachelor's degree in elementary education from Chestnut Hill College and a master of education degree from Boston College in 1990. In 2019, she was awarded the Father Edward Sourin Memorial Award, which honors a Catholic leader who by achievement and example has made noteworthy contributions to Catholic life and culture. In 2022, she was named a Distinguished Lasallian Educator by the Brothers of the Christian Schools.
For her steadfast commitment to the mission of the Sisters of Saint Joseph and Catholic education, Boston College awards Sister Jeanne McGowan the degree of Doctor of Humane Letters, honoris causa.
---
WILLIAM HERBERT SCANNELL III '79

A national leader in television and radio broadcasting, Herb Scannell has maintained a strong connection to his Hispanic roots while pursuing a lifelong commitment to advancing diversity both on-air and behind the scenes.
The son of an Irish American father and Puerto Rican mother, he attended Boston College, where he led the campus radio station WZBC before graduating in 1979 and embarking on a four-decade media career. As president of Nickelodeon and chair of MTV Networks, he helped shape a generation of children's television, developing award-winning favorites such as Blue's Clues; SpongeBob SquarePants; and popular series showcasing Hispanic characters, including Dora the Explorer and The Brothers Garcia.
Under his leadership, Nickelodeon grew into a media powerhouse, and his approach to programming earned him a 2004 Amnesty International award for promoting "activism, tolerance, and social responsibility."
He has also served on the boards of Ballet Hispanico and the Latino Donor Collaborative, and has been a mentor to Boston College students seeking to launch media careers.
Today, as CEO and president of Southern California Public Radio, he works to strengthen the civic and cultural bonds uniting the area's diverse communities.
For his leadership, example, and commitment to media excellence and bridging divides, Boston College confers on Herb Scannell the degree of Doctor of Journalism, honoris causa.

---
KATRINA SHAW M.S.W. '98
Katrina Shaw has dedicated her life to advancing opportunity for underserved communities. As senior program officer for the Liberty Mutual Foundation, she directs charitable investments to assist communities and individuals in Boston and across the nation.
Before joining Liberty Mutual, she served as chief executive officer of Freedom House, Inc., a nonprofit organization that has been a hub of support and advocacy for Greater Boston's diverse communities since 1949. During her tenure, Freedom House built a new learning facility and expanded programs that have helped more than 2,000 underrepresented students access postsecondary opportunities.
Previously, she worked as executive director of City Year Louisiana, assistant vice president of community affairs at State Street Corporation, and director of community impact at the United Way of Massachusetts Bay and Merrimack Valley.
An alumna of Spelman College and a 1998 graduate of Boston College School of Social Work, she was a founding member of New England Blacks in Philanthropy and the Gertie Pie Foundation, named in memory of her mother. The granddaughter of an Alabama sharecropper, she attributes her commitment to giving back to the selfless example of her parents and grandparents.
For her distinguished contributions to the Greater Boston community as well as the advancement of educational opportunity and social justice, Boston College awards Katrina Shaw the degree of Doctor of Social Science, honoris causa.
---
JERRY YORK '67 

The winningest coach in college hockey history, Jerry York amassed 1,123 career victories during 50 seasons, including 28 at his alma mater, where he won four national championships. But his most enduring impact was in the formative lessons about leadership, character, and humility he taught to the BC students he coached, counseled, and mentored.
An All-American and graduate of the Boston College Class of 1967, he began his coaching career at Clarkson University before moving on to Bowling Green, where he also won an NCAA title in 1984. He is both a National Hockey League and U.S. Hockey Hall of Famer, and a beloved ambassador to the sport of hockey.
Firmly rooted in his devotion to "faith, family, and Boston College," he exhorted the BC community upon his retirement in 2022 to "discover your passion and live within it every day, support your teams, love your University, and live your life as men and women for others."
For his unprecedented accomplishments as a coach, his unwavering devotion to his alma mater and its ideals, and his gracious example as a role model, teacher, and friend, Boston College awards Jerry York the degree of Doctor of Humane Letters, honoris causa.
University Communications | May 2023