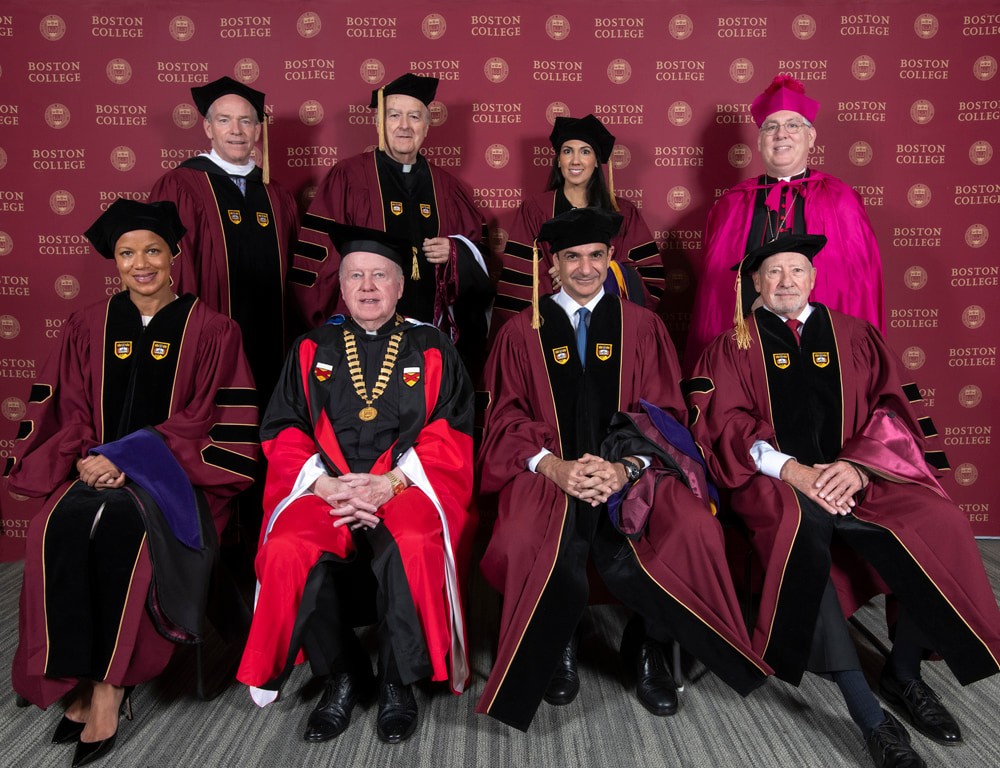 L-R standing: BC Board of Trustees chairman John Fish, Rev. Nicholas A. Sannella, Arivee Vargas Rozier-Byrd, Most Reverend Mark O'Connell, auxiliary bishop of Boston. Seated: Yolanda Courtney Lyle, University President William P. Leahy, S.J., Prime Minister of Greece Kyriakos Mitsotakis, Patrick Stokes. (Lee Pellegrini)
At its 146th Commencement Exercises on May 23, Boston College presented honorary degrees to five distinguished individuals. Read about the honorees here; their degree citations are below.

KYRIAKOS MITSOTAKIS
In 2019, Kyriakos Mitsotakis became the prime minister of Greece after campaigning on a platform of increased employment, strong economic growth, and lower taxes to revive the nation's economy.
His proposals reflected two decades in politics, 10 years of experience in the private sector, and a strong family legacy of national service. His father also served as prime minister, and a great uncle was a much-respected national leader in the early 20th century.
Since becoming head of the Greek government, he has implemented tax reform, led Greece's response to the COVID-19 pandemic, and been recognized as the leading proponent of a Europe-wide vaccine passport. He has also proposed that the European Union create a common market for natural gas to offset the steep rise in gas prices following Russia's invasion of Ukraine.
A graduate of Harvard and Stanford universities, he has close ties to the Boston College community. His wife Mareva is a 1989 alumna, and their son Konstantinos graduated in 2020.
For serving generously and faithfully to promote the common good in his homeland and throughout Europe, Boston College awards Prime Minister Kyriakos Mitsotakis the degree of Doctor of Laws, honoris causa.
---
YOLANDA COURTNEY LYLE '94, J.D. '01

Yolanda Lyle has influenced pharmaceutical policy and operations through nearly two decades of providing wise counsel at one of the world's premier companies. As vice president, executive operations and chief of staff to the chair and chief executive officer at Pfizer Inc., she supported its pioneering work to combat the COVID-19 global health crisis through the swift development and manufacture of a critical vaccine that has helped to save lives around the world.
She came to BC in 1990, having won a scholarship from the Jackie Robinson Foundation, and graduated in 1994 with a degree in sociology. She earned a law degree from Boston College Law School in 2001.
Today, as a respected leader and influential African American executive, she embodies the values of her alma mater through support of the Robinson Foundation, and her work on the Executive Committee of the Boston College Wall Street Council and the Boston College Law School Alumni Committee.
She was honored in 2017 by the Healthcare Businesswomen's Association with a Luminary Award, which recognizes significant contributions to the health care industry and to advancing the careers of women.
For her accomplishments and commitment in sharing her time and talents in the service of others, the University confers upon Yolanda Courtney Lyle the degree of Doctor of Laws, honoris causa.
---
ARIVEE VARGAS ROZIER-BYRD, '05, J.D. '08

Arivee Vargas Rozier-Byrd is committed to helping women find joy and fulfillment in their professional and personal lives.
After earning both a bachelor of arts and a law degree from Boston College, she pursued a career in the legal profession, later changing the focus of her work from the law to human resources. Today, she serves as senior director of employee relations at Vertex Pharmaceuticals, one of the nation's leading biotechnology companies.
As a certified life coach, she taps into the experience of her own personal and professional challenges to support women in pursuit of careers and lives that align with their deepest desires. Her podcast "Humble Rising" features women of color sharing stories and strategies on how to lead fulfilling lives.
A first-generation college graduate and daughter of immigrants, she was honored with BC's John A. Dinneen, S.J., Hispanic Alumni Community Service Award. In 2020, she was named to the Boston Business Journal's 40 Under 40 list of the city's best and brightest young professionals. Her service to Boston College includes membership on the University's Board of Regents, the AHANA Alumni Advisory Council, the Council for Women of Boston College, and the Alumni Association's Board of Directors.
In recognition of her dedication to mentoring, motivating, and inspiring others, Boston College confers on Arivee Vargas Rozier-Byrd the degree of Doctor of Laws, honoris causa.
---
REV. NICHOLAS A. SANNELLA '67
Rev. Nicholas A. Sannella put his talents to good use when he entered the medical profession and became one of New England's most respected vascular surgeons. A physician for nearly two decades, he served as chief of surgery at Lawrence General Hospital, president of the medical staff at Lowell Saints Medical Center, and vice president of the New England Society for Vascular Surgery. While working as a surgeon, he also earned a law degree and was sought for his advice on medical legal matters.
Yet he felt a different calling, which led him in 1999 to pursue a vocation to become a priest in the Archdiocese of Boston. Today, he is pastor of the Lowell Collaborative, which comprises Immaculate Conception, Saint Anthony's, and Holy Trinity parishes.
This dedicated Eagle has long served his alma mater. Named to the Board of Trustees in 1993, he is currently a Trustee Associate. In 2004, he earned the William V. McKenney Award, the highest honor bestowed by the BC Alumni Association, and in 2010, he received the Ignatian Award, which recognizes an individual who lives up to the Jesuit calling to be "men and women for others."
For his decades spent healing both body and soul, Boston College awards Rev. Nicholas A. Sannella the degree of Doctor of Humane Letters, honoris causa.
---
PATRICK STOKES '64

Inspired by President Kennedy's call to land a man on the moon, Patrick Stokes originally enrolled in engineering at the University of Detroit, but upon discovering that he preferred the humanities, he transferred to Boston College after his freshman year. He graduated magna cum laude in 1964 with a double major in English and mathematics.
A former president, CEO, and chair of Anheuser-Busch Companies, Inc., he and his wife Aja made the lead gift for BC's humanities building that bears their name, supporting his lifelong interest in the liberal arts.
In 1991, the Boston College Alumni Association presented him with the Award of Excellence in Commerce, and in 2010 he received the James F. Cleary Masters Award as a volunteer whose leadership elevated University fundraising to "new levels of excellence." The father of three BC alumni and the grandfather of a fourth, he served on the University's Board of Trustees for more than two decades.
For his accomplishments as one of the nation's most successful business leaders and for his generosity and commitment to his alma mater, Boston College proudly confers on Patrick Stokes the degree of Doctor of Business Administration, honoris causa.
University Communications | May 2022