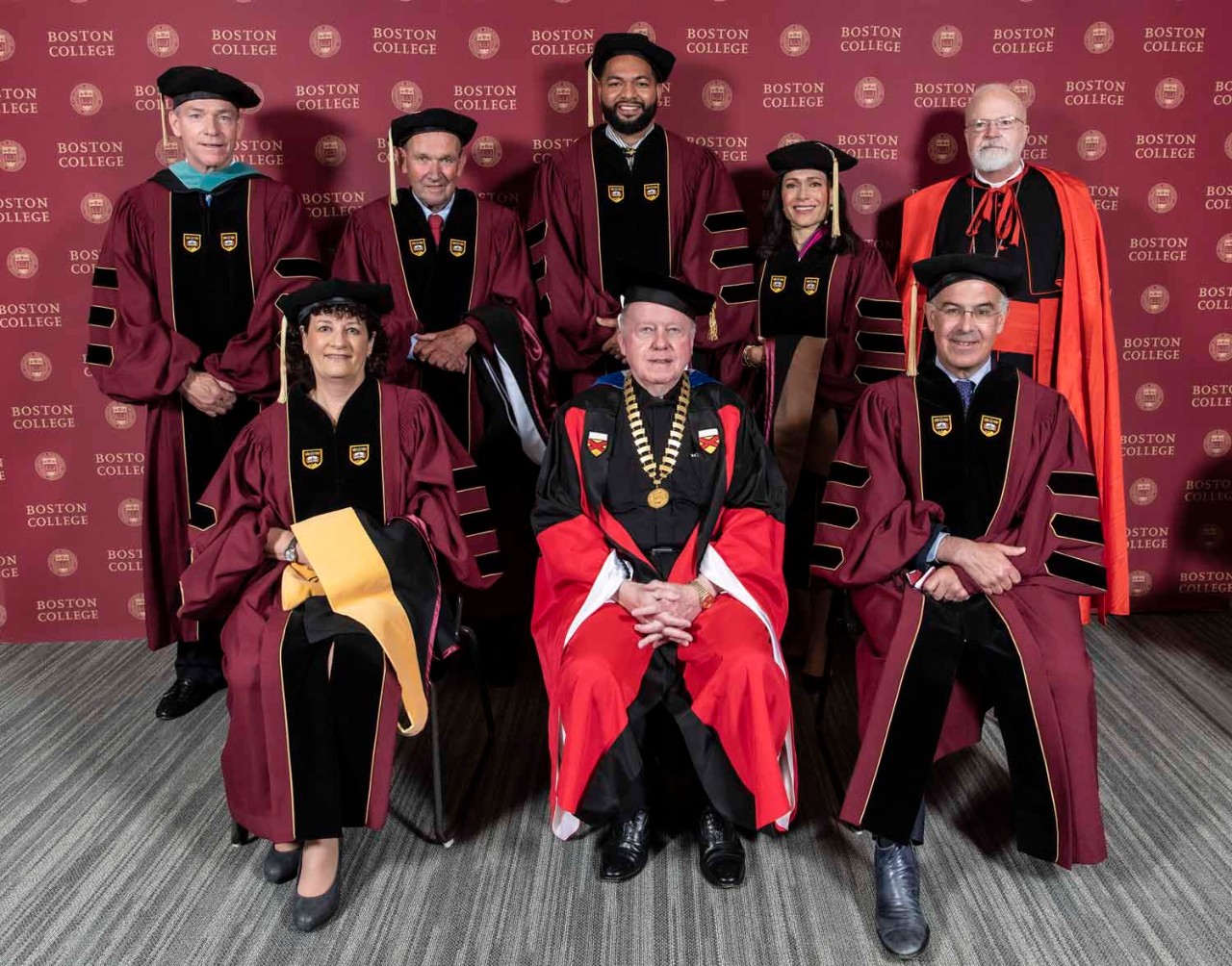 At its 144th Commencement Exercises on May 24, Boston College presented honorary degrees to David Brooks, a journalist, author, and cultural and political commentator who has shared his analysis and opinions as a columnist for The New York Times and through other national media outlets, and who also addressed the Class of 2021; Lyndia Downie, president and executive director of the Pine Street Inn; former BC football player Sean Guthrie '01, M.Ed.'14, head of middle school at The Fessenden School in West Newton, Mass.; Christine Montenegro McGrath '87, vice president and chief of global impact, sustainability, and well-being for Mondelēz International; and former University Vice President for Human Resources and Senior Advisor to the President Leo V. Sullivan, M.Ed. '80, P '89 and '90.

Read about the honorees here; their degree citations are below.
DAVID BROOKS
As one of the nation's leading voices on politics and culture, David Brooks has made a singular and lasting contribution to American intellectual life. He began his career as a police reporter in Chicago, launching a classic journalistic success story that has included stints at The Wall Street Journal, The Atlantic, and Newsweek, as well as appearances on PBS, NPR, and NBC's "Meet the Press." In 2003, he took on one of the most coveted jobs in the newspaper business when The New York Times hired him as an op-ed columnist. His cross-ideological appeal—along with his trenchant analysis of politics, international news, economics, and social issues—has made him one of the most respected and high-profile commentators of our time. Beyond scrutinizing the news of the day, this Canadian native has explored broader matters of faith and morality in his books The Road to Character and The Second Mountain: The Quest for a Moral Life. His writings advocate for rebalancing the scales between our "résumé virtues"—achieving wealth, fame, and status—and the "eulogy virtues" that exist at the core of our being: kindness, bravery, and honesty. He has sought to impart these lessons not only through the written word but also in classrooms at institutions like Yale and Duke universities and from the speaker's podium. In recognition of his distinctive role in shaping American public discourse, Boston College welcomes David Brooks to campus and awards him the degree of Doctor of Laws, honoris causa.
---
LYNDIA DOWNIE
Truly a woman for others, Lyndia Downie has dedicated her 36-year career to uplifting men and women experiencing homelessness across the Commonwealth of Massachusetts. As president and executive director of the Pine Street Inn since 2000, she has spearheaded the expansion of permanent supportive housing for individuals transitioning to self-sufficiency in Boston. Under her leadership, the Pine Street Inn has become the largest homeless services provider in New England, housing more than 800 tenants and serving thousands of guests every day through its emergency shelters, street outreach, and job training programs. A graduate of the University of Vermont, she first encountered the Pine Street Inn while reading a roommate's copy of Boston College Magazine. A year later, in 1984, she applied for a job as an administrative assistant at the Inn. She went on to hold positions at nearly every level of the organization, from heading the operations of the men's shelter to overseeing public affairs and development. Over the years, she also fostered Pine Street Inn's partnership with Boston College's PULSE Program for Service Learning, providing formative volunteer experiences for hundreds of undergraduates. Today, her expertise and achievements surrounding the complex topic of homelessness have made her a sought-after speaker and policy advisor. She has earned several prestigious awards, and was named one of the top 100 women leaders in Massachusetts by The Commonwealth Institute and The Boston Globe in 2019 and 2020. For her tireless efforts on behalf of the city's most vulnerable people, Boston College awards Lyndia Downie the degree of Doctor of Social Science, honoris causa.
---
SEAN GUTHRIE
This is not the first time Sean Guthrie has heard his name called in Alumni Stadium. A former captain of the Eagles football team whose skills and leadership propelled him to the National Football League, this 2001 Boston College graduate now leads in the field of education. Inspired by the examples set by his mother and father, he has always regarded education as the pathway to a better life and a better world for us all. After his professional football career, he found his second calling in teaching. He returned to BC to earn a master's degree as a Donovan Urban Teaching Fellow in 2014 and became a math teacher in schools in Boston and Cambridge. In 2016, he was selected as a Principal Fellow at BC's Lynch Leadership Academy, and he went on to an appointment as principal of Boston's Young Achievers Science and Math Pilot School. Since 2019, he has served as head of middle school at The Fessenden School in Newton, Massachusetts, leading programs for 109 boys in grades five and six. Now in his 15th year as an educator, he has held teaching and leadership positions in urban public schools and private schools. In both settings, his decisions have been driven by the same goal: to enhance learning and future possibilities for students through education. For his accomplishments as an educator and his dedication to improving the lives of children, Boston College awards Sean Ian Guthrie the degree of Doctor of Humane Letters, honoris causa.
---
CHRISTINE MONTENEGRO MCGRATH


Christine Montenegro McGrath exemplifies the power of leadership to promote changes that improve not only the bottom line but also the well-being of the planet and its people. As vice president and chief of global impact, sustainability, and wellbeing for Mondelēz International—a company known for such popular food brands as Oreo, Cadbury, and Trident—this 1987 Boston College graduate confronts many of the pressing issues facing our world today, including deforestation, climate change, obesity, and gender inequality. One central example of her leadership at Mondelēz International is the Cocoa Life initiative, a $400-million program launched in 2012 that aims to increase the sustainability of the cocoa industry by fostering efficient farming practices, community development, and forest conservation education. Throughout her career, she has been a leading advocate for diversity and inclusion. Named by Fortune Magazine as one of the 50 Most Powerful Latinas in Business in 2017 and 2018, she was also selected as a leader of her company's inaugural Global Diversity and Inclusion Council. Prior to joining Mondelēz International, she served for more than two decades at Kraft Foods in roles including vice president for the Latino Center of Excellence, significantly increasing the company's investment and growth in the Latino market. In recognition of her professional accomplishments and steadfast commitment to addressing complex social and environmental problems, Boston College awards Christine Montenegro McGrath the degree of Doctor of Business Administration, honoris causa.
---
LEO V. SULLIVAN
A popular and highly respected administrator, Leo Sullivan devoted his professional life to ensuring that Boston College would be a caring, supportive, and desirable place to work. For more than 45 years, he oversaw Human Resources at BC, first as director and then as the division's vice president from 1989 to 2014. By recruiting and hiring key senior administrators and creating innovative programming, he helped shape the Boston College workplace of the late 20th and early 21st centuries. Under his leadership, the University established the Office of Affirmative Action in 1971, the Children's Center in 1988, and the Office for Institutional Diversity in 2005. He embodied the Jesuit principle of cura personalis in his vocation as a human resources leader. During his tenure, the division launched programs to address employees' professional development, health, and wellness, and he was known for the personal connection he had with the thousands of employees on campus. In 2014, when he assumed his position as senior advisor to the president, Father Leahy recognized him for his pastoral care, wisdom, sensitivity, and profound influence on the life and culture of the University. A graduate of Northeastern University, he is the father of two BC graduates and a part of the Boston College alumni family, having earned a Master of Education degree from the University in 1980. In gratitude for his decades of service to the University and unwavering dedication to its employees, Boston College awards Leo V. Sullivan the degree of Doctor of Humane Letters, honoris causa.
University Communications | May 2021