A half-dozen young men in workout gear—knee braces, high-tops, baggy shorts—climb the stairs out of Conte Forum's Power Gym one November afternoon and make their way down narrow interior hallways until they reach the basketball court in Conte Forum. "I'm so nervous!" says Jack Beck '21, a communication major. He's half-joking, because they are here only to practice. And yet a game atmosphere is undeniable, with championship banners hanging from the rafters and the sharp blast of the shot-clock buzzer periodically splitting the air.
The men, all undergraduates, are here to block shots and sink threes against the varsity women's basketball team. They've watched film of the Eagles' next opponent, Holy Cross, and each has been coached to emulate a particular Crusader. Now, the women's head coach, Joanna Bernabei-McNamee, will conduct an intensive three hours of drills and scrimmaging. "Coach Mac" is in her first year at the Heights, having guided the University of Albany women to a record of 45–20 over two years. She and three assistant coaches (AJ Cohen, Yolanda Griffith, and George Porcha) shepherd the players, who have donned mesh jerseys, into their respective corners of the court; the men wear white, the women wear maroon and gold.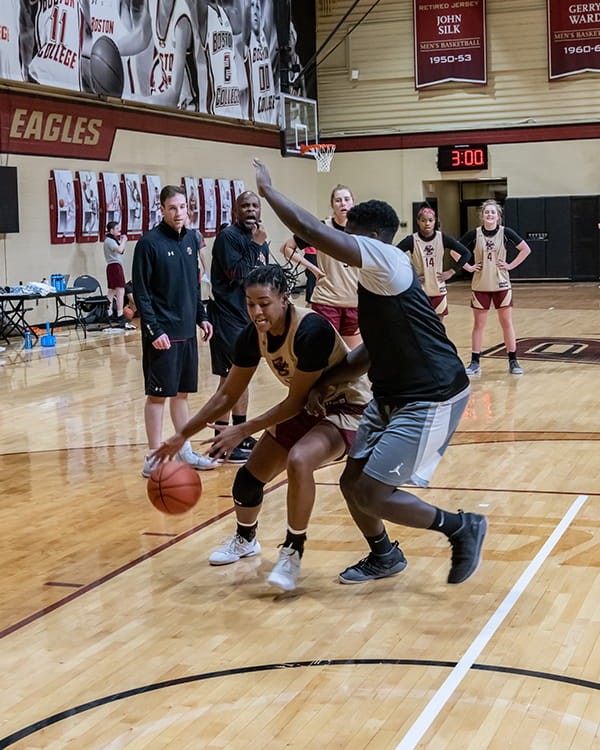 "Here comes 25," says Cohen, taking hold of Beck by his jersey and pulling him into place like a live chess piece to demonstrate a Holy Cross offensive play in slow motion. At Coach Mac's whistle, the court erupts in shouts and sneaker squeaks as the men try to put over the play for real.
And they succeed, passing the ball again and again to a shooting guard who sinks three-pointer after three-pointer, to the women's groans. (When the guard bobbles the ball and boots it out of bounds, the women cheer.) At intervals, Coach Mac whistles a stoppage and breaks down what went wrong in the women's play, offering praise when warranted, while the men stand in place and wait. Then the drill begins again. Mostly, the action takes place in the half-court, with the women executing plays for a score or working through their defensive plans. In a game known for trash talk, the exchanges at this practice are nearly all business.
Cohen, who followed Coach Mac from Albany, has the assignment of coaching the men. "Good job," he tells one of them during a pause. "You're playing just like 22, brother." Cohen was a practice player himself as an undergraduate, running the court with the women's team at the University of Louisville. Other NCAA assistant coaches have gotten their start similarly. Indeed, male practice teams have been common across Division I women's basketball for a couple of decades. Quarterback Matt Hasselbeck '97 practiced with the women hoopsters of Boston College before he went to the National Football League.
The practice squad is recruited from the club and intramural basketball programs on campus—"which are highly competitive at Boston College," says assistant athletic director Stephanie Tunnera in an email. There are generally 15 men on the roster, with a core of five or six players who show up regularly. They are all volunteers. Most played competitively in high school. Beck, a point guard, was captain of the varsity boys' team at Saratoga Springs High School in New York. Michael Fredericks '22 is the son of Kathleen Sweet '87, who, as a center on the Boston College team, won the Women's Big East Scholar Athlete award her senior year (and now practices law). Some of the men could have played for a Division II or III men's basketball program, says Cohen, but they chose Boston College for its academics and reputation. "I thought about doing the D-III route," says Garrett Ganley '21, who captained his varsity team in Leesburg, Virginia. "But I really wanted to go to a bigger school, a well-known school."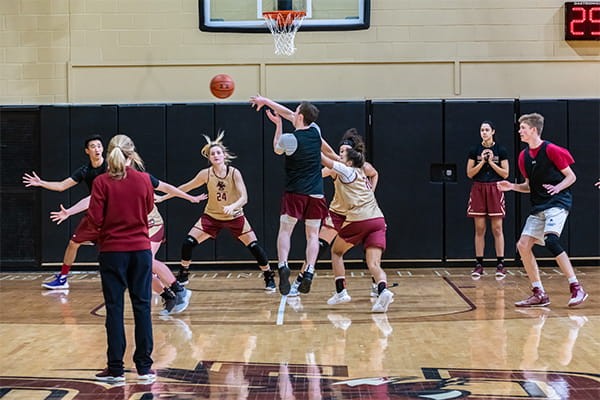 The women improve their game by going up against the "speed and quickness" of the men, says Coach Mac. And the men "get to play high-level basketball," says Cohen, and enjoy some measure of the discipline and the coaching that entails.
"It's cool being within a big-time Division I program," says Beck. He and Ganley are sitting at a table upstairs in Corcoran Commons a month into the season. Beck cites the energy level at practices and says, "I'm still competitive, and I still want that kind of competition."
The women "expect us to go as hard as we can and try to beat them," responds Ganley, who is 6'4″. "I'm used to being a big dude," he says, but he is often bumped and outmuscled by 6'3″ Emma Guy, an Eagles' starting forward. "She always bodies me and gets up a shot."
"We're always catching elbows," adds Beck.
Guy '20 laughs over the phone when she's told of this exchange. "Garrett and I go at it a lot in practice," she concedes. "It's great having the practice players. They bring a whole new level of intensity than when we're just playing against each other. They're bigger and stronger, so it's just really useful to play against them in preparation for upcoming games."
Coach Mac has been known to tell a practice player: When a varsity member is barreling by you, let her go. Don't step in with a block and risk injuring her. And at times the men do need to cut their strides. At practice Cohen shouts a reminder to one player, "Speedy, slow yourself down!"
"If you're faster than the woman who's guarding you, and you can go by her every time—that's not making her better," Beck says. "Making them better is helping them work on what they need to get better at."
According to Cohen that awareness­—"the understanding that there are no practice-player All-Americans"—is key. "Selflessness is important, and our group has that."
The practice squad doesn't travel with the team, but at the first home game of the second semester, on January 17, a Thursday, Beck and Ganley are in the stands. The women are taking on Florida State University (FSU), a perennially troublesome opponent, and Beck points out a couple of the Seminoles. In practice, he says, "I was number 12, Garrett was number 32." (These are a 5'9″ guard and a 6'3″ forward, respectively.) The men had run FSU's "loop" offense, and throughout tonight's first quarter the preparation seems to be working; the Eagles' defense keeps FSU to within a few points. Eventually, though, FSU starts to pull away, eliciting groans from the two men and handing Boston College its fifth loss of the season amid 13 wins. Before college, Beck hadn't followed women's basketball. But being part of the women's hoops program has "added another sense of community here," he'd told me earlier. "We know all the players, we cheer for them and follow their season."
"Yeah," Ganley added. "There have been times on the weekends when our friends are watching, say, a men's Duke-Kentucky game on TV, and we're over in the corner watching the BC women's game on our laptop. It's super fun."
Patrick L. Kennedy '99 is a writer in Boston.