Photo above: Eric Espada | All photos courtesy of BC Athletics
The reward for success, the saying goes, is often more work. So it is for Boston College head baseball coach Mike Gambino '99, who led the Eagles to a historic season in 2016 that ended one game shy of the College World Series.
Just a few days removed from BC's 9-4 loss to Miami on June 12 in the deciding game of the NCAA Tournament "Super Regional," Gambino was at his Conte Forum office formulating plans for scouting and recruiting future Eagles. June is tournament time for high school baseball, too, and Gambino and his assistants wanted to be sure they had an opportunity to view promising players at the height of competition.

"After the Miami game, we kind of looked at each other and said, 'Wow, we haven't recruited in the last three weeks,'" said Gambino, who has headed BC baseball for six years. "Obviously, our focus was on preparing for the ACC and NCAA tournaments, and there's only so much time you can spend on other things. It's a great problem to have."

As far as Gambino is concerned, it's a problem he wants to have every year. He is determined to have BC be regarded as a team that can compete, and win, against the best—not just in the Northeast, or the ACC, but in the country. So while Gambino is able and willing to find satisfaction in the accomplishments of 2016, he knows his time is best spent building toward 2017, and beyond.
"To me, it was an unbelievable year," said Gambino. "I am so proud of this team, and the way they represented not just the baseball program, but Boston College itself as an institution. I've always believed this is where this program could be, where we have a chance to go to the College World Series every season. I want that to be part of our conversation each year.
"On the flip side, I don't want us to take it for granted: I want these guys to feel the excitement about playing in the tournament, and also to understand how hard it is to get there."

Gambino said the Eagles benefited from having an assortment of players who showed different kinds of leadership, beginning with co-captains Joe Cronin '16 and Nick Sciortino '17. "Nick is in the mold of the fiery leader, while Joe is more even-keeled. Then you had somebody like Johnny Adams '17, who does things quietly, or Mitch Bigras '18, who keeps everyone loose. Justin Dunn '17 is somebody who inspires by showing you how much he cares. Bobby Skogsbergh '17 and Donovan Casey '18 are another example of two guys with different personalities who, when you put them together, make a difference.

"What it came down to, though, was everyone—whatever their personality or style—put the team first. When you have that kind of leadership, it's easier to follow."

"I was proud to be part of the team that brought BC baseball back in the limelight," said Cronin, who was signed by the Minnesota Twins and was one of five BC players selected in the recent Major League Baseball Draft. "It was a whole lot of fun to extend my time—I got my diploma on May 23 but we were still playing almost three weeks later—and to be with these guys a little longer."

Baseball is famously depicted as a game awash in factoids and statistics, so there are ample indicators of how meaningful 2016 was for the Eagles. Start with how close they came to going to the World Series: It would've been their fifth time overall, but first since 1967—since then, the NCAA has changed the play-off format, expanding the field of teams and number of rounds.

BC's 35 wins (against 22 losses) were its most since the 37 in 2005, and the Eagles' 8-0 start was the best in program history. BC also fared respectably against the country's best baseball teams, going 11-11 against those ranked in the top 25 and 5-5 against top-10 squads. Playing in the ACC, acknowledged as one of the toughest conferences in college baseball, BC achieved its first ranking in a major poll (at 20th) prior to the Super Regional.

Numbers only tell part of the story, though. Particularly in the ACC, BC consistently faces teams that have superior facilities and resources, not to mention better weather—the Eagles (along with many other schools from wintry climes) have to play on the road the first several weeks of the season, which begins in February; their first 2016 home game at Shea Field didn't come until March 29.
"All the reasons people say we can't win in the tournament are, to me, the reasons we can," said Gambino. "Playing away from home, with the crowd usually cheering against you? This is what those first weeks of the season are like for us."

That's why Gambino has a very specific set of criteria for the players he wants to recruit. "It's not just finding the best player," he said, "but the right player."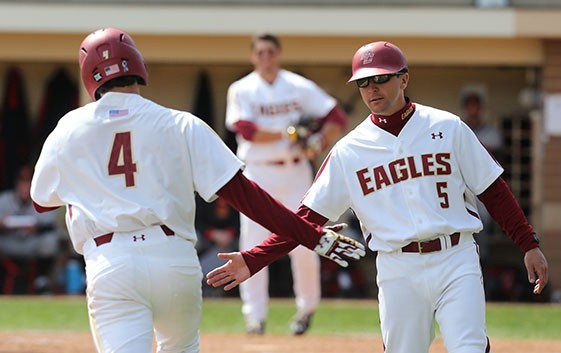 That person will not be just an elite baseball player, but an elite student (under Gambino, BC baseball's overall GPA has risen, five Eagles have made it to the All-ACC Academic Baseball Team, and 46 to the ACC Academic Honor Roll). He also looks at a player's character ("Character wins") and toughness—"enough to handle everything that's thrown at them, on or off the baseball field."

Gambino added, "Making our alumni and former players proud of BC baseball is extremely important to me. We take pride in the program for how it represents Boston College and serves the University's Jesuit mission."

Sizing up the team during its first few weeks of practice last fall, Gambino felt it had qualities enough to improve on the 2015 squad that had fallen a little short of postseason play: not only good pitching, a line-up with depth, and batters who made opposing pitchers work hard to get them out, but an esprit de corps that gave the team a strong, emotional connective tissue.

"The culture and chemistry in our clubhouse is very special," said Gambino. "We talk about being a family, a brotherhood—especially with our team chaplain, [School of Theology and Ministry student] Chris Calderon, S.J.—and what it takes to make that happen. We don't have to create any fake scenarios to show that part of ourselves, we work at it and take care of it."

And then there is the presence of Pete Frates '07, the director of baseball operations, whose determination to lead a life enriched by family and baseball while enduring the ravages of ALS has become a national story. The progression of the disease has made it all but impossible for Frates to attend more than a few games, yet he is constantly in touch with the team by social media or other electronic communications.


"Pete is an inspiration to all of us, plain and simple," said Gambino. "He puts everything in perspective for us, especially the players: How can you not be impressed and moved by his example?

"Of course, Pete's story received a lot of attention in the media because of the Ice Bucket Challenge, which is great. But for us, Pete is simply an everyday part of who we are and what we do."

"Everything we talk about—being a family, pulling together for one another—is modeled on Pete," said Cronin. "He's like a brother to us."

Working with Frates, and coaching players like Cronin, are two of the many reasons Gambino feels he made the right choice to return to the Heights.

"I feel so lucky to be a part of this University; my respect and love for BC continues to grow. It's tough, I suppose, when your job and your passion are the same thing: I take the losses much harder, because I want to represent this school in the best way possible.

"If I get too passionate sometimes, it's because I truly believe progress can be made."

—Sean Smith, News & Public Affairs