Former Boston College women's hockey star Dana Trivigno '16 now experiences her passion for the sport from a new perspective.
Known for her excellence in the classroom as well as on the ice, Trivigno was the center last year on a 40-1 BC team that went undefeated all the way up to the NCAA Women's National Championship. But rather than let that be the end of her relationship with the game, Trivigno decided to dig deeper into her love of hockey. 
In the fall, she became the first former women's Hockey East player to work as a Hockey East referee, officiating games across New England from the University of Maine in Orono to the University of Connecticut in Storrs, as well as in the Boston area.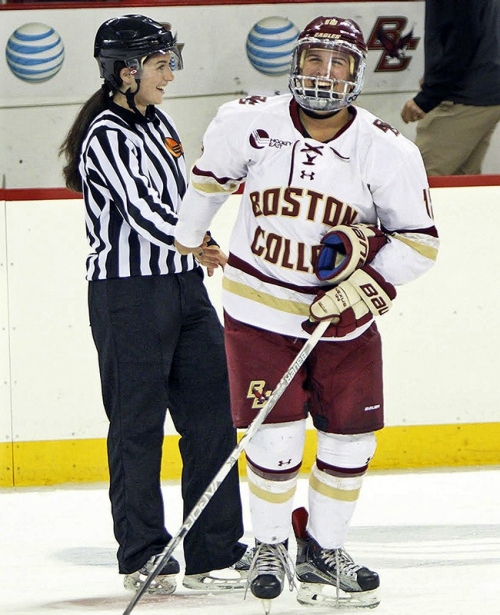 Dana Trivigno, left, has traded in her BC hockey jersey for a Hockey East referee's uniform.
The transition from player to referee did not come about without some nervousness, she says, but it was easily overcome by her desire to succeed – the same desire that fueled her success as a player. Her unconditional pursuit of victory has now been replaced by an obligation to fairness and objectivity.
"Being an official has allowed me to see the game from a different perspective," Trivigno said. "It has shown me how much time and space the player with the puck actually has. In reality, the puck carrier actually has a lot more time and space than they think to make a play. Being an official has enabled me to use this to my advantage while playing by being able to better utilize the open ice available to make a pass, or skate the puck into the open space myself.
"It has also given me a heightened appreciation for all that goes into refereeing hockey. They are the third team on the ice, and the hard work and camaraderie that exists among officials is something that I did not understand until I put on a referee's jersey." 
Trivigno's former coach, Katie Crowley, is pleased and proud to see Trivigno stay in the game. "Dana is a great player and person," she said, noting that not many women choose to referee in the league – or, for that matter, anywhere else in college hockey. "I'm sure she'll be a terrific official for Hockey East."  
A graduate of the Carroll School of Management with a degree in finance, Trivigno says her long-term career plans could take her just about anywhere, including graduate studies in law or business. But while her focus is on officiating for now, she hasn't entirely given up on playing hockey, either. She's staying in shape for the upcoming Winter Olympics in South Korea, hoping to win a spot on the US women's hockey team. 
"The transition has helped me grow as a player and allowed me to think more analytically about the game." 
—Alex Rougeau '18 | University Communications