BC will cheer for three of its own this summer as Joe Maloy '08, M.S.'10, Briana Provancha '12 and Annie Haeger '12, vie for the win at the 2016 Olympic Games in Rio de Janeiro.

The Summer Games, which run from Aug. 5-21, represent the pinnacle of competitive achievement for Maloy, Provancha, Haeger, and the thousands of athletes from around the world who will join them in Rio. As they look forward to going up against the best of the best in their respective sports – Maloy in the triathlon, Provancha and Haeger together in the women's 470 class sailing event – the three Boston College alumni are mindful of the opportunities offered, and the helping hands extended, that brought them to the Olympics.
And they count BC among those influences and factors.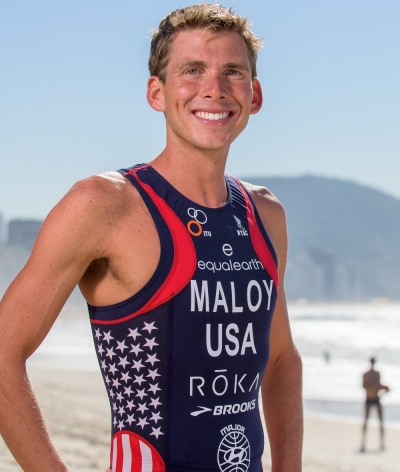 Joe Maloy '08. M.S.'10 will compete in the triathlon in Rio.
"As a BC student, I learned that personal growth is a process that is less about what happens to you and more about how you respond to situations," says Maloy, a Somers, N.J., native who was a four-year varsity swimmer at BC while earning his bachelor's degree in English; he later added a master's degree in administration from the Woods College in Advancing Studies. "After you get a poor grade on an exam, have a bad race, or get written up for doing something that's against the rules, do you make excuses? Do you complain about the circumstances? While at BC, I learned you can do these things – or you can go out and work on the actions that produced that negative result.  
"'Ever to Excel' is not about succeeding all the time.  Nobody does that, and to expect it would be unreasonable.  It's about working every day to be a little bit better than you were the day before.  You do that work with the support of loved ones who you can lean on through the hard times and celebrate with during the good ones. The journey is only meaningful because it is shared."

A shared journey describes Provancha and Haeger's path to Rio. The two paired up while members of BC's sailing team – both credit sailing coach Greg Wilkinson for his direction and support – and formed a bond that has endured. 
"My years at BC taught me how to be a good teammate, and a lot about communication," says Provancha, a San Diego native and Carroll School of Management grad. "Annie and I have such a great relationship. We are very good to each other and that has helped our performance immensely. We support each other not only when things are going great, but when things just seem to be falling apart. This skill definitely helped us pull through some tough situations on the race course."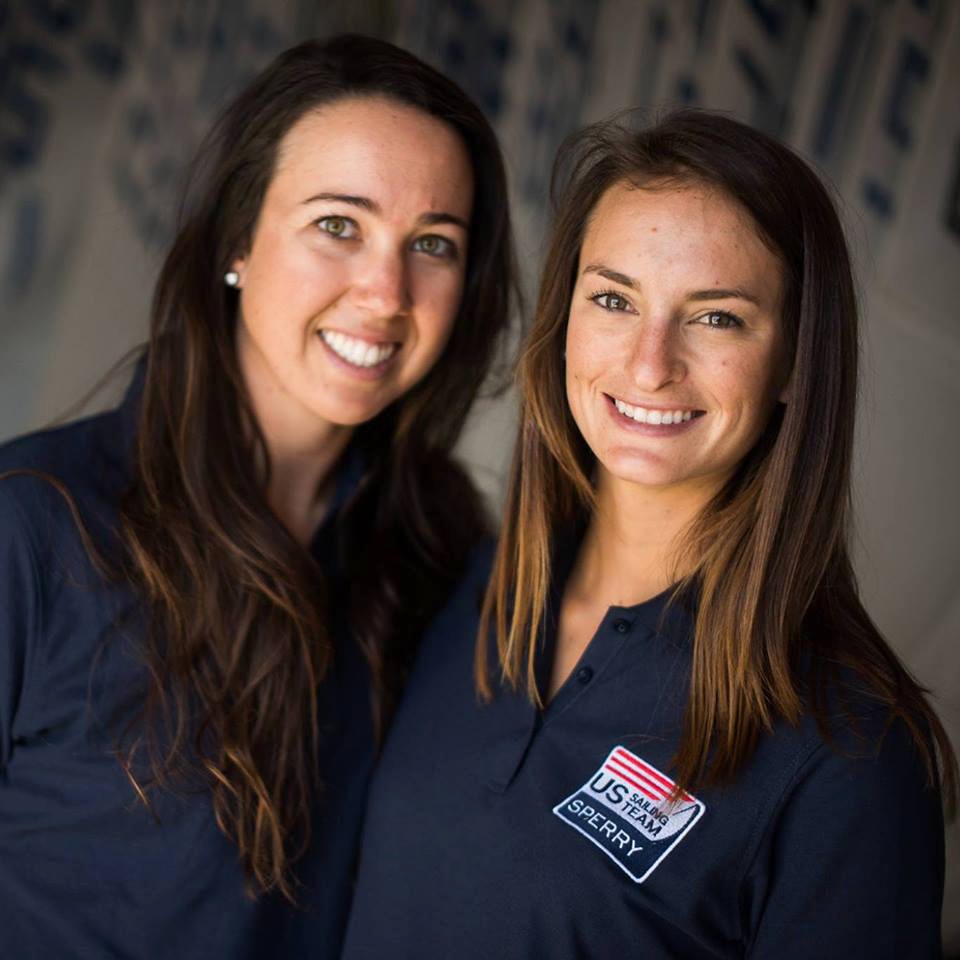 Alumnae Briana Provancha and Annie Haeger will compete together in the women's 470 class sailing event.
Haeger, a Carroll School alumna from Lake Forest, Ill., agrees. "Being a part of the Eagles athletic program taught me how to accelerate my love for sailing and become a better teammate and athlete. Access to some of the best trainers, sports med, tutors and coaches made a platform that could only lead to success, and this allowed Briana and me to excel quickly. It's a lesson that we still hold today."
Maloy never visited BC before he applied, but felt drawn to the University by its motto and institutional values. "The institutional commitment to personal growth and individual empowerment echoed in my pre-enrollment conversations with swim coach Tom Groden. Once I was admitted, my choice to enroll was a no-brainer."  
At BC, Maloy found a community that nurtured and motivated him. Besides Groden – "he taught me that becoming an elite athlete needs to start on the inside and work its way out" – Maloy cites as mentors English faculty members Robert Farrell, S.J., and Bonnie Rudner, Woods College of Advancing Studies faculty member Cathy Utzschneider, and Senior Associate Athletic Director Jody Mooradian. 
He also thinks of "countless lifelong friends, my teammates from the swim team, the crew who went to Mass at 10:15 p.m. in Lower Dining Hall, and plenty of others. I grew into the person I am today with their mentorship, support and friendship."    
BC prepared Maloy for the triathlon in more practical ways, too: In addition to competing on the swim team, he taught spinning classes at the Flynn Recreation Complex and ran laps around the Chestnut Hill Reservoir.
"The hardest part was figuring out how to put the three components of triathlon together into one piece of work," he says. "Learning to master anything is a process, and figuring out the nuances of how the disciplines interact within the race has been the most challenging."
Provancha and Haeger came to sailing via different routes. Provancha was introduced to the sport through a family friend when she was eight: "I loved being in the water and the friends I made. The yacht club environment is a special one. Some of my best friends are the ones I grew up learning to sail  with."
For Haeger, sailing on Wisconsin's Lake Beulah was a tradition in her father's family going back five generations; her dad "sparked my interest and helped guide me along the way. My mom has been the off-the-water shoulder I rely on for support and my moral compass."
BC, with its phenomenally successful sailing program, seemed a natural destination for Provancha and Haeger – who notes that when she visited colleges she tried to "see myself there without sailing." Both found the campus atmosphere friendly and inviting, and never regretted their decision to enroll.
Haeger is especially grateful to Wilkinson. "The investment he made, and continues to make, in Briana and me during our time at BC was incredible.  No other coach in my life will put as much time and commitment into my career. I work hard every day in practice mostly to win a gold medal, but in part to make him proud.  He has an incredible sense of what it will take to become a champion on and off the water. Even to this day, I have phrases that will pop up in my head, with Greg's voice reminding me of past mistakes and ways to fix them.  
"Without him, Briana and I would have never sailed together and I would not be anywhere close to the strong, self-assured person I am today." 

Read a full Q&A with BC's Olympians here.

In addition to the trio of competitors, two members of the Boston College fencing team are in Rio serving as training partners. Peter Souders '12 and incoming freshman Brendan Anderson, a modern pentathlete, are both at the Games helping other Olympians prep for competition.  
—Sean Smith | News & Public Affairs