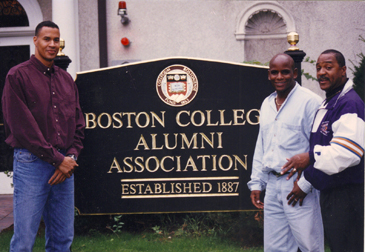 RECONNECT: An AHANA Celebration. Join the Alumni Association July 16–19 for RECONNECT, which promises to be BC's largest gathering of AHANA alumni. All alumni, students, parents, and friends are welcome to attend. Weekend highlights include:
–a celebrity golf tournament
–an Asian infusion jazz lunch, featuring a presentation on the campus master plan
–a session reflecting on the Black Talent and OTE programs, and discussing strategic initiatives in support of students of color at Boston College today
–a Caribbean lobster bake
–Soaring to New Heights: the RECONNECT Gala
Housing is available on campus. Don't miss this exciting event! For specific event information and to register, visit the website or contact Eva Maynard at 617-552-4757.
A Thousand Thanks for Building BC
The Alumni Association thanks the more than 1000 alumni, parents, and friends in Boston whose calls and letters helped make a difference in gaining approval for the University's Institutional Master Plan. BC can now begin to move forward with new buildings on both the Chestnut Hill and Brighton campuses. Read more about the plan's approval.
Upcoming Alumni Events
Alumni Day at the Races at Saratoga — August 1

Grab your hats, bring your appetite, and cheer on the horses at Saratoga with fellow alumni, family, and friends. Sponsored by the Alumni Association's Northeastern New York Chapter and the BC Fund, the event is sure to be a great day at the track! Tickets are only $10, while children's tickets are $5. Ticket price includes entrance into the track and a buffet in the Paddock Tent. To register, click here.
2009 Football Season Kicks Off — September 5


Root on first-year head coach Frank Spaziani and the 2009 Boston College Eagles as they return to the gridiron September 5 vs. Northeastern at Alumni Stadium. Season tickets are on sale now and can be purchased online or by calling 617-552-GOBC. The 2009 home schedule features matchups against ACC foes Wake Forest, Florida State, NC State, and UNC, with additional non-conference visits from Kent State and Central Michigan.
Alumni Travel Deal Available until July 10:
Make a Passion Play
Every 10 years amid the storybook landscapes of the Bavarian Alps, the residents of Oberammergau, Germany, stage one of the world's greatest dramatic spectacles, an extravagant "passion play" (PDF) with a cast of thousands and a history that encompasses nearly four centuries. Join BC alumni, family, and friends for this once in a lifetime excursion. Register by July 10 and save $1,000 per couple. Discover more.
Alumni Encounters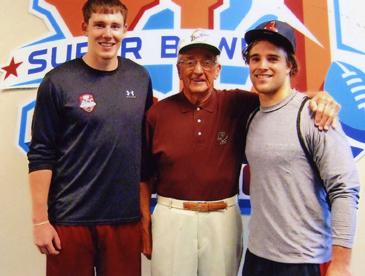 A special part of the alumni experience is meeting fellow Eagles anywhere in the world. Paul Hutter '58 connected recently in Indianapolis with former BC gridiron stars Chris Crane '09 (left) and Jamie Silva '08 of the Indianapolis Colts.
The Alumni Association has a network of 40 national and three international chapters that enables these connections. Learn what's happening with your local alumni chapter this summer.
Alumni Giving Back:
Be a Resource for Current Students
Alumni can be great resources to students exploring career options. The Career Center offers several volunteer opportunities for alumni to serve BC students, including "lunch and learn," a program that brings alumni to campus to speak with students about career-related topics over lunch, and externships, which enable students to shadow alumni at the workplace. Learn about many more volunteer opportunities (PDF).
Pride, Power, and Progress:
Students Create Video for Alumni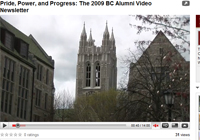 Undergraduate students in Professor William Stanwood's Advanced Video Production course have again put together a wonderful BC year-in-review video for the Alumni Association. This year's edition provides an update on the master plan, explores how BC coaches mentor student-athletes, and showcases diversity among the student body, among other interesting University topics. View the video.
A Banner Year for BC Baseball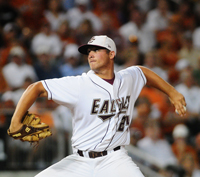 Mike Belfiore '10, BC's closer, threw 9.2 scoreless innings of relief and allowed just three hits while striking out 11.
The Boston College baseball team had a year to remember, advancing to its first NCAA tournament since 1967. While the Eagles went 1-2 in the Austin regional, their game against top-seeded Texas was one to make Eagles fans proud, and one for the record books. Though they lost 3-2, BC battled the Longhorns for 25 innings and seven hours and three minutes in the longest game in NCAA history. Read more about this remarkable game and BC's terrific baseball season.
Alumni in the News

Deahn Berrini, JD'87
Deahn Berrini, JD'87, authored a book on the Vietnam War homecoming. More
Ted Jankowski '74 is the new tax assessor for Nassau County, New York. More
Monsignor Timothy Senior, MSW'92, MBA'92, was named auxiliary bishop of the Archdiocese of Philadelphia. More
More news stories about alumni
Bestowing BC Book Awards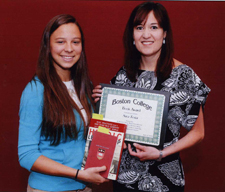 Teacher Anna Martinez Williams '91 awards a BC book award to Sarah Testa, a student at Park City High School in Park City, Utah.
This year, alumni teachers across America gave 11 BC book awards to high school juniors who reflected BC's tradition of academic excellence, leadership, service, and high moral character. If you are interested in bestowing a BC book award at your school, contact Robert Sherwood in the Alumni Association at 617-552-3471 or robert.sherwood.1@bc.edu.
Alumni Programs
Affinity Programs
Career Services
Chapters
Classes/Reunions
Council for Women of BC (CWBC)
Newton College
Tech Council
Travel/Study
Spirituality and Service
Wall Street Council
Got ideas for programs or services you'd like us to consider? Contact a member of our staff.