Our Vision
To make longer life a better life.
Our Mission

To promote opportunity, choice, and quality of paid and unpaid work across the lifespan, with a focus on older adults. Through research studies, engagement with a multi-disciplinary network of scholars and practitioners, and efforts to translate research into practice, we bridge the worlds of research and practice.
The Center's vision and mission align closely with the School of Social Work's values of individual dignity, respect for diversity, and pursuit of justice. The University's mission, based in the Catholic, Jesuit tradition, is reflected strongly in our projects as we work to consider the "whole person"—mental, physical, social, and emotional—in the context of vocation across the lifespan.
History
Since its inception in 2005 through the generous funding of the Alfred P. Sloan Foundation and under the leadership of Dr. Marcie Pitt-Catsouphes (2005-2011) and Dr. Michael Smyer (2005-2008), the Center on Aging & Work at Boston College has put a vital stake in the ground around issues of aging and work. Key accomplishments of the Center include:
Thought Leadership for an Aging Society
The Center has played a critical role in increasing the prominence of aging workforce issues, transforming the topic from a marginal one with few vocal advocates to one that is recognized as central to the overall health of an aging society.
Major Research Studies
The Center has conducted a wide range of major research studies, including:
2008 Age & Generations Study
2008 CitiSales Study
2009 Talent Management Study
2011 Generations of Talent Study
2012–2013 Time & Place Management Study
The impact of these studies will continue, as the data are archived at the nation's preeminent social science data center, the Inter‐university Consortium for Political and Social Research (ICPSR) at the University of Michigan.
Databases, Tools, and Publications
The Center has produced a variety of databases, tools, and other translational research products that are accessible to a wide variety of stakeholders. Examples include:
Workforce Benchmarking Tool
Employer Solutions for Family Caregivers Module
The Facts Database
Innovative Practices Database
Innovative Practices Case Reports & Executive Case Reports
Publications (including research briefs, research highlights, fact sheets, case studies, comparative policy summaries, country and state profiles, issue briefs, policy briefs, quick insights)
AGEnda Blog
In the fall of 2014, the Center experienced another transition as Dr. Marcie Pitt‐Catsouphes stepped down and the major center‐level funding from the Alfred P. Sloan Foundation ended. Since then, the Sloan Foundation has continued to support the development of the Sloan Research Network on Aging & Work, a multi-disciplinary, multi-national network of researchers conducting investigations focused on different aspects of contemporary experiences associated with the phenomenon of "working longer." In addition, the Center has reorganized around a core team that includes founder and senior advisor Dr. Jacquelyn James; co-director Dr. Christina Matz; founding director Dr. Pitt-Catsouphes; and several faculty affiliates, Dr. Kevin Cahill, Dr. Cal Halvorsen, Dr. Rocio Calvo, Dr. Erika Sabbath, and Dr. Joseph Quinn. 
---
Founding Principles
The Center on Aging & Work defines workplace flexibility to mean that employees and their supervisors have some choice and control over when, where, how work gets done, and what work tasks are assumed by which employees/work teams.

Employers understand that they have to offer quality jobs to their employees if they want talented people to work for them, rather than for a competitor (Mercer, 2007). The quality of employment is important to employers and their employees.
Organizations that want to become and remain employers-of-choice ask themselves: What will motivate employees (or prospective employees) to come to work for our organization, work hard for our organization when they are here, and want to stay working for our organization (rather than going to work for a competitor)?
Quality of Employment Framework
The Center on Aging & Work's Quality of Employment Framework focuses on eight specific dimensions that are consistent with components of the employer-of-choice concept.
The interpretation of each of these dimensions of quality employment varies from workplace to workplace. Recognizing this variability, we provide some general descriptions and core elements of each aspect of the quality of employment in the second column of the table below.
Dimensions of Quality of Employment Framework

Description

Example

Fair, Attractive and Competitive Compensation & Benefits
Employees' basic needs are securedm and fair and equitable distribution of compensation and benefits among empployees is promoted.

Compensation offered to employees provides at least "liveable wage."
Compensation policies are transparent.
Compensation practices reflect employees' merits.

Opportunities for Development, Learning & Advancement

Job skill development and advancement are promoted for employees of as many industrial sectors, employment statuses, and life/career stages as possible.

Employer offers opportunities for employees to fully engage in challenging work.
Employer offers employees opportunities for promotion and advancement.
Employer offers employees opportunities for cross training.
As possible, employer offers employees opportunities to meet their career objectives.

Wellness, Health & Safety Protections

Protection of employees' safety and health at their worksites is mandated, and their physical and mental well-being is promoted. In the case of job-related injury or illness, compensation or other forms of social protection are offered.

Employer makes provisions for sick time.
As needed, employer provides access to health care to supplement public supports for health care.
Employer places limitations on excessive work demands and work hours.
Employees can access health, wellness and resilience programs.

Workplace Flexibility, Autonomy & Control
Availability and utilization of flexible work options are promoted for employees of various life stages through increasing their control over work hours, locations, and other work conditions.

Employees have access to policies for number of work hours, shceduling of work options, place of work, short and long term leaves (including entries and exits in and out of jobs), career flexbility, flexibility with regard to employment contract, and benefits.

Opportunities for Meaningful Work
Opportunities for meaningful and fulfilling work are available.

Employer encourages employees to seek meaning and passion related to work.
Employees have opportunities to work on jobs that use their competencies.
Employer offers employees opportunities for making contributions at the workplace and in the community, such as with civic engagement and volunteering.

Promotion of Constructive Relationships at the Workplace

Employer-employee frictions are mitigated, and constructive workplace relations are fascilitated.

Managers/supervisors and employees can participate in training about factors that affect workplace relationships, such as diversity, work/life, and multi-generational interactions.
Employer addresses the importance of constructive relationships in performace appraisals.

Culture of Respect, Inclusion & Equity
Diversity in the workplace and incluson of less-advantaged populations are promoted, and equity in work conditions is pursued.

Employer adopts effective and respectful communication practices.
Employer adopts business metrics that measure the value-added by diversity and inclusion.

Provisions for Employment Security & Predictabilities
Stable provision of employment opportunities for job seekers is promoted, clear communication of terms of employment is fascilitated, and protecting the job security of the employed is a policy objective.

Employer clearly communicates the benefits and risks associated with the terms of employment.
Employer makes decisions that affect employment security, such as downsizing, in a transparent and socially responsible manner.
Employees can gain experience which enhances their employability.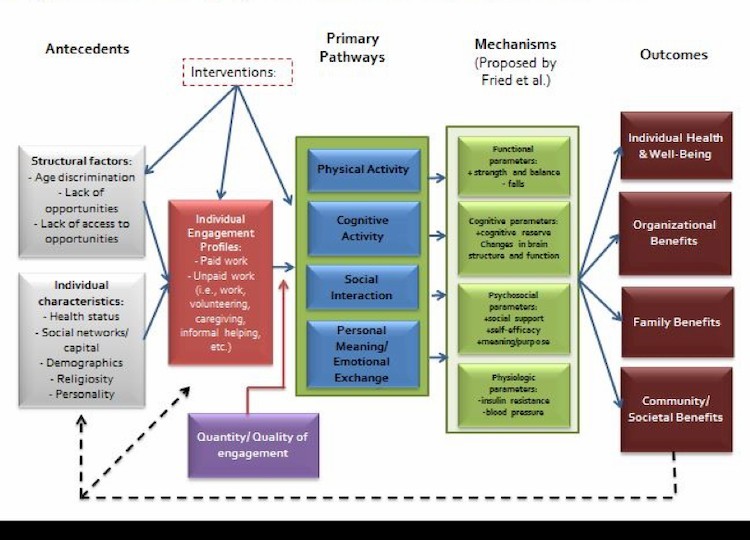 Our Conceptual Framework
Advancing the national conversation around aging and work will require the efforts of many disciplines, including social work, economics, public health, psychology, occupational therapy, gerontology, and sociology; and stakeholder groups including individuals of all ages, practitioners, for- and not-for-profit organizations, community members, advocates, and policymakers. Indeed, the topic of aging and work is an expansive one, especially when one considers both paid and unpaid work. However, few integrative models or frameworks have attempted to bring together these diverse perspectives. With a new vision and mission, we are well-positioned to occupy this unique space. Our previous conceptual framework was well-suited to paid work, but less so to other forms of productive engagement. The conceptual model depicted below defines our intellectual space and informs our revised vision and mission.
The goals of this model are:
to build a more holistic and multilevel picture of the aging and work landscape
to guide interventions and future research on aging and work both within and across disciplines
to articulate the Center's alignment with the vision, mission, and values of the School of Social Work and the University at large.
(See article: Matz, C., Sabbath, E. & James, J. (2020). An integrative conceptual framework of engagement in socially-productive activity in later life: Implications for clinical and mezzo social work practice. Clinical Social Work Journal [special issue on productive aging], 48, 156–168.)
Contact Us
The Center on Aging & Work
140 Commonwealth Avenue
McGuinn Hall, 106k
Chestnut Hill, MA 02467
617-552-1634
agework@bc.edu