The Center for Ignatian Spirituality offers a variety of workshops to assist members of the Boston College community in understanding the University's Jesuit mission and to support them on their own spiritual journeys. 
Art-natian
Hand in hand with God
The Art-natian - Hand-in-hand with God series of prayer sessions is an online gathering for 50 minutes to pray visually, manually and creatively with daily scripture readings.
Each week, four stand-alone sessions are available to help you make a prayerful habit of your own creative exercise, as a way to know yourself and encounter God through your visual expressions.
Participants are NOT required to join all sessions. Pick only the session(s) that fit your needs or your schedule. Artistic and creative skills are not required! All faiths and backgrounds are welcome.
How does this work?
A typical session will include:
A simple welcome. In the first few weeks, an introduction to the philosophy of the series will be given.

Lectio Divina of the reading of the day. (See: A Lectio Divina Session Sample)
The experience of a simple non-verbal creative exercise, such as doodling, zendoodles or zentangles, mandalas or paint sketching. (See: Doodling, Zendoodles, Zentangles, Mandalas and Paint Sketching Samples)

Closing the shared experience with a closing prayer and thanksgiving.
1 on 1 Conversations
Every 15 days participants may schedule a 15/30 minutes conversation with the instructor, Michael Phung SJ, to reflect about their prayer experience and the fruits of their creative exercises. These conversations are not mandatory, but strongly suggested. The date and time of the conversation will be discussed directly with the instructor.
Spring Semester Schedule
| | | | |
| --- | --- | --- | --- |
|  Day  |  Time  |  Activity  |  Materials  |
|  Mondays  |  9:00-9:50 a.m.  |  Doodling  |  Writing Materials  |
|  Tuesdays  |  7:00-7:50 p.m. |  Mandalas  |  Writing Materials |
|  Thursdays  |  1:30-2:20 p.m.  |  Zen Doodling  |  Writing Materials |
|  Saturdays |  3:00-3:50 p.m. |  Paint Scribbling  |  Wet Paint |

The program will start on Monday, February 1st. and finish on Saturday, May 1st.

Material Requirements:
Materials List
Welcome from the instructor:
Hi, I'm Michael Phung, a Jesuit scholastic from Malaysia, belonging to the Malaysia-Singapore Jesuit Region. I was born and grew up in Malaysia, and eventually graduated from the Queen's University of Belfast with a degree in Manufacturing Engineering. After working for almost 13 years as a mechanical design engineer in Malaysia, I joined the Society of Jesus, and entered our novitiate in Singapore. This was followed by four years of philosophy in Jakarta, two years of work as a Jesuit regent in East Timor, and for the last three years, I have been studying for my Masters of Divinity (MDiv) in the School of Theology and Ministry at Boston College (STM), during which I had attended a certificate course on spiritual direction out in Berkeley.

I had been involved with prison ministry here in Boston through the STM, as well as giving spiritual direction and the occasional accompaniment of student Christian Life Communities at Boston College. I am currently pursuing a one-year Masters of Theology (ThM) at the STM, with the aim of completing by the summer of 2021.

My interests in spirituality and prayer initially blossomed when a La Retraite nun who happened to be the chaplain at chapel attached to the university I had also enrolled in, the National University of Ireland, Galway (NUIG), arranged alternative prayer nights on Tuesdays during term time. I was fascinated by the various types of prayer methods, and that fascination re-ignited my long-shelved vocation for a priestly life, till today.
Questions?
Please contact Tomeu Estelrich at cis@bc.edu.
Foundations
Beginning to Pray in the Ignatian Way
Foundations is a program intended for two groups of people:
Those who are thinking about doing the Spiritual Exercises in daily life,  also known as the 19th Annotation, in the future and want to learn more about the experience in advance;
Those who are not considering the 19th Annotation yet, but would like to know the basic elements of the Ignatian prayer
The program will take place at lunch time (noon - 1:00 p.m.) via Zoom. Each of the six sessions will include a presentation on a particular Ignatian theme, followed by discussion.
Important: Only people who can commit to all the sessions and complete an application will be considered. 
Themes
Meeting 1- Oct 14, 2020: Beginning to pray in the Ignatian way       
Meeting 2- Oct 21, 2020: Structure of the Ignatian prayer
Meeting 3- Oct 28, 2020: Praying with our imagination
Meeting 4- Nov 04, 2020: Review of the prayer and the examen
Meeting 5 - Nov 11, 2020: Role of the spiritual director
Meeting 6- Nov 18, 2020: Gathering of graces
"

By the term 'Spiritual Exercises' is meant every method of examination of conscience, of meditation, of contemplation, of vocal and mental prayer, and of other spiritual activities that will be mentioned later. For just as taking a walk, journeying on foot, and running are bodily exercises, so we call Spiritual Exercises every way of preparing and disposing the soul to rid itself of all inordinate attachments, and, after their removal, of seeking and finding the will of God in the disposition of our life for the salvation of our soul.

"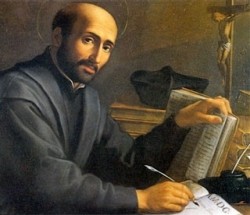 Discernment in the Workplace
Ignatius of Loyola, architect of discernment as a way of life, drew on the wisdom and power of discernment in the midst of his own long hours of pastoral and administrative work. We invite you to attend this course and engage with colleagues in a six-week program: the course will help you understand the art and skills of discernment as an organic part of your work life. We will offer this course in the fall, and depending on interest it may be offered again in the spring. This course has no fee and lunch is provided.
This program is not being offered during the 2020-2021 academic year.

September 24: Overview | Tomeu Estelrich
October 1: The Foundation of a Discerning Way of Life  | Clare Walsh MHSH
October 8: Language of God's Spirit | Barb Quinn RSCJ
October 22: Rules for the Discernment of Spirits – Week 1 | Andre Brouillette S.J.
October 29: Rules for the Discernment of Spirits – Week 2 | Colleen Griffith
November 5: Three Ways to Make Decisions | Ken Hughes S.J.
Saturday, November 9 from 9 a.m. to 4 p.m.
Organized by The School of Theology and Ministry & The Center for Ignatian Spirituality