Retreats
Owned and operated by Boston College, the primary mission of the Connors Center is to provide a venue for contemplative retreats. Our 80-acre estate offers a serene environment for reflection.
Main Parlor
---
This magnificent formal parlor features wood paneling, French doors, and a large fireplace. The Main Parlor can also be combined with the Dover Parlor and Estate Room for larger receptions and overlooks a garden terrace, which can accommodate a labyrinth.
Dimensions: 38' x 23.5'
Capacity: 70 (theater); 36 (circle of soft seating)
Ideal for: mid-size retreats or quiet reflection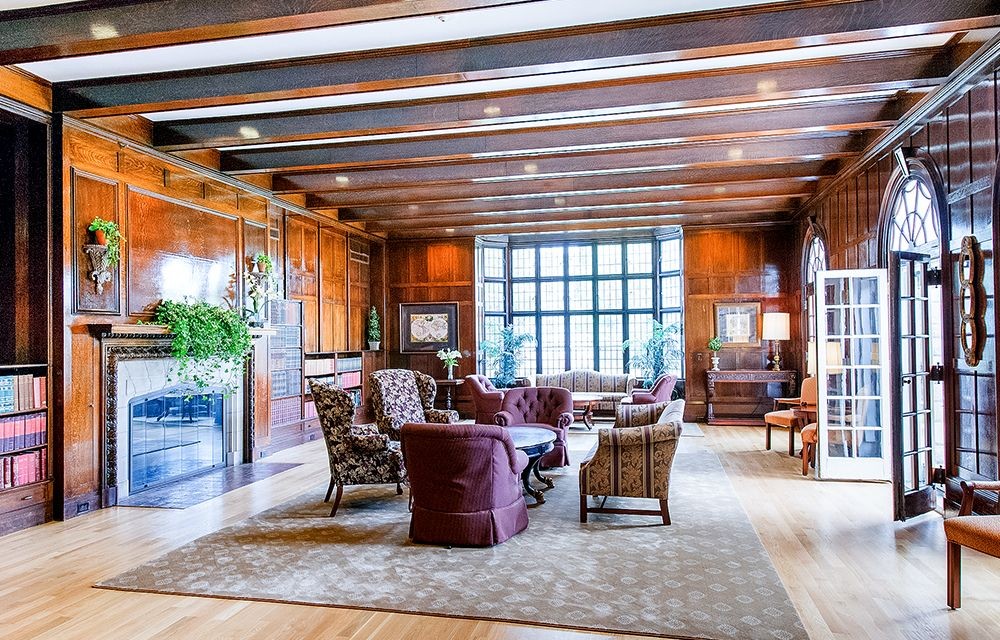 Estate Room
---
The Estate Room, located off the Main Parlor, provides a beautiful space for large retreats.
Dimensions: 57' x 31'
Capacity: 160 (theater); 100 (circle); 90 (crescent rounds)
Ideal for: large retreats, labyrinth space, prayer space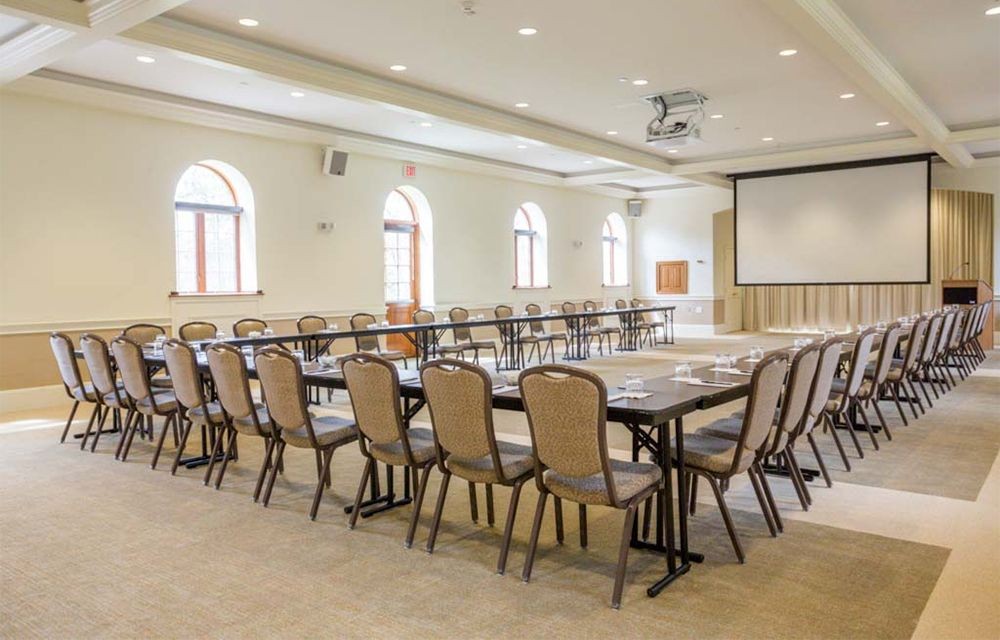 Dover Parlor
---
A grand carved mantle is the focal point of this elegant parlor.  Standard furnishings include soft seating couches. Retreatants can take advantage of an outdoor patio attached to the space - or walk to the serene St. Cecilia's Garden.
Dimensions: 25.5' x 19'
Capacity: 35 (theater); 18 (circle of soft seating)
Ideal for:  small retreats or quiet reflection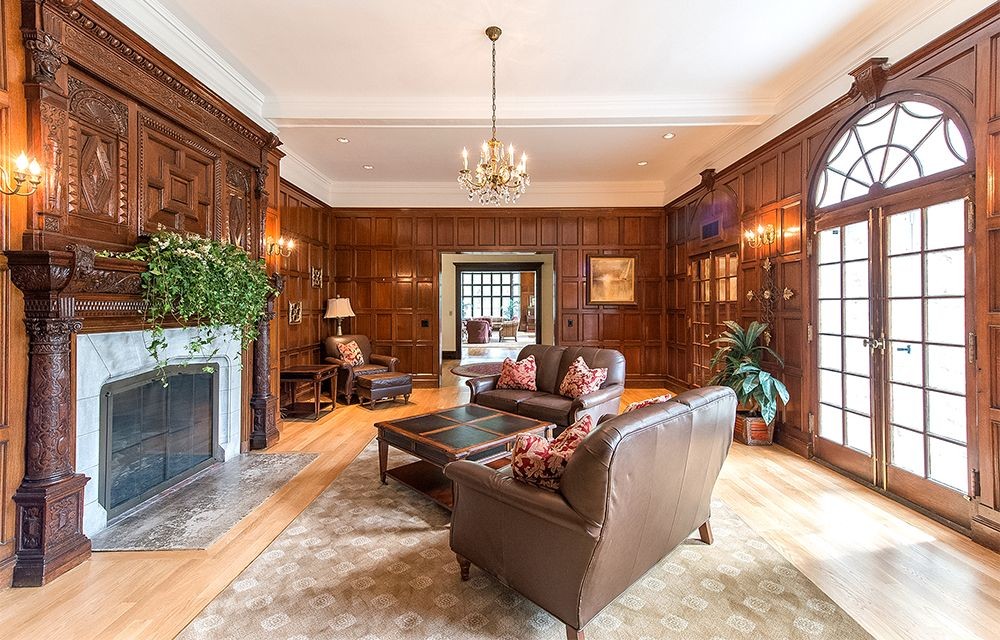 Charles River Meeting Room
---
The Charles River Meeting Room offers fully modern amenities and traditional accents. The multipurpose space can be configured to serve a broad range of needs.
Dimensions: 25' x 53'
Capacity: 50 (theater); 36 (u-shape); 40 (hollow square)
Ideal for: student retreats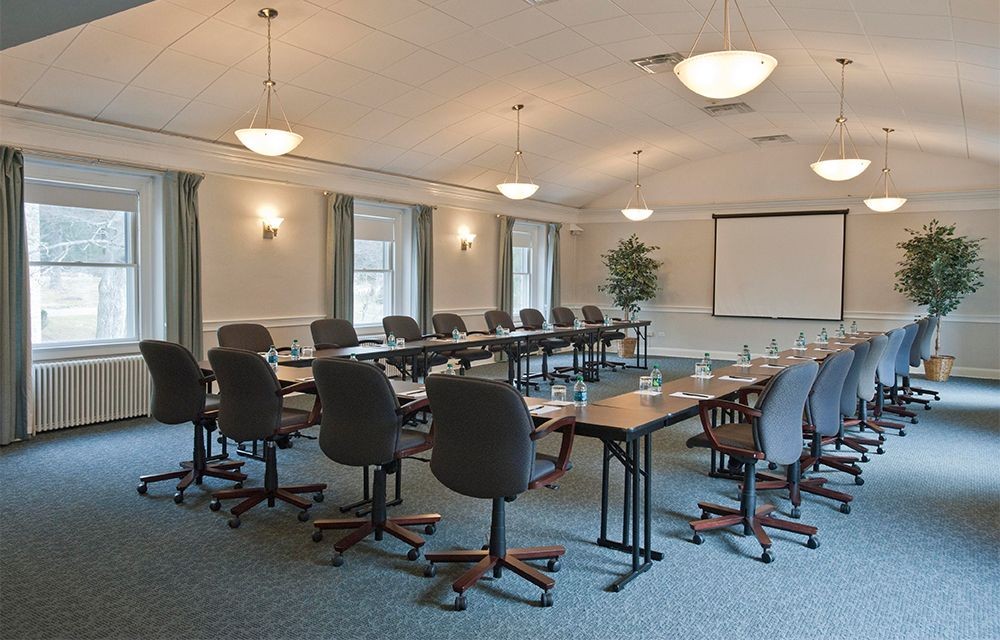 Garden Terrace Room
---
This bright and airy space features high ceilings and large doors that open onto the expansive grounds. With exceptional light and a cheery color palate, this room is an ideal setting for daytime and evening events.
Dimensions: 18' x 28'
Capacity: 16 (square); 40 (dinner); 45 (theater)
Ideal for: board retreats, artspace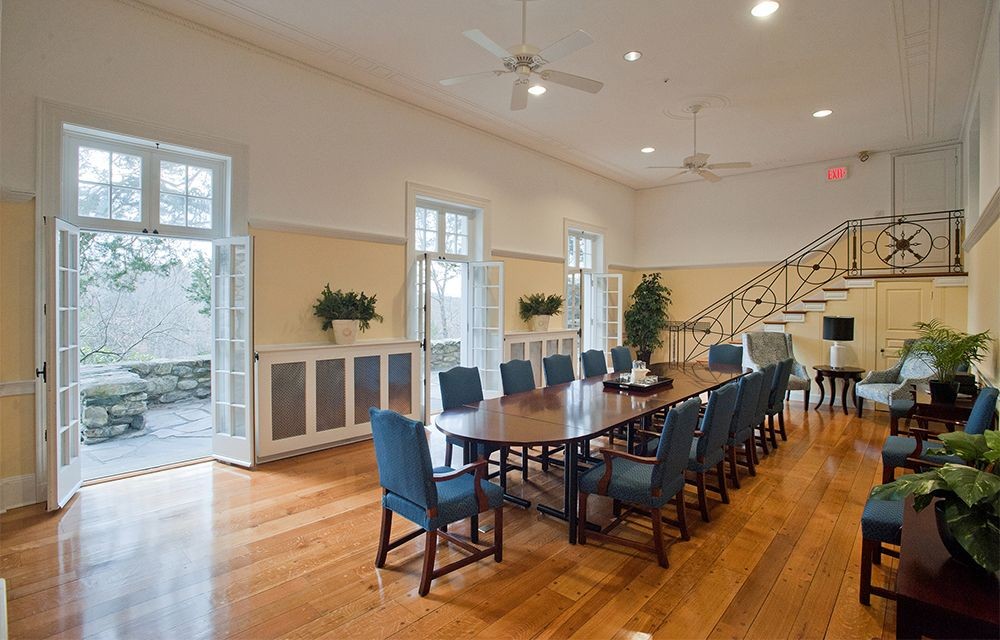 Sun Parlor
---
The Sun Parlor offers a bright and cozy space to connect and relax.
Dimensions: 29' x 16'
Capacity: 20 (circle of soft seating)
Ideal for: small retreats and staff lounge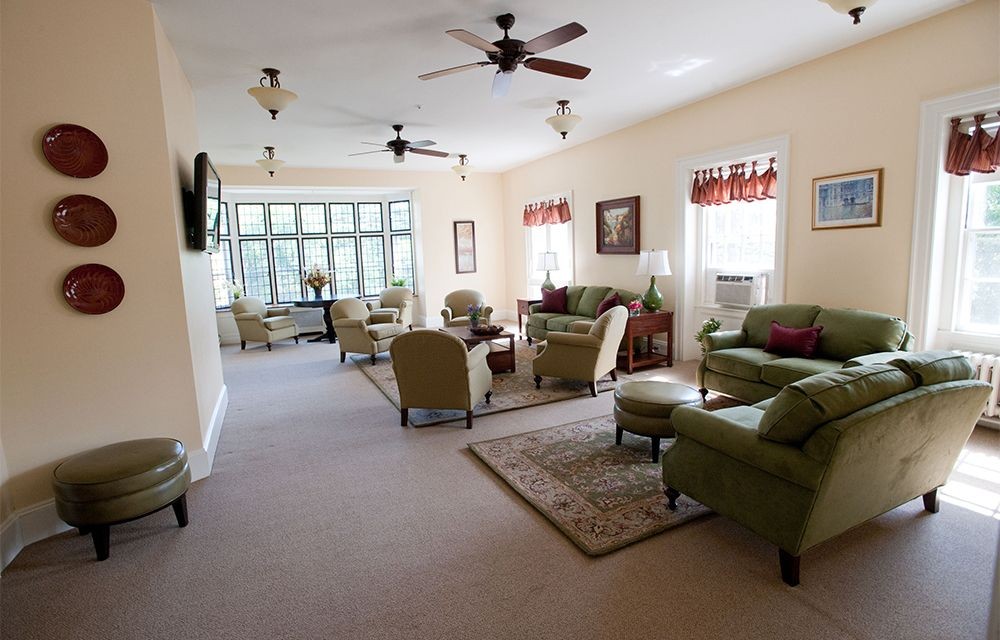 Hospitality Suite
---
This modern room offers guests an opportunity to rest and relax on soft seating furniture.  Many guests take advantage of the outdoor deck attached to the suite, as well as all the complimentary snacks and beverages.
Dimensions: 25' x 56'
Capacity: 20 (lounge)
Ideal for: quiet reflection and evening socials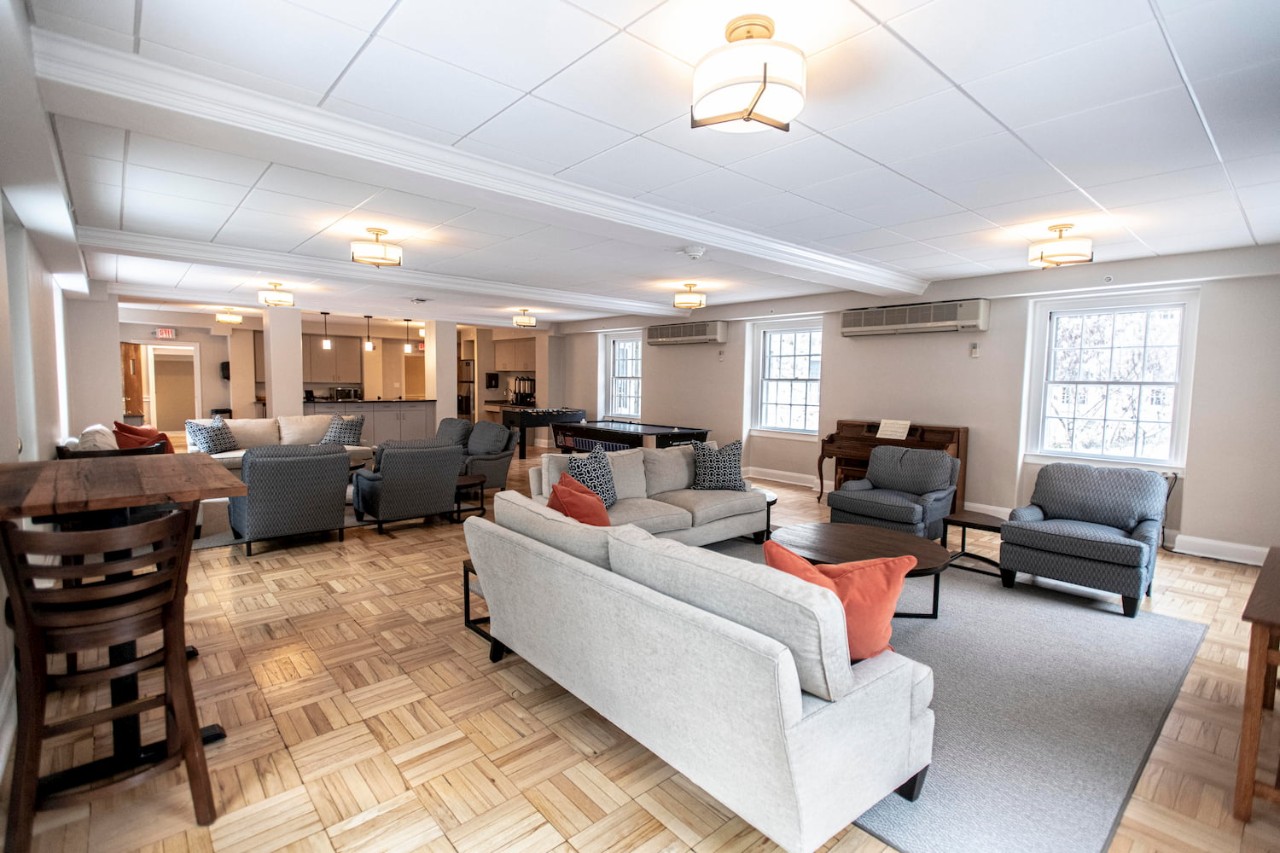 Reflection Room(s)
---
These cozy spaces forgo traditional furniture and instead offer plenty of pillows for relaxation and reflection.
Dimensions: Varies
Capacity: Varies
Ideal for: personal reflection and spiritual direction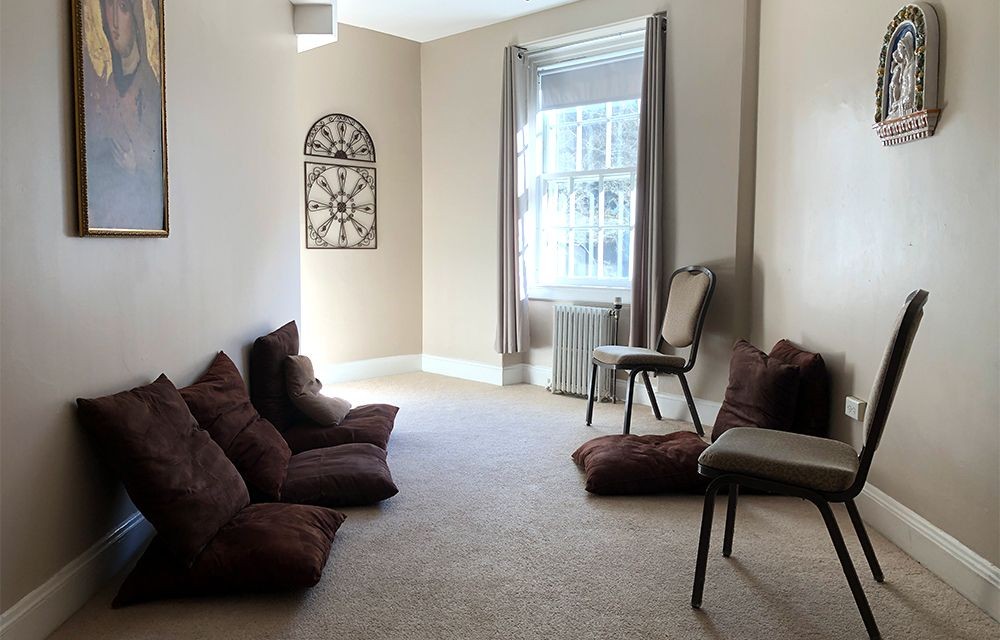 Siena House
---
Need an all-in-one retreat or meeting space with a kitchen to cook your own meals? Siena House offers basic retreat facilities for value-conscious groups.
Capacity: 24 (lounge)
Ideal for: student retreats, immersion trip lodging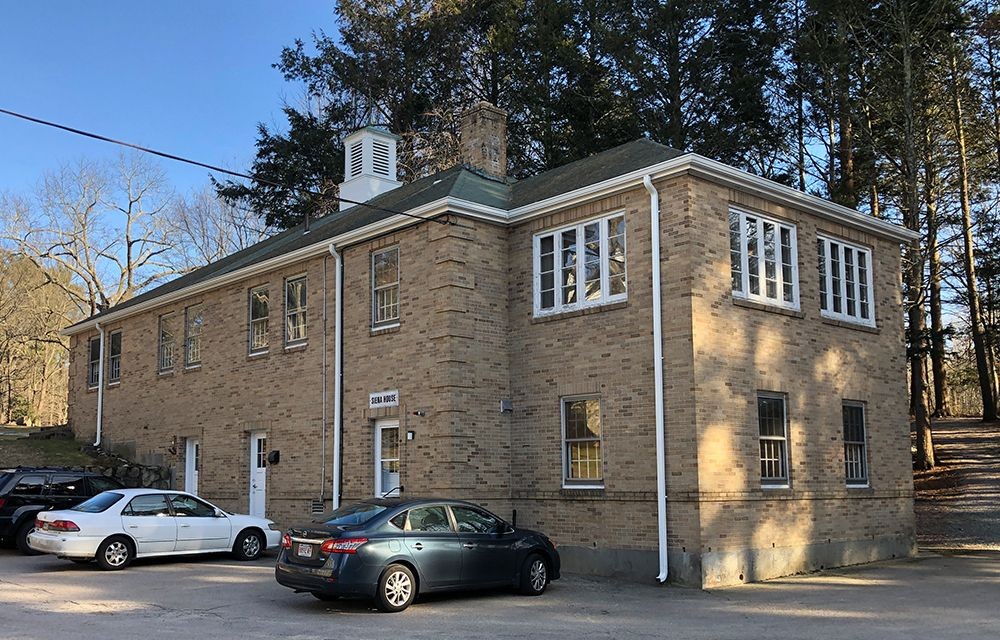 Pavilion
---
After a quiet walk along the trails, enjoy a debriefing session in the Pavilion while surrounded by Mother Nature. The Pavilion offers a covered, open-air space.
Dimensions: 26.5' x 62.5'
Capacity: 80 (seated at picnic tables)
Ideal for: outdoor retreat activities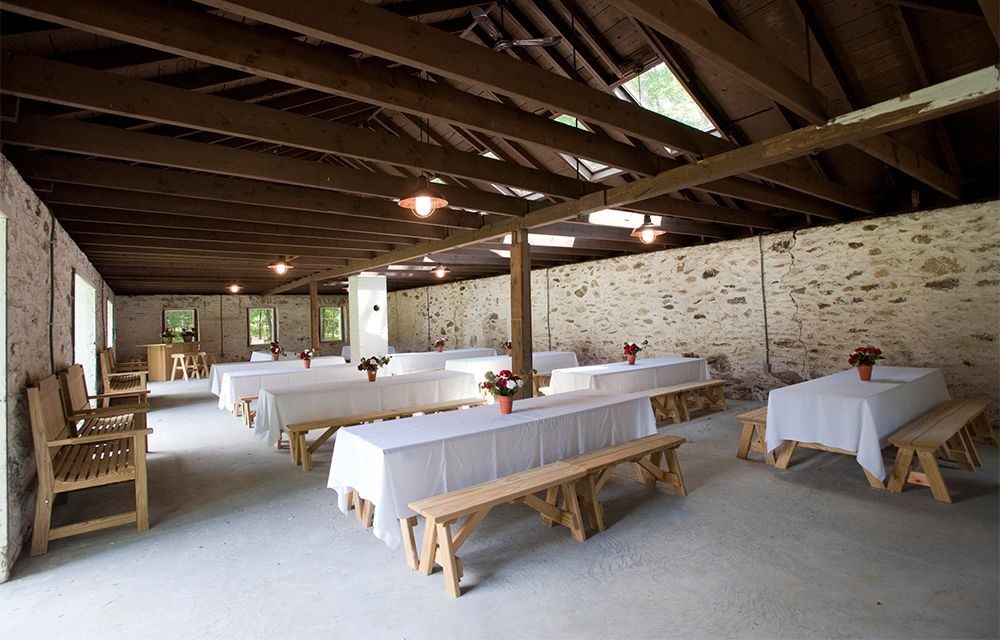 St. Cecilia's Garden
---
Originally designed by Olmsted and Vaux, famed landscape designers of New York City's Central Park, St. Cecilia's Garden features beautiful fieldstone pathways and picturesque flower beds.
Dimensions: 69' x 58.5'
Ideal for: Nature walks, outdoor prayer services, labyrinths and quiet reflection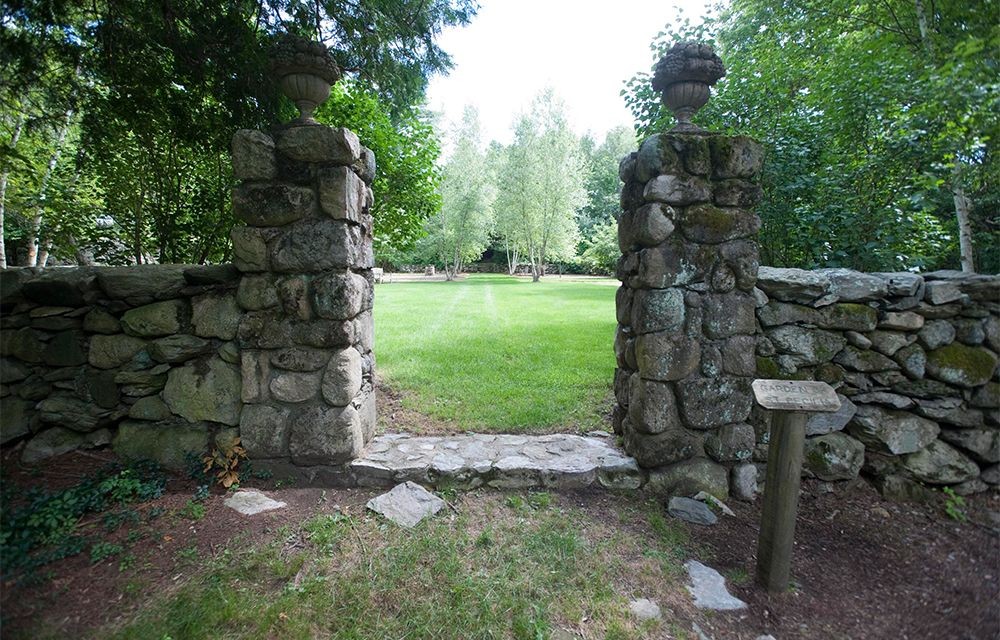 Lower Garden and Arched Terrace
---
The expansive lower garden positioned adjacent to the archways and stone staircases that make the Connors Center truly distinctive. Appointed with cafe tables and wicker rockers, this is a favorite area among all our guests.
Dimensions: 142' x 53'
Ideal for: Nature walks, outdoor prayer space, labyrinths and quiet reflection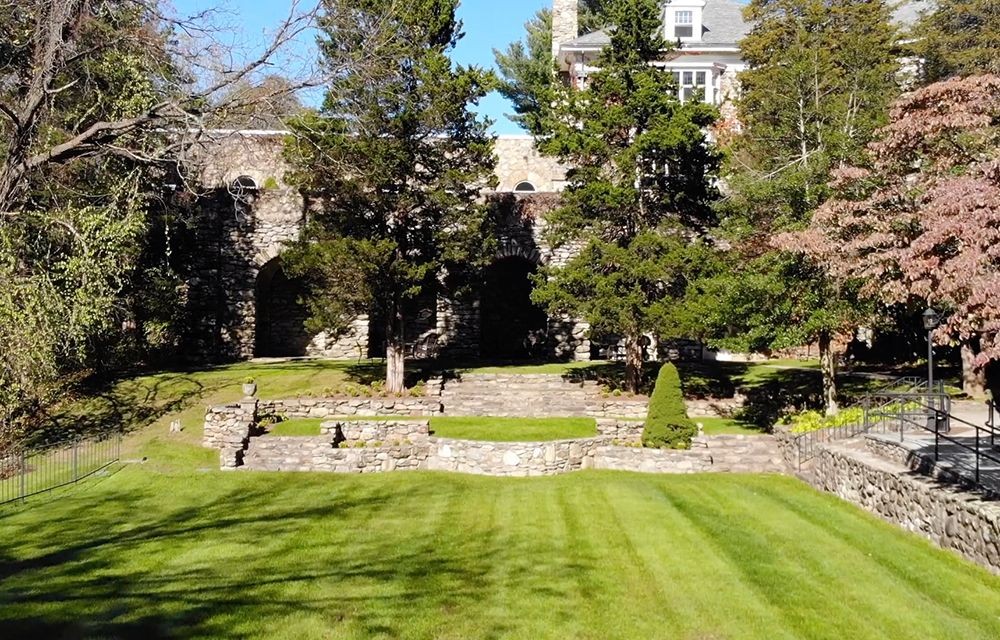 Main House
The Main House of the Connors Center offers a broad range of amenities and resources, including: 
Access to our Hospitality Suite, with a piano, foosball table, air hockey table, and other entertainment
Fitness center
On-site professional event coordinator
Free parking
Wireless internet
Audiovisual and technology costs are included in the rental fee for the property. The following items may be placed on reserve for your group on a first come, first serve basis:
Projector screen
Easels
Flipchart paper and markers
Lectern with microphone
Siena House
Amenities offered in Siena House are limited to a LCD projector and screen.  
The Connors Center works with outside vendors to provide many specialty amenities and services not listed above. Visit our vendor page for more information.
Signature Suites (main house)
The Connors Center offers six finely appointed guest suites. Each room offers a queen-size bed, a private bathroom, cable television, and wireless internet.
Guest Wing Suites (main house)
The Connors Center offers 21 additional suites with queen- or full-size beds, private bathrooms, and wireless internet.
Guest Bedrooms (main house)
The Connors Center offers 36 guest bedrooms with shared bathrooms.

Siena House
Siena House offers two-, four-, and six-person bedrooms. Linens are provided and groups are expected to make their own beds.
Please speak with our staff for more information about lodging options. All lodging fees are subject to the Massachusetts lodging tax.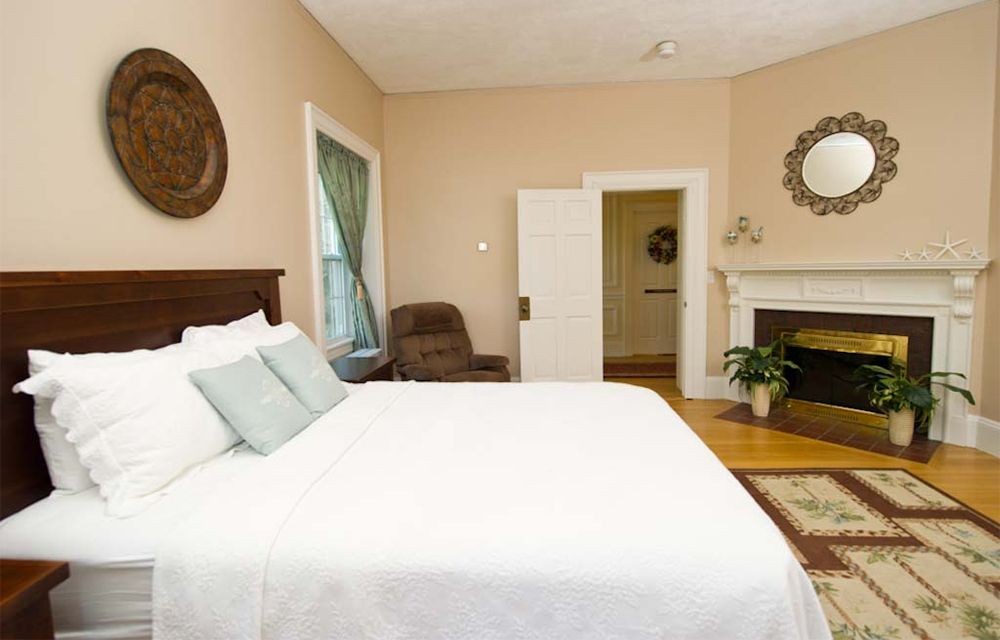 The Connors Center provides all catering arrangements and is able to offer you a wide range of dining options and flawless on-site execution.
Main House
Our menus are custom created to meet your individual needs. In addition to traditional selections, we have experience accommodating a range of special dietary and allergy needs.
Siena House
This small retreat house is the only on-site facility that offers the flexibility for groups to bring and prepare their own meals. Catered options are also available.
Facility Rental
As meeting sizes and requests are highly variable, all meeting and conference facility rates are determined based on space use and number of guests.
Deposits
An initial nonrefundable deposit is due when the contract is signed.
Cancellations
If the reservation is cancelled, the sponsor will be responsible for a cancellation fee as outlined in their contract.
Payments
Payments for events are by check made payable to Boston College or with a credit card.
Catering
Since all menus are specifically created for each event, catering costs will vary depending upon menu selections. A 20 percent administrative fee will be added to all catering costs. This fee is used to supplement the operation of the center, including setup, breakdown, and cleaning costs; it is not a tip, gratuity, or service fee.

Other Fees
Any additional services required will be charged directly to the client.  These may include damage fees, police services, valet parking, coat check, etc.  
Memorable Moments

"

The Connors Center has provided the most wonderful, welcoming, heart-warming sentiments. My most memorable moments are the conversations that I've had with various individuals–young and old, student and faculty–in the dining room over a hot, home-cooked meal. The Connors Center is Holy Ground as it has provided me with the space and opportunity to encounter individuals where they are and as they are.

"

A True Find

"

It can be difficult to find a clean, well-managed retreat site that offers reasonable prices and great service! We are thrilled to have found the Connors Center!

"

Amazing and beautiful

"

Thank you so much for providing us with the space. We had such an awesome time in an amazing place with beautiful people.

"

Reflect and Share

"

The Connors Center has provided myself and so many other BC students with an incredibly beautiful space to reflect and share ourselves with one another. On the Halftime retreat this weekend, we got the chance to walk down to the river and hang out by the water. It was gorgeous and such a great reminder of how much of a blessing it is to be able to attend retreats in that space.

"

"

The space is amazing and the entire experience was lovely! We can't wait to come back.

"