History of Boston College Veterans Alumni Network
In 2001, the alumni association and Boston College's army Reserve Officer Training Corps (ROTC) established a committee that organized and implemented an annual Veterans Remembrance Mass and Ceremony. Committee members included Charles A. Benedict CSOM'67, CGSOM'70, Mary-Anne Benedict CSON'67, Paul G. Delaney CSOM'66, Charles J. Heffernan Jr. MCAS'66, Chair, William C. McInnes, S.J., CSOM'44, MCGS'51, STM'58, Margaret M. Murphy LSOE'56, associate dean D. Michael Ryan MCAS'67, and ROTC Captain Brett Tashiro. The group established a tradition, still included in today's ceremony, in which ROTC cadets read the names of Boston College alumni who perished in each war, asking, "Who will stand and answer for the fallen?" At each call, an alumni or student veteran steps forward to say, "I will answer for all those who gave their lives," and lights a candle.
A Veterans Memorial Committee was formed in 2005 to develop a permanent tribute. Co-chaired by Vietnam War veterans Paul G. Delaney CSOM'66 and Paul L. Lufkin CSOM'64, the group coordinated research that expanded the remembrance list of those alumni who died in battle to 209 names. Beginning with an appeal in 2007, it raised over $500,000 for construction, installation and permanent upkeep of the memorial from hundreds of alumni veterans and others.
The Boston College Veterans Alumni Network (BCVAN) was established in 2011 as an alumni affinity group to strengthen the bonds between BC alumni, student veterans and the University. Paul G. Delaney CSOM'66, was the founding chairperson of the BCVAN. He was succeeded in 2012 by co-chairs George J. Harrington CSOM'80 and Daniel M. Arkins Jr. MCAS'81. In 2020, Michael Dunford CSOM'82 and Bill Kelley CGSOM'18 assumed responsibility as co-chairs A BCVAN Executive Committee provides counsel regarding activities sponsored by BCVAN and continues to participate in the annual Mass and Remembrance Ceremony.
BCVAN is dedicated to: 

Promoting, highlighting, and sponsoring events for veterans and their families and friends, including the annual Veterans Remembrance Mass and Ceremony and the annual Reunion Weekend Veterans' Reception
Serving as a resource to all Boston College ROTC programs, including BC students who are currently participating and alumni who previously enrolled in the USMC PLC, NROTC, and AFROTC programs at Boston University
Providing mentoring and networking opportunities to current students and alumni who are transitioning from military to civilian life
Supporting members of the BC community who are currently deployed or serving on active duty, especially those stationed overseas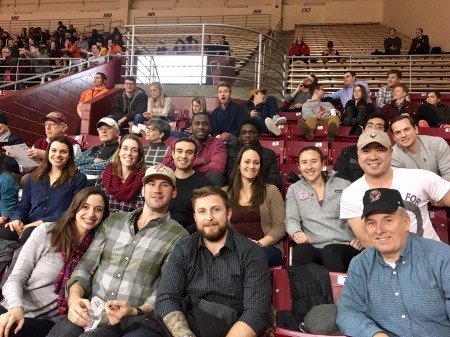 For inquiries regarding the Veterans Alumni Network, please contact bcvets@bc.edu