Organizations seeking to assess their ability to recover from a ransomware attack now have a new resource.
Available without charge, website GetRScore provides a free, credit-score-like assessment of survey answers to provide companies with a simple and efficient way to determine their ability to repel and recuperate from ransomware.
Developed by Boston-based HYCU, Inc., a Bain Capital Ventures-backed, multi-cloud backup and recovery service company, "R-Score" represents the culmination of months of work with cybersecurity and data privacy protection experts and leaders, including FireEye Mandiant, Carahsoft, SADA, and Rackspace, and Kevin R. Powers, founder and director of the M.S. in Cybersecurity Policy and Governance program at BC's Woods College of Advancing Studies.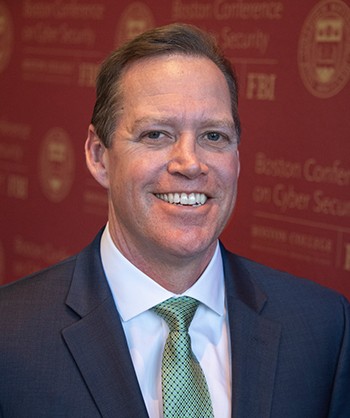 "Ransomware is the most significant cyber-threat faced by private and government organizations, which is exactly why cybersecurity experts and leaders from private industry, government, and academia came together to develop 'R-Score,'" said Powers, also a cybersecurity research affiliate with MIT's Sloan School of Management and an assistant professor of the practice at Boston College's Law School and Carroll School of Management. "By using its interactive platform, information security teams and most importantly, senior executives and boards of directors, will be able to get key insights as to their cyber-readiness through the tool's easy to follow dashboards and grading system.
"I'm excited to be a part of this initiative," Powers added, "particularly because it's in keeping with BC's overarching mission of service for others."
According to HYCU, ransomware attacks have been occurring at an alarming rate over the past 18 months with a strike happening on average every 11 seconds.

"R-Score" assists organizations in protecting their business operations, customer and employee sensitive personal data, intellectual property, and other confidential and proprietary information, said Powers.
"It's become a tired cliché that it's not a matter of if but when a company will be faced with a ransomware recovery incident," said HYCU Founder and CEO Simon Taylor in the company's website launch announcement. "As much as all of us in technology would like to believe we can eliminate ransomware attacks, the focus needs to be on rallying the industry around a way of quantifying and measuring what steps can, and should, be taken to avoid having to pay exorbitant ransoms for companies to get their data back. We are extremely excited to announce 'R-Score' along with our supporting partners."
An approved training provider for the U.S .Department of Homeland Security's National Initiative for Cybersecurity Careers and Studies, the M.S. in Cybersecurity Policy and Governance at Boston College aims to prepare professionals to design, develop, and implement cybersecurity strategies that defend against and ensure recovery from cyberattacks and to bridge the communication gap between information technology security professionals and key business stakeholders.

Its courses are taught by cybersecurity industry leaders and practitioners doing cutting-edge work in the field; the program collaborates with more than 50 private industry and government leaders who serve as visiting professors and guest lecturers, or serve on the program's advisory council.

Find more information about full-time, part-time, and hybrid (online and on campus) formats at the M.S. in Cybersecurity Policy and Governance website.


Phil Gloudemans | University Communications | October 2021