Assistant Professor of Physics Qiong Ma has been named a CIFAR Azrieli Global Scholar for 2022-2024, an honor that makes her a member of the organization's 40th anniversary class of 18 early-career scholars recognized for their exemplary research in a diverse range of fields.
Selected from more than 200 eligible applications from 32 countries, Ma and her fellow scholars come from institutions in six countries: Canada, Chile, India, South Africa, the United Kingdom, and the United States.
The CIFAR Azrieli Global Scholars is a unique program that provides $100,000 in unrestricted research support, in addition to mentorship, global networking, and professional skills development.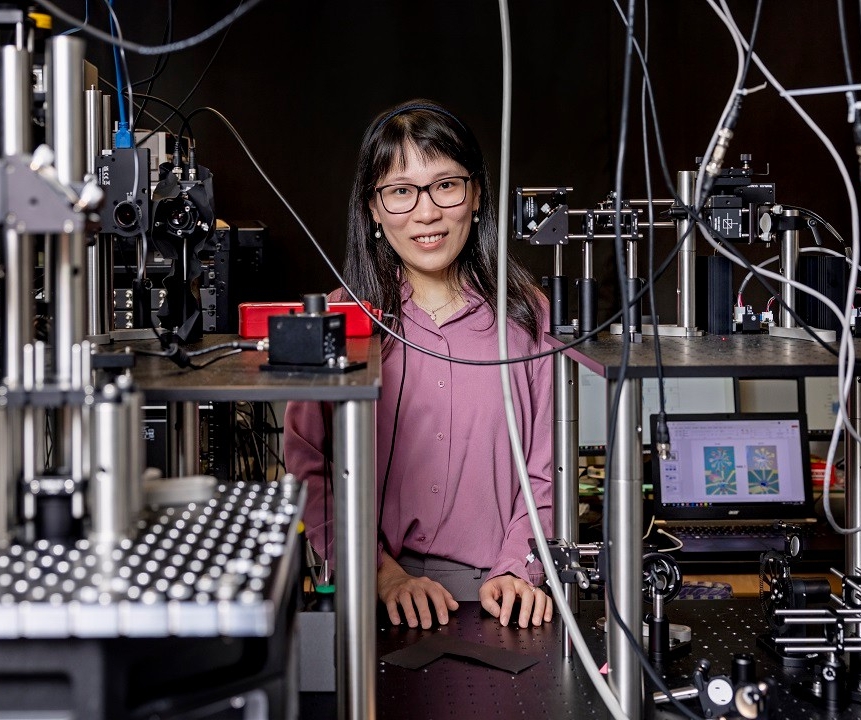 Ma's quantum materials research seeks to discover and understand complex materials for emergent functions. By gluing together individual constituents of materials and turning on the interactions between them, materials exhibit collective behaviors that cannot be expected from the microscopic constituents, giving rise to emergent functions. Ma's lab aims to understand and utilize those emergent functions for new technology.
"I am thrilled to receive this recognition," said Ma. "It is a great honor for me to join the new CIFAR global scholar cohort. We are grouped together to tackle global challenges, such as energy shortage and climate change, using multi-disciplinary approaches. Particularly, the quantum material program that I am affiliated with consists of a group of highly-accomplished scientists in my field. I am privileged to join them." 
   
Ma said the unrestricted research funding will help purchase new equipment in her lab. Beyond the financial support, Ma said CIFAR scholars benefit from the chance to connect with their peers and learn from more experienced scholars. Ma said she was privileged to choose Prof. Claudia Felser, the director of Max Planck Institute and a highly-accomplished quantum material physicist and chemist, as her mentor.
"I also will have numerous opportunities to network and collaborate with peers from diverse disciplines across CIFAR's research programs," Ma said. "CIFAR also hosts specialized leadership and communication skills training workshops. Travel funds are separately available to cover costs associated with attendance at CIFAR meetings and also in-person visits between my mentor and me."

Department of Physics Chair Michael Graf said, "This prestigious award is yet another acknowledgement of Professor Ma's scholarly excellence, and more broadly, of the global impact of the innovative research being carried out by our faculty here at BC."
The CIFAR Azrieli Global Scholars program is part of a range of next-generation initiatives at CIFAR that aims to boost the potential of early-career researchers pursuing high-risk, high-reward ideas.
"The program provides an unparalleled opportunity to explore truly interdisciplinary topics alongside some of the leading researchers in the world in search of answers to some of the toughest questions," CIFAR Senior Director for Research Rachel Parker said.
For two years, scholars join one of CIFAR's 12 research programs where they have the opportunity to collaborate with CIFAR fellows. This year's cohort will be contributing to the Bio-inspired Solar Energy, Child & Brain Development, Gravity & the Extreme Universe, Learning in Machines & Brains, Quantum Information Science, and Quantum Materials programs. Once their term ends, many scholars continue to contribute to the CIFAR community, joining as fellows, Canada CIFAR AI Chairs, or workshop participants.
"I would like to congratulate and welcome our seventh cohort of CIFAR Azrieli Global Scholars. They are amongst some of the most promising young researchers in the world," said CIFAR President and CEO Alan Bernstein, O.C.
"Humanity faces many complex and pressing challenges, from income inequality to climate change. We need creative and talented scholars and scientists, especially the next generation of investigators, to contribute to the global effort to address these challenges and exciting science questions. It is of utmost importance to provide opportunity for this next generation of innovative thinkers," Bernstein said. "That is why programs like the CIFAR Azrieli Global Scholars program are so important for both advancing science and enabling positive change in the world."
Ed Hayward | University Communications | August 2022