Assistant Professor of Physics Ilija Zeljkovic is one of 73 scientists selected by the Office of Science for the U.S. Department of Energy's Early Career Research Program, a 10-year-old initiative to bolster the nation's scientific workforce by providing support to exceptional researchers during the crucial early career years.
Under the program, Zeljkovic and other university-based researchers will receive about $150,000 per year to cover summer salary and research expenses. The research grants are planned for five years. In addition to 46 university scientists, 27 researchers from the DOE's national laboratories were awarded early-career funding
"Supporting our nation's most talented and creative researchers in their early career years is crucial to building America's scientific workforce and sustaining America's culture of innovation," said Secretary of Energy Rick Perry. "We congratulate these young researchers on their significant accomplishments to date and look forward to their achievements in the years ahead."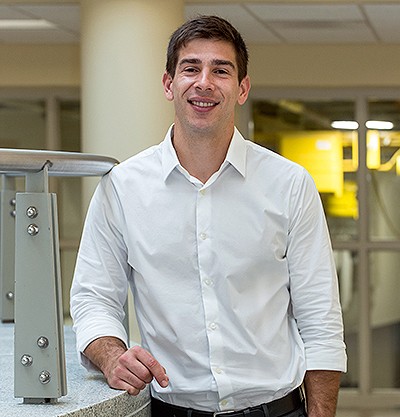 Zeljkovic, an experimental physicist with expertise in characterizing materials through scanning tunneling microscopy, or STM, conducts research into new, ultrathin quantum materials.
"I am excited and honored to receive this Early Career Award" said Zeljkovic. "I am grateful to the Department of Energy, and I look forward to the work ahead of us."
Over the past few decades, chemical manipulation—or "doping"—of oxygen-based materials (oxides) has led to exciting discoveries, such as high-temperature superconductivity.
The process of chemical doping is often accompanied by spatial inhomogeneity, characterized by nanometer-scale variations in electronic and magnetic properties of the material, Zeljkovic said. Although various microscopy techniques have provided valuable nanoscale insight into electronic and chemical structures of many complex oxides, there is still no atomic-scale magnetic information available on these systems.
"This research project aims to use spin-polarized scanning tunneling microscopy (SP-STM)—a technique that allows measuring of electron charge and spin at atomic length-scales—to image complex oxides," Zeljkovic said. 
SP-STM has so far been limited to relatively simple magnetic materials and nanostructures, and Zeljkovic said his work under the DOE grant will try to change that.
Zeljkovic's additional early-career funding from the National Science Foundation, Army Research Office, and Defense Advance Research Agency (DARPA) focuses on research to create new ultrathin materials systems using molecular beam epitaxy to construct the crystalline layers, and study them primarily using conventional STM. The support from the DOE will allow Zeljkovic to apply spin-polarized STM to thicker "bulk" materials, starting with Iridium-based oxides, with the ultimate goal of creating a comprehensive experimental toolset to image electronic spin information in other forefront quantum materials, he said. 
"Ilija works in a highly demanding and competitive field, and he and his students have painstakingly developed a one-of-a-kind research faculty," said Physics Department Chairman Michael Graf. "To receive a fourth early career award is truly remarkable, and a fitting recognition of his achievements as a scholar and mentor to students. Moreover, these awards highlight our department's mission to excel in both research and education."
To be eligible for the DOE award, a researcher must be an untenured, tenure-track assistant or associate professor at a U.S. academic institution or a full-time employee at a DOE national laboratory, who received a Ph.D. within the past 10 years. Research topics are required to fall within one of the Department's Office of Science's six major program offices:
Advanced Scientific Computing Research
Basic Energy Sciences
Biological and Environmental Research
Fusion Energy Sciences
High Energy Physics
Nuclear Physics
Awardees were selected from a large pool of university- and national laboratory-based applicants, according to the Office of Science. Selection was based on peer review by outside scientific experts.
—Ed Hayward | University Communications | August 2019