Terry Fulmer, an internationally recognized leader in the field of geriatrics, has been honored with this year's Dean Rita P. Kelleher Award, presented by the Boston College Connell School of Nursing to a graduate who embodies the BC nurse.
Fulmer is president of the John A. Hartford Foundation, which is dedicated to improving the care of older adults. She is known for her groundbreaking research in the area of elder abuse and neglect. She was the first nurse to serve on the board of the American Geriatrics Society and also the first nurse to serve as president of the Gerontological Society of America.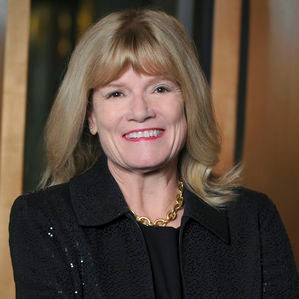 Fulmer said she felt a calling to work with older adults when she was a staff nurse in Boston. She thought older adults were deserving of more compassion, time, and attention than they were typically receiving.
Noting the significant increase in life expectancy of the U.S. population over the past 100 years, Fulmer said, "The great opportunity and responsibility in front of us is to take care of those people who are living longer lives."
Fulmer is an elected member of the National Academy of Medicine and is a member of its Forum on Aging, Disability, and Independence. She is a Fellow of the American Academy of Nursing and the Gerontological Society of America. Her work has been funded by the National Institute on Aging and the National Institute of Nursing Research. She has authored more than 150 peer-reviewed papers, edited 10 books, and held numerous academic posts, including a tenured professorship at BC and deanships at Northeastern University and New York University College of Nursing.
She is a recipient of the Gerontological Society of America's 2019 Donald P. Kent Award for exemplifying the highest standards for professional leadership in the field of aging; the American Society on Aging's 2017 Rosalie S. Wolf Award for her body of work on elder abuse; and the 2016 Award for Exceptional Service to the New York Academy of Medicine.
Named after the school's first faculty member and former dean, the Kelleher Award recognizes a Connell School graduate who is an accomplished nurse leader, an ethically aware scientist, and an inquisitive clinician. Fulmer earned a master's degree (1977) and a doctorate (1983) from the Connell School. The Kelleher Award was presented by CSON Dean and Professor Susan Gennaro at an event held in virtual format earlier this month.
Gennaro praised Fulmer's accomplishments and service, saying that Fulmer "embodies what we try to teach at the Connell School and what we like to have our alumni doing."
After the award presentation, Fulmer joined Walsh Professor of Bioethics Andrea Vicini, S.J., for a conversation that touched upon topics such as COVID's impact on the homebound and those in nursing homes, lessons learned from taking care of an older population, ethics-infused nursing practice, leadership, and the personal impact of BC's academic programs and people on Fulmer.
"My work is a gift to me every day," said Fulmer, who urged the online audience to "find your passion and give it all that you can."
View the entire 2021 Dean Rita P. Kelleher Award presentation and discussion.
Kathleen Sullivan | University Communications | June 2021