Presenting her first major address to the University community since becoming head of the Connell School of Nursing, Dean and Professor Katherine Gregory shared leadership lessons she has learned from her experiences as a clinician, nurse scientist, and member of the Boston academic-clinical ecosystem.

Gregory was the Dr. Maureen P. McCausland Pinnacle Keynote Speaker at the Connell School's fall Pinnacle Lecture on November 2, a hybrid in-person and Zoom event which drew more than 300 audience members. A 2006 Ph.D. recipient who taught at the school between 2006 and 2014, Gregory assumed the deanship last summer.  

In her talk, titled "Babies, Biomes, and Boston: A Journey in Leadership," Gregory traced the course of her nursing journey, beginning with a 1995 New York Times Magazine story she read as a young college student about a preterm baby struggling to survive in a Boston hospital. The article depicted the challenges of preterm birth, medically and ethically, for the baby, the parents, and the care team.

Invoking the language of the Ignatian Year commemoration, Gregory called reading the story as a "cannonball moment"—defined as a moment of discovering a new dream or to change one life's fundamentally—that sparked her desire to be a newborn intensive care unit (NICU) nurse in Boston.

According to Gregory, one in 10 babies is born too soon and "preterm birth is a major public health issue."

Being a NICU nurse requires excellent assessment skills, said Gregory, since a very small change could be a harbinger of big problems: "I learned that being a good NICU nurse meant being precise, prepared, and cool under pressure."  

But, she added, the most important leadership competency she learned from her clinical experience in the NICU was from the parents of her patients. Statistics show that 60 percent of parents of babies in the NICU experience anxiety, depression, and post-traumatic stress disorder.

"I realized that no parent expects to have a baby in the NICU," said Gregory. "My job was to care for their baby and support them and help them get through what was a very unexpected and stressful experience. The only way I could do this was to develop a great sense of empathy and compassion.

"This learned sense of empathy is the most important thing I can draw from clinical experience to my role as a leader."

Gregory's focus on preterm infants eventually pivoted from bedside care to research. She has studied necrotizing enterocolitis (NEC), an inflammatory bowel disease that can have catastrophic consequences for preterm babies. She looked at the connection between NEC and the gut microbiome, bacterial cells and their DNA which play an important role in human health and disease, including digestion and the immune system. Gregory and her colleagues identified a biomarker for NEC that can indicate which infants have an increased risk for developing the condition.

Gregory said her scientific career has taught her patience and persistence, citing the journal articles and grant applications that have been rejected. "But the ability to be a good communicator is the most important thing I bring from my scientific career to my leadership practice. You can have the most brilliant ideas, the most ground-breaking research findings, but if you cannot communicate them to the relevant audience, you will not succeed."

Gregory said good communicators need to commit to clear and concise messaging and adapt their communication to their audience.

Her final leadership lesson she credited to the collaboration and mentorship she has benefited from in Boston, both in the academic community and clinical settings. "This is what I learned from Boston: You need to have lots of different types of colleagues and mentors. You cannot accomplish anything on your own."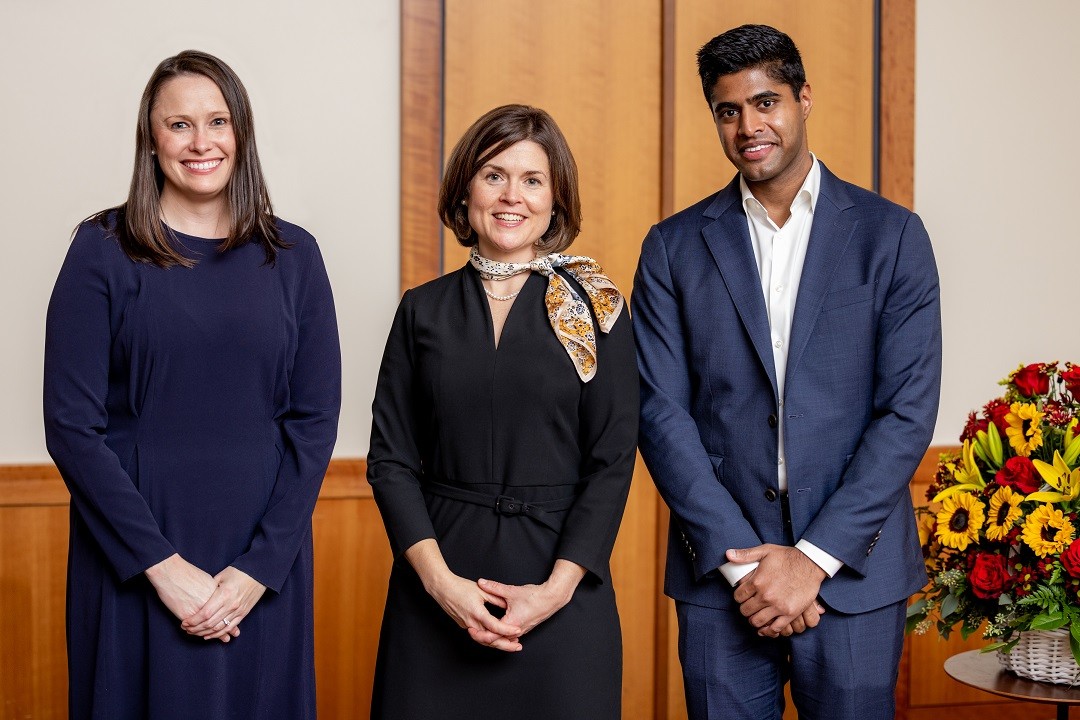 Gregory concluded her talk by briefly touching upon some priorities she has for the Connell School: to advance academic excellence across all curiculums, generate new knowledge for practice, and learn and be open to change.

Two of Gregory's former students and research assistants, Christine DeForge, M.S. '10 and Gururaj Shan '12, offered introductory remarks ahead of Gregory's talk, praising her ability to inspire, create strategic partnerships, and advance nursing science. They both credited her mentorship as being instrumental in their educational and career paths.

DeForge, a staff nurse at New York-Presbyterian Hospital and a Columbia University School of Nursing doctoral student, cited Gregory as a motivating factor in her decision to transition from nurse to nurse scientist. She said Gregory has made a lasting impression on her, inspiring her to excel as a clinician, to serve her patients, and become a leader herself within her discipline.

 "Working as a research assistant in the school gave me an early appreciation for the value nurses provide, not only at the bedside, but also in research, education, and administration," said Shan, a physician and clinical instructor in emergency medicine at Weill Cornell Medicine. "Specifically, I watched Kate wear all of these hats and unify those talents to advance her career and those she mentored. Kate was unique in her ability to open doors for me that I did not know I needed open."

Each semester, the Connell School hosts the Pinnacle Lecture where a widely recognized nurse leader gives a talk on an issue at the forefront of health care. For information on past Pinnacle Lectures, see bc.edu/pinnacle.
 
Kathleen Sullivan | University Communications | November 2021