Two accomplished climate scientists, Yi Ming and Hanqin Tian, have been hired as the first Institute Professors of the Schiller Institute for Integrated Science and Society, according to Seidner Family Executive Director Laura Steinberg.

"We are thrilled to welcome Yi and Hanqin, two of the world's leading climate scientists, to the Schiller Institute and Boston College," Steinberg said. "Both embody the collaborative spirit, drive for excellence, and focus on making significant societal impact that characterize the aims of the Schiller Institute. We are excited about how Yi and Hanqin will work with the BC community to further climate change research and interdisciplinary pedagogy at the University."

The Schiller Institute was created in 2017 to enhance multi-disciplinary, collaborative research processes to address critical societal issues in the areas of energy, health, and the environment. Named in honor of BC Trustee Phil Schiller '82 and his wife, Kim Gassett-Schiller, through a multi-year lead gift totaling $25 million, the institute is housed in the University's new science building at 245 Beacon Street.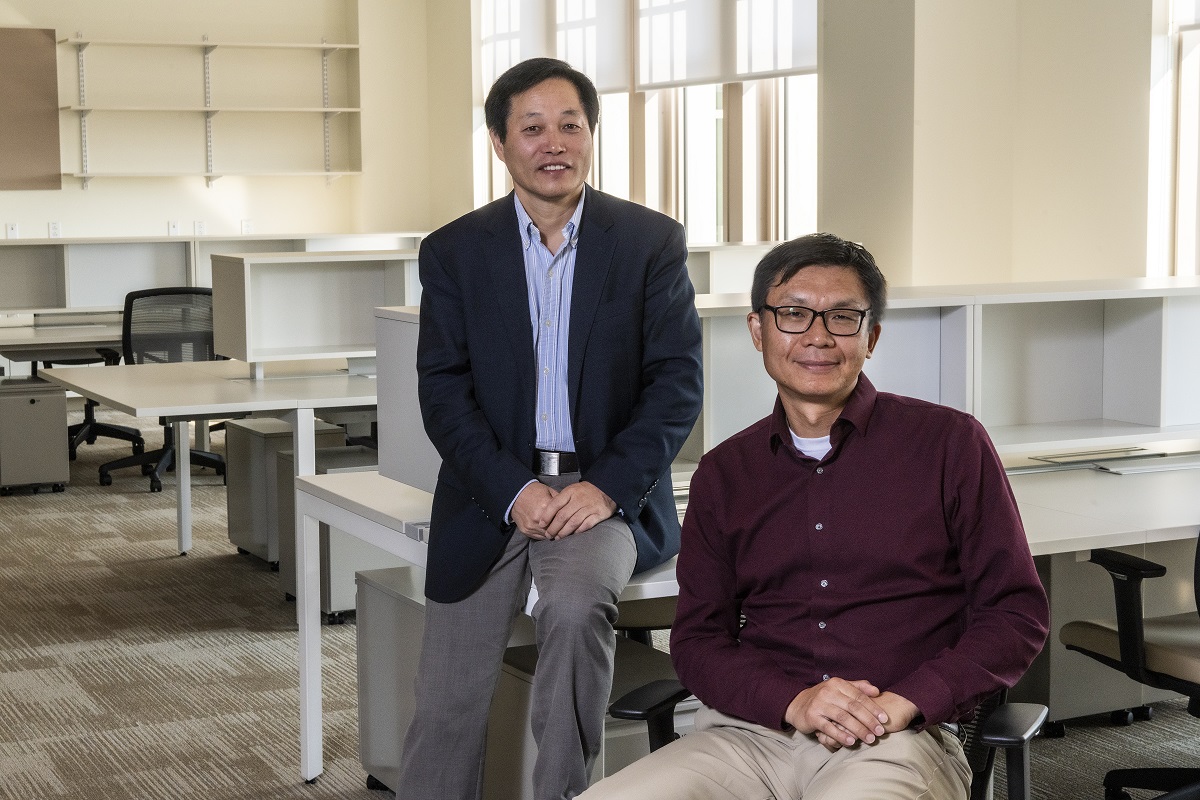 Insitute Professor of Global Sustainability Hanqin Tian (left) and Institute Professor of Climate Science and Society Yi Ming both also hold joint appointments with BC's Earth and Environmental Sciences Department. (Photo by Lee Pellegrini)

Ming, the Institute Professor of Climate Science and Society, uses climate models, observations, and theories to study the physical mechanisms governing Earth's climate system. He most recently served as senior scientist and divisional leader at the United States National Oceanic and Atmospheric Administration (NOAA) Geophysical Fluid Dynamics Laboratory (GFDL) in Princeton, NJ, where he was also a faculty member of the Program in Atmospheric and Oceanic Sciences at Princeton University.

"I am thrilled to join Boston College," Ming said. "The most exciting part is the Schiller Institute's mandate of fostering collaborations among different fields, especially between natural sciences and social sciences. I come from a physical climate science background. At the Schiller Institute, I will be able to put that physical climate knowledge to good use by working with my colleagues in social sciences to study the downstream impacts of climate change on society, and vice versa. Moreover, we, working together as a team, will strive to produce actionable climate information and help formulate a holistic response to climate change, with environmental justice front and center."

Ming's work has been supported by funding from NOAA and other agencies. His honors include the U.S. Presidential Early Career Award for Scientists and Engineers, the World Meteorological Organization Norbert Gerbier-Mumm International Award, the American Meteorological Society Henry G. Houghton Award, and the American Geophysical Union Ascent Award.

"Yi's unique background in atmospheric sciences and engineering, together with the breadth of his experience in climate modeling, and his deep interest in understanding the social dimensions of climate change mitigation and adaptation, makes him a superb fit with the Schiller Institute's ambitions to be recognized as a top institute for climate change research," Steinberg said.

Tian, the Institute Professor of Global Sustainability, studies the broad area of climate and sustainability sciences, particularly interactions among climate, ecosystems, and humans in order to find science-based solutions to climate change and sustainability challenges. Tian held the Solon and Martha Dixon Endowed Professorship and Alumni Professorship at Auburn University, where he also served as director of the International Center for Climate and Global Change Research.

Early in his career, Tian was a scientist at both MIT and the Marine Biological Laboratory in Woods Hole, Cape Cod.

"Coming to BC is a bit like coming home," Tian said. "I am glad to be back in New England. In this next phase of my career, I am really trying to tackle climate change and sustainability challenges. To provide a scientific basis of effective options for managing climate change risks at local to international scales, it is increasingly important to promote the integration and communication of knowledge across the physical, ecological, and human systems. The mission of the Schiller Institute is to integrate science and society into the work we do, so I am very excited to be here and focused on that mission."

Tian's research has been supported by the U.S. Department of Agriculture, NASA, the National Science Foundation, and other organizations. He is an elected fellow of the American Association for the Advancement of Science, the American Geophysical Union, and the Ecological Society of America.

"As arguably the world's leading expert on nitrous oxide emissions, Hanqin brings his special blend of systems ecology, terrestrial modeling, and data science to bear on such key climate change issues as food security and carbon sequestration," Steinberg said. "His international network and experience leading large interdisciplinary groups of researchers will further extend BC's reach as an intellectual center of climate change research."

Both professors also hold appointments to the Earth and Environmental Sciences Department, where they will be teaching undergraduate and graduate students.

Ming said that a current focus of his research is how climate change may affect regional precipitation, giving rise to droughts and floods, and extreme weather events, such as hurricanes, blizzards, and wildfires. He looks forward to working with other BC researchers in a wide range of disciplines to better understand the socioeconomic consequences of these environmental disasters and to explore possible technological and policy remedies.

"I think that the cross-pollination between natural sciences and social sciences will yield a great deal of impactful research key to preparing our society for what a changing climate may bring about. It is this kind of interdisciplinary work that I am most eager to pursue at the Schiller Institute and BC," Ming said.

Tian uses a data-driven systems approach to understanding, quantifying, and predicting drivers and effects of global-scale changes in the biosphere, climate, and human activity. His work combines ecology, biogeochemistry, hydrology, economics, earth system modeling, and data science. He explores the complex multidirectional interactions in the food-energy-water nexus in the context of a changing climate.

His current research focuses on biogeochemical cycles and climate feedback, net zero emissions and decarbonization. To improve the usefulness and usability of research products, his outreach has engaged with a range of stakeholders locally and internationally. He has worked extensively with scientists and farmers around the world to maintain crop yields while reducing the volume of nitrogen used, most commonly in the form of fertilizer, as well as to increase carbon storage and reduce the production of greenhouse gasses through farming practices.

Tian is a coordinating lead author for the International Nitrogen Assessment. He has served on the Steering Scientific Committee of Global Carbon Project (GCP) and as co-chair for the international consortium of Global Nitrous Oxide Budget Assessment, which is supported by GCP and the International Nitrogen Initiative.
Ed Hayward | University Communications | September 2022