Professor and Chair of Sociology Andrew Jorgenson has won the 2020 Fred Buttel Distinguished Contribution Award from the American Sociological Association's Section on Environmental Sociology. He was recognized for outstanding service, innovation, and publication in the field of environmental sociology.

The award is considered an "expression of appreciation" for an "individual deemed extraordinarily meritorious" by the Section on Environmental Sociology. Jorgenson is only the 36th person to receive this honor.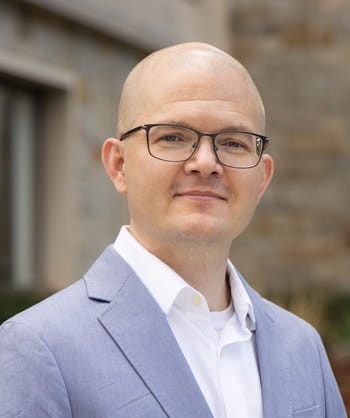 "I am deeply honored, and so grateful for my loving family, incredible mentors, generous collaborators, brilliant students, and supportive colleagues—without all of them, this wouldn't have happened," said Jorgenson, who is also a professor in the University's interdisciplinary Environmental Studies Program.

His primary research is on the human dimensions of global environmental change, with a focus on the political-economic drivers of greenhouse gas emissions, industrial pollution, and land cover change. He also conducts research on the political-economic and environmental conditions that shape population health outcomes, uneven development, income inequality, and environmental concern.

He is co-author of the forthcoming book Super Polluters: Tackling the World's Largest Sites of Climate-Disrupting Emissions, based on National Science Foundation-funded research he conducted with co-authors Don Grant of the University of Colorado-Boulder and Wesley Longhofer of Emory University on carbon pollution caused by the generation of electricity. The researchers analyzed data on the carbon dioxide emissions of thousands of fossil-fueled power plants in more than 150 countries.

Nearly 20 people, including colleagues and current and former Ph.D. students, nominated Jorgenson for the Fred Buttel Distinguished Contribution Award.

"One of the country's leading environmental sociologists, Andrew has an extraordinary record of accomplishment," said Professor of Sociology Juliet Schor, one of Jorgenson's nominators. "He has made important contributions in quite a few areas, from climate change to development to international trade. He developed a measure of how much carbon a country burns to achieve a given level of well-being. Here on campus, Andrew is an exemplary teacher and mentor who co-authors many of his papers with students. BC is so fortunate that he is a member of our community."

Jorgenson's research has appeared in a wide range of disciplinary and interdisciplinary journals, including the American Journal of Sociology, Nature Climate Change, Social Forces, Environmental Research Letters, Social Problems, Sociological Theory, andSustainability Science, among many others. He has published more than 110 peer-reviewed journal articles and more than 40 book chapters and other scholarly works, and co-edited five handbooks and edited collections. He also is the founding co-editor of the journal Sociology of Development.

His expertise has been featured in media outlets such as NBC News, The Washington Post, Scientific American, and National Public Radio, among others.

Jorgenson earned a doctorate from the University of California-Riverside in 2004 and has been on the faculty at Boston College since 2015. He previously taught at the University of Utah, North Carolina State University, and Washington State University.

Kathleen Sullivan | University Communications | May 2020